2012 Florida Gators Football Preview
By Matt Green

Will Muschamp is doing work in Gainesville. Some people were calling for his firing at the end of last season. After 1 year. A year without a consistent quarterback and an entirely new coaching staff. Some people are stupid. Florida fans, be patient, Muschamp will be a success at UF, just give the man some time.
At QB, they really have 3 guys that could be decent, but only 2 appear to be in the hunt for the starting job. Jacoby Brissett and Jeff Driskel combined to throw a grand total of 73 passes in 2011, and choosing between the two will be no easy task. Driskel didn't even throw a TD, but threw 2 picks, and Brissett had 2 TDs with 4 picks. Neither provided anything on the ground. Essentially, the staff will have to just choose the lesser of two evils. In my opinion, based on last year's play, Brissett is probably more talented, but also tries to make throws he shouldn't. I don't even the decision-maker.

Jeff Demps and Chris Rainey are gone after what seemed to be 10-year college careers. Rainey and Demps provided two-thirds of the ground production in '11, so replacing those guys is going to be yet another challenge for the Gator offense. Mike Gillislee is a solid back, and should be the #1 guy to start the season. He's not a huge playmaker, but he gets consistent yards on the ground. Mack Brown, no, not that Mack Brown, had just 12 carries in 2011 but is very talented and will no doubt get a large chance to see what he can do this year. Trey Burton is the guy that brings the lacking elements to this offense. He can run, block, catch, and throw, and defenses always have to have an eye on him because he does everything from any position.

Receiver is yet another offensive position where Florida doesn't have any real proven stars, even Andre Debose, one of their top receivers from a year ago, only caught 16 passes. He is fast though, very fast. Frankie Hammond provides some more speed, huge for a team losing Rainey and Demps. Dunbar, Patton, Alli, and Pittman provide depth that will definitely be needed. Jordan Reed is the unknown here, as he has talent, but really struggled in spring.

It was a mix and match O-line in 2011, as it seemed like a different group started every game, but Nixon and Pachan will most likely occupy the tackle spots, with both sitting at 6'6". Jonotthan (not misspelled) Harrison is the leader of the group at center, as he conducts the traffic along the front. Halapio is solid at one guard spot and the tandem of Wilson and Robey takes care of the other side.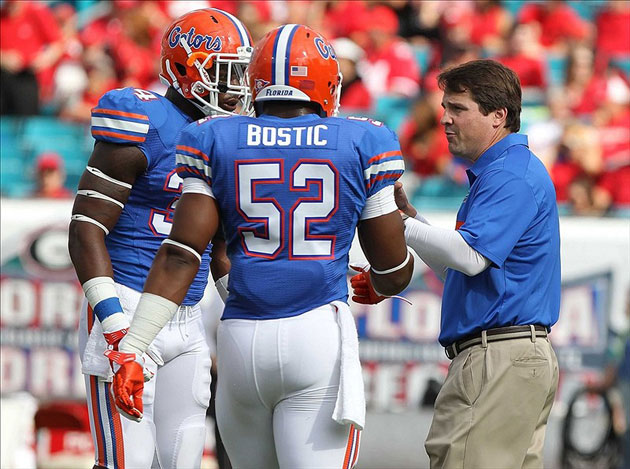 On to the defense. Muschamp's crew is unproven, but ultra-talented. Ajagbe and McCray haven't played a ton in their short careers, but are competing to be the starter at one end for injured Ronald Powell. Sharrif Floyd is a monster in the middle and will be a top NFL guy at some point, and he is joined in the middle by underachieving but talented Omar Hunter.

Linebacker is about the only spot on the roster where you know what you're getting. Bostic, NFL talent, Jenkins, NFL talent, and Darrin Kitchens has been a backup, but is poised to be a monster this year. This unit is absolutely dominant, and they are a joy to watch every game. Jelani Jenkins is so big and so fast, and Bostic just makes tackles, seemingly every one.

Matt Elam and Josh Evans are the starting safeties, and Elam had a solid 2011. He racked up 78 tackles and a couple picks. Evans is unproven, but is a solid, smart safety who should do just fine in the Muschamp system. The corners are good, but need to start making more plays. Cody Riggs was solid last year, but failed to record an interception, and Purifoy, who played sparingly in '11, also didn't record a pick, but is 6'1", tremendous size for a corner.

2012 Schedule:
vs Bowling Green
@ Texas A&M
@ Tennessee
vs Kentucky
vs LSU
@ Vanderbilt
vs South Carolina
vs Georgia
vs Missouri
vs Louisiana-Lafayette
vs Jacksonville State
@ Florida State

This schedule isn't a cakewalk, but the 5 straight home games doesn't hurt. A&M on the road is tough, as is Tennessee at Neyland. LSU, South Carolina and Georgia round out the challenging conference portion of the schedule. Finally, arch-rival Florida State in the final game of the year. It's never easy, especially at Doak Campbell, but this Florida team has the talent to get it done. I'm predicting 8-4(5-3) this season for the Gators, a respectable record, but one that will no doubt have Will Muschamp on the hot seat moving forward.

Greenie's Top 25 Countdown List:
Find out more about Florida here: http://cfn.scout.com/2/1183031.html

Here's our Preview of the NCAA 2012 College Football Season and Bowls.


What do you think?
We'd love to hear your comments and/or opinions. If you submit them here, other visitors can read them, rate them and comment on them. An e-mail address is not required.