2012 Kansas State Wildcats Football Preview
By Matt Green

Kansas State was one of the biggest surprises of 2011, reaching the Cotton Bowl in a Big 12 that was supposed to be dominated by A&M, Oklahoma, and Oklahoma State. So, with a host of players from the 2011 squad returning, why am I so down on them? Well, let's check it out. (Disclaimer: the low ranking has nothing to do with Bill Snyder, as he is one of the most underrated, underappreciated coaches not only today, but in the history of college football.)
They will have no turnover at QB, and that is the good news. Collin Klein, despite the fact that his throwing motion resembles a toddler who is not quite strong enough to throw the ball correctly yet, is one of the most dynamic QBs in America, and holds a will to win that I look for in all QBs (one of the reasons I was not a Ryan Tannehill fan). He accounted for 40 TDs a year ago, with 27 of those coming on the ground, while also gaining almost 1200 yards in the run game. His 13 TDs to 6 picks with just a 57% completion rate leaves something to be desired, but, for a guy that really can't throw the ball, it's hard to expect much more.

Klein, obviously, was the team's leading rusher a year ago, but that doesn't mean they are without effective, play-making backs. John Hubert is tiny, but he is as quick as they come. Durability is always a concern with guys of his stature, but he had 200 carries a year ago and had nearly 1,000 yards. He also caught 24 passes. Robert Rose is scarily similar to Hubert in stature and also in their style of play. Angelo Pease provides the change of pace and what little power the KSU backs possess. It's a small group, but they are effective and run hard.

The Wildcats don't pass a whole lot, and it's probably good, because their receivers are not really all that great. They are effective, but not standout. Again, this group, like the RBs, is very small. Thompson and Lockett are both under 6-feet and, while both are incredibly fast, both are also prone to injury and most likely cannot be relied on for 12 games a year. Chris Harper returns after almost doubling the 2nd leading receiver's catches in 2011, looking to add on to his 40 grabs. Other than that, they really don't have any impact guys in the receiving corps, but watch out for Collin Klein's brother Kyle, maybe he can do something.

One of the best O-lines in the Big 12 to run behind is back for more. The anchor, my favorite O-line word, is BJ Finney, a solid guard that was All-Big 12 a year ago and is no doubt on track to get the honor again. William Cooper and Cornelius Lucas fight for the blind side tackle spot, where Kansas State really struggled a year ago not being able to protect Klein. Aufner and returning senior Manase Foketi battle for the other tackle spot. All these battles are no doubt good for the line, forcing guys to work their hardest during the preseason to win their spot.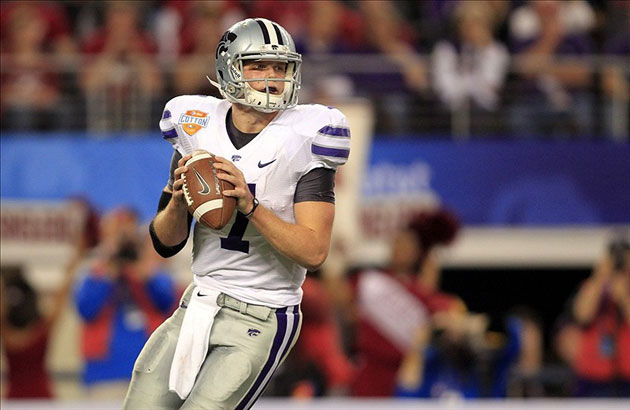 Consistency was something that the Wildcat D did not possess in 2011. Blackmon and Lutui appear to be the favorites to man the tackle spots in 2012. John Sua and Javonta Boyd are also in the race to get the tackle spots. Other than Blackmon, it's a very undersized middle, but they did fine against the run a year ago, and I expect nothing less this year. Meshak Williams is the stud of the defense at defensive end, and returns to make those honorable mention Big 12 honors into 1st or 2nd team praises. Adam Davis is the other end, but watch out for his backup Laton Dowling to make some waves and maybe earn some playing time by the middle of the season.

Arthur Brown, the team's top linebacker, will get to take on his former team, Miami, for the second straight year, and looks to record his 2nd straight triple digit tackles season, a rare feat. Tre Walker returns on the outside and is ready to let his play backup his talk in 2012. Childs and Tuggle, along with even Blake Slaughter and Mike Moore, combine to man the other position as well as backup the entire unit.

Breaking away from the trend of the Kansas State team, the secondary is actually not very undersized. Nigel Malone is the stud of the secondary after recording 7 picks in 2011, and his partner David Garrett provides athleticism at the other corner spot, making them one of the top corner duos in all of college football. Ty Zimmerman is a beast at one safety spot and Thomas Ferguson at the other rounds out just a solid #1 secondary unit. The lack of depth is what is scary, but if they stay healthy, watch out, passing will be no easy task.

2012 Schedule:
vs Missouri State
vs Miami (FL)
vs North Texas
@ Oklahoma
vs Kansas
@ Iowa State
@ West Virginia
vs Texas Tech
vs Oklahoma State
@ TCU
@ Baylor
vs Texas

K-State plays an adequate out of conference schedule, with a return trip from Miami, as well as fellow FBS squad North Texas. Let's say they can beat the Canes at home, which they should, and also beat Tech and Kansas at home, which should be no problem. One more win gets them in a bowl game. At West Virginia won't be easy, and I have no doubts they will lose that one, as well as on the road against TCU and Oklahoma, the three best teams in the conference. All in all, it will be tough for the Cats to finish above 8-4(4-4), but, with outstanding play from Klein and a surprising D and some serious luck, they could conceivably finish 10-2(6-2). However, bank on the former rather than the latter.

Greenie's Top 25 Countdown List:
Check out more about K-State here: http://cfn.scout.com/2/1188857.html

Here's our Preview of the NCAA 2012 College Football Season and Bowls.


What do you think?
We'd love to hear your comments and/or opinions. If you submit them here, other visitors can read them, rate them and comment on them. An e-mail address is not required.