2012 Oklahoma State Cowboys Preview
By Matt Green

Brandon Weeden is gone. Justin Blackmon is gone. Still, many expect Oklahoma State to pick up right where they left off a year ago. Although I think they won't drop off too much, I don't see any way that the Pokes can be as good as they were in 2011. Brandon Weeden was one of the best QBs in the nation, and he can't be replaced over night. Same goes for Blackmon. The O-line is going to struggle in a big way. But Mike Gundy always has things brewing in Stillwater.
Gundy named the true freshman Wes Lunt as the starting QB in 2012, a decision that sent shockwaves through the fan base, as most expected Clint Chelf or JW Walsh to take over. Gundy stated that Lunt performed the best of the 3 this spring and that his decision was based on who performed on the field. Chelf threw for over 300 yards on 30 attempts last year, and is a more dual-threat QB, but Gundy clearly prefers to go with a more pro-style signal caller.

Running back is where Okie State is set. Joseph Randle returns for another year after 1,000 yards and 24 TDs on the ground in 2011, not to mention almost 300 yards receiving to go with 2 receiving touchdowns. Jeremy Smith and Herschel Sims provide the depth.

People want to say that the receiving corps will not be nearly as good as last season, but I say not so fast! The loss of Josh Cooper actually may hurt the Cowboys more than the loss of Blackmon, as a reliable slot guy that always seems to be open is not always easy to find. Returning starters Moore, Anderson, Stewart and Harrison combined for 112 catches in 2011 and well over 1,000 yards. So, they clearly have the talent to produce consistently, and now they will get the chance.

Now for the offensive line. Bad news for everyone. Oklahoma State must replace 3 full-time starters from 2011, including All-American and blind-side tackle Levy Adcock and All-Big 12 center Grant Garner. With the hope of success riding on the shoulders of a true freshman QB, an inexperienced offensive line is the last thing you need, and the Pokes could be in trouble. Lane Taylor, Parker Graham and Michael Bowie will fill in those spots, with the latter two expected to fill the tackle slots. Evan Epstein takes over at center. The success of this offense will hinge on how quickly this unit can gel, and if the new guys can perform to the level of their predecessors.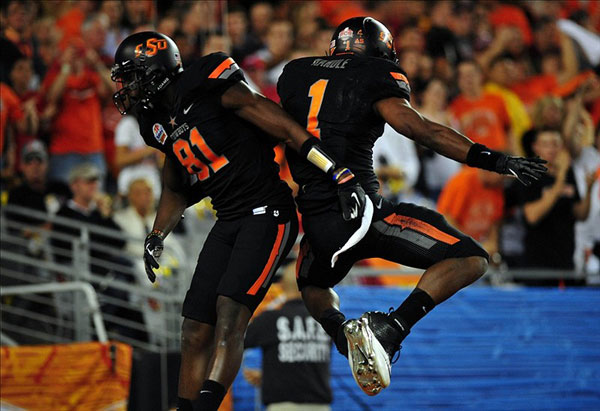 As for the defense, it may turn out to be the savior of this 2012 version of Okie State. Bassett and Nicholas provide speed off both edges, which will allow Bill Young to drop more in coverage, being able to get pressure with his front four. Ryan Robinson and Tyler Johnson provide depth. Caleb Lavey leads the linebacking corps after finally having his breakout season in 2011. Shaun Lewis and Alex Elkins will be the other starters at the LB spots, but watch out for Ryan Simmons. He was hurt and missed almost the entire year last year, but he is poised for breakout 2012 campaign.

And for the secondary. They have, in my opinion, the best cornerback duo in all of college football. We all know about Justin Gilbert, who is a lockdown corner on top of being a top-notch returner. Brodrick Brown locks down the other corner, and he is best remembered for this play against Oklahoma, but he has great skill at corner and is a true shut down guy despite his size, or lack thereof. Cooper, Craig, and Hedgepath take over at the safety spots, and they lack experience, but are provided more leeway when you have the corners that the pokes have.

Schedule:
vs Savannah State
@ Arizona
vs Louisiana-Lafayette
vs Texas
@ Kansas
vs Iowa State
vs TCU
@ Kansas State
vs West Virginia
vs Texas Tech
@ Oklahoma
@ Baylor

There are a ton of factors that will turn the Pokes' season one way or another, but I will try to predict it nonetheless. They shouldn't have any problem with their out of conference schedule, as Arizona is not a top notch squad in 2012. Texas will be an interesting game, Iowa State isn't bad, and TCU is scary for any opponent, just due to their outstanding coaching. K-State ain't bad, West Virginia is good, and obviously Oklahoma is solid. I'm betting on 8-4(5-4) in 2012 for Oklahoma State, a considerable step down from 2011, but they continue to recruit well, so don't expect them to stay down for too long.

Greenie's Top 25 Countdown List:
Check out more about Okie State here: http://cfn.scout.com/2/1188794.html

Here's our Preview of the NCAA 2012 College Football Season and Bowls.


What do you think?
We'd love to hear your comments and/or opinions. If you submit them here, other visitors can read them, rate them and comment on them. An e-mail address is not required.