2012 Nebraska Cornhuskers Preview
By Matt Green

Nebraska enters its 2nd year in the Big Ten with a lot of question marks. Will Taylor Martinez finally figure out how to throw a football consistently? Can the blackshirts find the consistency they lacked in 2011 and be able to compete with teams like Wisconsin and Michigan? A lot of question marks for the Huskers this year, so will they be successful? Well, let's talk it out.
I mentioned Taylor Martinez, who, despite his speed and his instincts as a runner, has a real problem throwing the ball with accuracy on a consistent basis. It's not going to help that he doesn't have a real experienced receiving corps. In fact, the only true experienced, star skill player returning for the Corn-people is Rex Burkhead, entering his senior season in Lincoln after an accomplished 3 years. He ran for over 1300 yards and 15 TDs in 2011, and returns to try to up that total. The interesting thing about Burkhead, other than the fact that I played AAU basketball against him on multiple occasions in high school, is that he is incredibly durable and isn't afraid to carry the ball 30 times a game. You got to love those kinds of guys. Other than him, though, the rest of the skill players for Nebraska are a bit inexperienced, although they are talented, but they are the real question mark in Nebraska's plans this year.

The difference, however, might be that their offensive line is a year older and a year wiser. Taylor Martinez might be able to figure it out if he has more time in the pocket to throw the ball. Jake Cotton returns along with essentially every difference-making O-lineman from 2011. Rodriguez, Moore, Sirles and Caputo all return for an offensive line looking to pave some more lanes for the all-important Husker running game. The line should be solid this season, and could be the difference in a winning or losing team.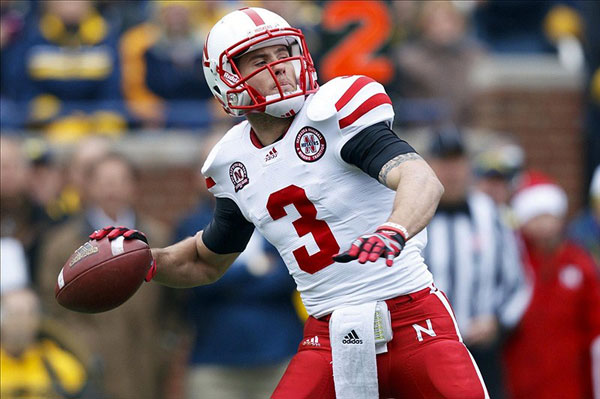 Now to the blackshirts. The entire secondary returns for the Huskers, except for under-achieving Alfonzo Dennard, including Ciante Evans and Andrew Green at corner and outstanding safeties Osborne and Cassidy return for another year. The linebacking corps will take a hit with Lavonte David moving to the League, but Whaley and Fisher and Compton return, but it remains to be seen who will step in to the Mike spot and take over David's spot. Either way, it seems there is enough experience and talent in this group that it won't take too much of a hit.

Finally, the D-line all returns except for Jared Crick, who has been an anchor and a mainstay on that line for a few years now. All in all though, I believe this defense has a legitimate chance to keep Nebraska in games and win a fair amount of them. The secondary is solid, the D-line should be alright and the linebacking corps is a work in progress, but the talent level is there, no doubt. The blackshirts are back.

Schedule:
vs Southern Miss
@ UCLA
vs Arkansas State
vs Idaho State
vs Wisconsin
@ Ohio State
@ Northwestern
vs Michigan
@ Michigan State
vs Penn State
vs Minnesota
@ Iowa

I think the Huskers are looking at an adequate 8-4 year, although they could find a way to win a few more games and could conceivably go as high as 9 or 10 wins. But, with Michigan and Michigan State also in the Legends division, it looks like it will be an uphill battle to the Big Ten Championship. I would bet on a 8-4(4-4) year for Nebraska, but a 9-3(5-3) year would not shock me by any means.

Here's our Preview of the NCAA 2012 College Football Season and Bowls.


What do you think?
We'd love to hear your comments and/or opinions. If you submit them here, other visitors can read them, rate them and comment on them. An e-mail address is not required.