2012 Boise State Broncos Preview
By Matt Green

Not many schools can lose the winningest QB in college football history, an all-conference running back, and their best defender and still make my preseason top-25 list; but not many schools have built what Chris Petersen has built in Boise. They enter their second season in the Mountain West as the clear favorite, and have shown the ability to dominate despite having the target on their back.
Kellen Moore is gone. The 4-year mainstay at Boise State leaves the Bronco offense in a lurch and in the midst of a QB-controversy the likes of which we haven't seen in smurf-land in years. Joe Southwick appears to be the likely replacement, as many writers have assumed. Southwick has thrown a grand total of 54 passes in his two years in Boise, as he enters his junior season as a very inexperienced college QB. Nick Patti, Boise's prized QB recruit, seems to be the #1 choice of the fans, bringing in the excitement and the similarity to Kellen Moore that the Boise fans look for. Chris Petersen has yet to make a decision, as the competition lives on through the summer. There is no doubt though that Boise's success, especially in September, will be measured by how well their QBs perform.

Other than Moore, Boise is losing over 2,000 yards of offense and 34 TDs in the persons of Tyler Shoemaker and Doug Martin. Matin ran for 1300 yards and 16 TDs in 2011, while scoring 2 more receiving, and Shoemaker finished out an incredibly productive college career with 16 more TDs and just shy of 1,000 yards. It's clear that Boise has some work to do at the skill positions, but their recruiting classes from the past few years should pan out nicely. Matt Miller returns at receiver after a solid 2011 campaign, and DJ Harper becomes the full-time RB after 9 TDs and 557 yards in a back-up role in '11. He will be sharing the workload with Drew Wright, who gained 218 yards in 2011 in limited action. Mitch Burroughs and Geraldo Boldewijn round out the receiving corps after getting their first action a year ago. Point is, Boise always reloads at the skill positions, and that would be the least of my concern if I were a Bronco fan.

Also, the offensive line is in great shape. Okay, All-American LT Nate Potter is off to the NFL, but they return 4 other guys with starting experience, and talented and experienced T Faraji Wright steps in to fill Potter's shoes. Including Wright, 4 of the 5 Boise offensive line starters are seniors, and Jake Broyles, a guard, is a junior and started 3 games in 2011 at right guard. He would have continued in that role but an injury sidelined him for the remainder of the year. The line looks solid for the Broncos, a very important thing when you are going to have an inexperienced QB leading the offense.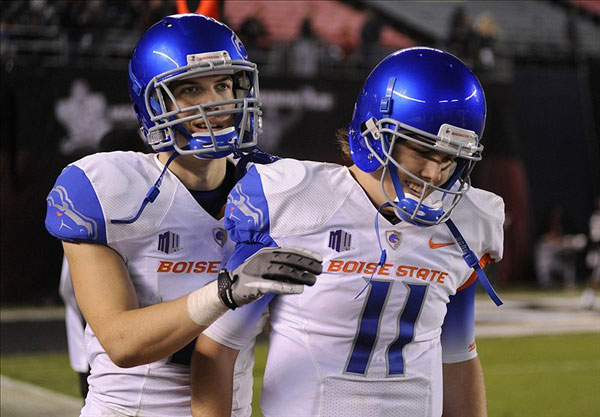 On to the defense. A defense that has been underrated since the beginning of Boise State dominance. All we hear about is offense and Kellen Moore and Doug Martin and Ian Johnson, well guess what? This defense has been one of the most consistent and well-coached units in the land. They lose Shea McClellin on defense, one of the most underrated players in all of football, and also lose almost their entire secondary. So, for one of the most consistently consistent defense in football, this year will be the true test of their mettle. The best name in football, Ricky Tjong-A-Tjoe comes back to anchor the D-line after a solid second half of 2011. Highly touted JUCO man DeMarcus Lawrence also comes in to fill McClellin's shoes as the teams go-to pass rusher and Michael Atkinson returns to hold down the fort at the nose spot as a senior.

Blake Renaud is the guy everyone is talking about for this group of Broncos. He's an athletic linebacker who was a stop recruit for them, and he was on the field last year a ton for a true freshman. He is the guy to watch on this defense. JC Percy also returns as the most likely other starter, and Weaver, Collins, and Smith provide the depth that Boise always seems to have.

Now, to the secondary. While it may be an inexperienced group, there no doubt is an obscene amount of talent in this secondary, which hopes to be led by the flyin' Hawaiian Jeremy Ioane at safety, and junior Jonathan Brown at a corner spot. The other 3 spots in this 5-man secondary have not yet been nailed down, but Taylor, Gavins, Hightower, Douglas, and Simmons are all guys trying to win the spots, and they all have upside.

2012 Schedule:
@ Michgan State
vs Miami (Ohio)
vs BYU
@ New Mexico
@ Southern Miss
vs Fresno State


vs UNLV
@ Wyoming
vs San Diego State
@ Hawai'i
vs Colorado State
@ Nevada

12 games as always this year for Boise, 6 of which I see as easy wins (Miami, UNM, UNLV, Wyoming, Hawai'i, CSU). Outside of those 6, there is a very slim chance Boise will lose at home, so mark down wins vs Fresno and SDSU, making 8 wins, and then there's the issue of BYU, but let's mark it as a win. 9 wins. Now to the last 3. Michigan State is going to be solid. And on the road the first week with an inexperienced QB? Gotta be Sparty there (and quick props to Sparty for playing Boise). Finally, there's a sneaky scary game at Southern Miss, let's call it a win, and a tough game at rival Nevada in the final week of the year. I see Boise with another outstanding year, sitting at 11-1(8-0) when all is said and done, and locking up yet another conference title.

Greenie's Top 25 Countdown List:
Check out more about Boise State here: http://cfn.scout.com/2/1200071.html

Here's our Preview of the NCAA 2012 College Football Season and Bowls.


What do you think?
We'd love to hear your comments and/or opinions. If you submit them here, other visitors can read them, rate them and comment on them. An e-mail address is not required.