2012 Stanford Cardinal Football Preview
By Matt Green

It's hard to win without a quarterback, but that's the situation developing in Palo Alto. Luck is gone, and Brett Nottingham steps in as a junior, having thrown a grand total of 8 passes in his Cardinal career. Look, let's be honest, this program was revived on Andrew Luck and Harbaugh, and now, both are gone, and it will be a tall task to keep Stanford at the top. David Shaw has a tall task in front of him, but still has some talent.
As mentioned, Nottingham appears to be the leader in the race for the starting job, but he is not a sure thing yet. Josh Nunes is also in the race for the job. Nottingham, however, far outperformed Nunes in spring, so we'll stick with him for now. Nottingham is a physical talent with a great arm, but gets himself into trouble with interceptions a little too much.

Stepfan Taylor and Tyler Gaffney both return in the backfield for the Cardinal, which is good news for a squad that doesn't have a whole lot of other skill position help. The two combined for almost 1800 yards on the ground and 17 TDs in 2011. At WR, it gets interesting for Stanford. Ty Montgomery, but he only had 24 receptions a year ago, while Stanford's 3 top receivers are out the door, including stud TE Coby Fleener, who's joining Luck in Indianapolis. Ertz and Toilolo are the other two TEs returning, but bring in just a combined 52 catches from a year ago. Montgomery will lead in incredibly youthful and inexperienced receiving corps, with Drew Terrell returning with just 8 catches, the 2nd most by any returning WR.

Now to line. O dear. It could be one of the more talented O-lines in the nation by the time it's said and done, but at the start, it will be incredibly inexperienced. Luckily, it is anchored by center Sam Schwartzstein. He leads the new line as a top-notch center and a likely All-Pac 12 caliber lineman. Flanking him, however, are some newcomers. A lot of newcomers. Joshua Garnett comes in as a highly touted guard, and looks to claim a starting job next to David Yankey, returning as a junior tackle. Rounding out the young Cardinal offensive line are more rookies, Andrus Peat and Kyle Murphy. It remains to be seen how well this group will play, but if they gel and learn, they could easily be one of the best in the conference.

The defensive line only goes with 3 up-front, so while they don't need as much depth, the talent really has to be there or they'll be in troube. Luckily, two of the three return, including All-Pac 12 2nd team DE Ben Gardner. Matt Masifilo was a stud for Stanford last year, and he needs to be replaced opposite Gardner, and the job will fall to either Anderson or Mauro, though most believe they will end up splitting time at that end spot. Terrence Stephens returns at the nose position, just looking to continue plugging up gaps to free up the backers, despite only being 6'2" and just shy of 300 pounds as a Pac-12 nose.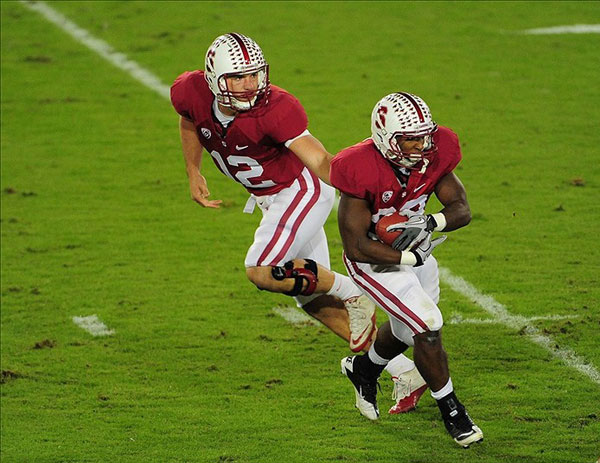 Shayne Skov is the leader of the linebacking corps, and really the leader of the defense. He is a beast, and there are few guys that I have seen that play as hard as this guy for 60 minutes. Jarek Lancaster replaced Skov last year when he went down, and will most likely step in and remain a starter. Tarpley and Vaughters provide some inside depth. Chase Thomas is a beast at the OLB spot, and will team up with Skov as a top linebacker duo in the nation. Murphy and Debniak anchor the other OLB spot.

It's a relatively youthful secondary, with only Terrence Brown returning as a true impact guy from 2011. Barry Brownings played a bit in 2011, but did not play well enough to merit being considered a top-notch defender. Wayne Lyons, a talented redshirt freshman, may end up stealing a spot before the season's over. Jordan Richards and Ed Reynolds are competing for the SS spot, and Kyle Olugbode and Devon Carrington are fighting for the free safety spot. It may be good, as competition breeds talent and forces hard work.

2012 schedule:
vs San Jose State
vs Duke
vs USC
@ Washington
vs Arizona
@ Notre Dame
@ California
vs Washington State
@ Colorado
vs Oregon State
@ Oregon
@ UCLA

Fairly difficult schedule in 2012 for Stanford, as Washington State will be much improved and even Oregon State won't be a pushover. I'm counting 4 automatic wins, with SJSU, Duke, Colorado and UCLA. Washington will be interesting, with strength on weakness. Washington is terrible vs the run and Stanford is terrible vs the pass. That will be a fun game to watch. Still, Stanford probably wins. Arizona should be a win, even Washington State shouldn't be a huge problem. I think Stanford will be okay in 2012, nothing special, but they should continue their recent success, at least to an extent. I'm betting on 9-3(7-2) with losses at Notre Dame, Oregon, and vs USC. Quarterback play, as always, will be the key for the Cardinal.

Greenie's Top 25 Countdown List:
Read more about 2012 Stanford here: http://cfn.scout.com/2/1195171.html

Here's our Preview of the NCAA 2012 College Football Season and Bowls.


What do you think?
We'd love to hear your comments and/or opinions. If you submit them here, other visitors can read them, rate them and comment on them. An e-mail address is not required.