2012 Notre Dame Fighting Irish Football Preview
By Matt Green

Every year it seems like the Irish are ranked high and come in with even higher expectations. And every year they fail, often miserably. So, at #18, they could be consider overrated. Have I fallen into the trap? It's definitely possible, especially with the QB situation in South Bend.
Dayne Crist is at Kansas. Tommy Rees turns the ball over too much in the red zone (Brian Kelly agrees). Golson and Hendrix will get a chance to win that starting job. And finally, star recruit Gunner Kiel might get himself a legitimate shot in his freshman season. It will be an interesting preseason for the Irish, though Rees appears to clearly be the favorite, having played solidly last year outside of the red zone woes. He completed 65% of his passes, but his 20/14 TD/INT ratio is, well, almost as bad and frustrating as Anne Hathaway in The Dark Knight Rises.

The skill guys are where this offense could be in a bit of trouble. Michael Floyd may have been the most valuable commodity to his Irish team than anyone else in America was to theirs. Replacing a big, fast, athletic receiver is no easy task, especially when guys like Theo Riddick are more Percy Harvin-like running back/receiver guys than outside one-on-one guys. TJ Jones is good, but recorded just 38 catches in 2011, and has shown no signs that he can be a legitimate Floyd-style #1 receiver. Tight end Tyler Eifert is a joy to watch play the game, and returns with his 60+ catches and 800+ yards, and will most likely be the #1 option for Irish QBs.

Cierre Wood returns in the backfield, expected to shoulder more of a load this year, which may sound nuts considering his 217 carries and 27 catches a year ago. He's a good back but whether or not he can stay healthy as the every down back remains to be seen. Amir Carlisle, however, transfers in, and they hope he can be the guy to split some carries with Wood and be a great option. If that's the case, this backfield could be dangerous.

Zack Martin, Chris Watt, and Braxston Cave return on the offensive line, which is good news for a team that could be employing a young QB. The other guard and tackle spot are still up for grabs, but with experienced guys returning to hold down the fort on the line, they should be in good shape on the line. It remains to be seen in preseason camp who can snag those other two spots, but even if they can just be average, this line as a whole should be well above average.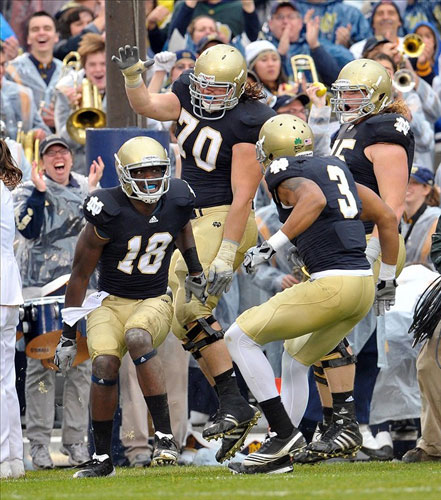 Experienced guys return all across the 3-4 D-Line as well. Aaron Lynch was a beast in his freshman season and is on my preseason All-American watch list. Louis Nix is unspectacular, but solid at the nose spot, and Lewis-Moore holds down the other end nicely and provides the experience on that line.

Manti Te'o is my current #2 draft prospect in all the land behind only Matt Barkley, and 2 others of his mates return at linebacker. Dan Fox is good, and Prince Shembo isn't a guy to sneeze at. They hope Troy Niklas can step in at the other OLB spot and be okay, but it all comes back to Manti Te'o. He is the brains and the brawn of the defense, and everything runs through him.

Finally, the biggest concern on the Irish team: the secondary. Harrison Smith is lost to the NFL after being an emotional leader back there for the past few years. Lo Wood and Bennett Jackson are both stepping into starting roles in South Bend, and the inexperience at that position is brutal, especially when playing teams and QBs like Barkley and Denard Robinson. They should be okay, though not stand-out, at safety, with Zeke Motta and Jamoris Slaughter stepping in to full-time starting roles after having a little bit of starting experience in recent years.

2012 Schedule:
vs Navy (in Dublin, Ireland)
vs Purdue
@ Michigan State
vs Michigan
vs Miami (FL)
vs Stanford
vs BYU
@ Oklahoma
vs Pitt
@ Boston College
vs Wake Forest
@ USC

"Wow" is just about the only word to describe the ridiculousness of this schedule. Only every team in the SEC West has a schedule more difficult than this. Navy isn't bad, Michigan and Michigan State will compete for the Big Ten championship, Miami is always at least decent, Stanford should be good, BYU always has talent, obviously Oklahoma is good, Pitt is decent, BC is always fundamentally sound and USC is, well, looking like old USC. To go through this schedule with fewer than 2 losses would require not only the luck of the Irish, but probably a few other nationalities as well. Let's bet on 9-3 at BEST, but most likely, another average 7-5 year in South Bend, which will no doubt have the masses (pun intended) screaming for Brian Kelly's departure.

Greenie's Top 25 Countdown List:
Find out more about Notre Dame here: http://cfn.scout.com/2/557783.html

Here's our Preview of the NCAA 2012 College Football Season and Bowls.


What do you think?
We'd love to hear your comments and/or opinions. If you submit them here, other visitors can read them, rate them and comment on them. An e-mail address is not required.