Which American Sport Suffered the Most Damaging Lockout: The NFL, NBA, Or NHL?
Years ago, who would have predicted that three of the four major American sports leagues, NFL football, NBA basketball, and NHL hockey, would go through a players lockout?
Yet, that is precisely what happened in 2011-2012, as each league struggled to restructure its costs and allocate fairly between players and owners. One lockout, the NHL Lockout, is still going on, despite repeated cries of dismay from fans.

So, which lockout was the most damaging to its sports league over the long haul?

The NFL lockout received the most press and negative attention, initially, but it did not have much of an impact on the league's future. Football's power brokers were smart enough to lock out the players early and, despite a nasty court battle, continue to work behind the scenes to get their issues resolved. As a result, the NFL and its Players Association reached a deal more quickly than was widely expected, ending the lockout before real games were missed.

The NFL's ability to end the lockout before missing games was a masterful public relations stroke; it meant that the league avoided lasting ire from fans. Sure, many were irritated by constant lockout coverage, reading about court cases on Sports Illustrated, and a shortened training camp and free agency period, but few fans deeply cared about those issues. But, they would have cared instantly the moment games were missed because, as the NFL's players and its owners well know, Football Sunday is an American institution. Fans do not react well when an irreplaceable part of their life, like Football Sunday in particular, is removed from their lives, and the NFL's decision to resolve its grievances fast spared them the long term ire of American sports fans.

Indeed, the NFL's lack of future damage was clear from the first; there was barely a drop in ratings or interest. Fans were clearly more relieved that football was back and the 'apocalypse' was averted than interested in assigning retroactive blame. In fact, there is a compelling argument that the NFL suffered more public relations damage from its much smaller, shorter, and more frivolous "NFL Official's Lockout" this season.

So, clearly, football may be America's biggest sport but it did not suffer its most damaging lockout.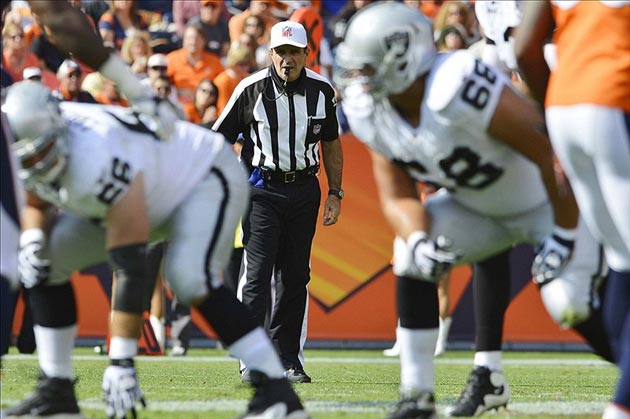 September 30 2012; Denver, CO, USA; NFL referee Pete Morelli (135) during second quarter of the game between the Oakland Raiders against the Denver Broncos at Sports Authority Field. Photo Courtesy By Ron Chenoy-US PRESSWIRE.


The NBA Lockout case is murkier because pro basketball did miss games due to intractable positions during the lockout and drew enough ire from fans to erase ratings gains made during the 2010 season.

The NBA cleverly positioned itself to take away some of the NFL's popularity in 2010, playing up the Miami Heat 'super-team' to continuous press attention ever as the NFL geared up for its lockout. But, poor decisions and worse financing by the NBA's smallest, weakest franchises derailed the potential for an early agreement; the NBA's hardline group of owners wanted deep concessions on salaries and kept David Stern from brokering a bilateral agreement.

From the start, the NBA's owners were plagued by a conundrum: they were enamored with their league's newfound popularity and did not want to interrupt its rise but also knew they could 'starve' the players into the deal they wanted if they held firm on the lockout and the players began to miss paychecks. Ultimately, a mixed strategy won the day: games were missed and the players were starved just enough to give the owners most of what they wanted – just before the whole season risked being canceled.

The NBA drew fans' anger for missing games but narrowly avoided disaster because of the NFL's popularity. Few American sports fans, aside from the die-hards, pay much attention to pro basketball before the NFL's regular season and College football's bowls end in early January. The NBA missed those early games but righted the ship by Christmas; getting things patched up and fixed just as fans' attention began to turn and they expected basketball to start in earnest. To say the NBA emerged unscathed would certainly be untrue but professional basketball certainly avoided lockout Armageddon.

Unlike the NBA, NHL hockey seems headed for a catastrophe. Long America's least popular major sport, hockey already angered fans by missing an entire season in 2004-5. The league didn't recover its ratings until 2010, which should have been a lesson, but hockey's owners have a strange proclivity for lockouts; the league has now endured four in the last twenty years. For perspective, that means hockey suffers a labor lockout at the conclusion of each bargaining agreement signed.

Worse, the NHL and its Players are already missing games and don't seem inclined to come to a deal quickly. Hockey is as popular elsewhere as it is ignored in America and Russia, Canada, and Sweden all stand out as all-star destinations for NHL stars. Many have already bolted and the NHL's players are best equipped of any major sports league to handle a long period of missed play.

Considering hockey's lockout has already eliminated fans' goodwill and shows no signs of abating, the NHL's lockout has to be the most damaging. Hockey's short and long term ratings will be shredded and the sport will continue to keep itself at the bottom of the barrel in America's sports hierarchy.

Other NFL and NHL Lockout Articles
What do you think?
We'd love to hear your comments and/or opinions. If you submit them here, other visitors can read them, rate them and comment on them. An e-mail address is not required.