Breaking Down the NFL's Referee Lockout
Latest on the NFL Referee Lockout: A Deal is Done, the Real Refs are back at work; more details to come.... Meanwhile, check out this humorous Memo to the Replacement Referees
We all remember the strenuous and contentious labor negotiations that were going on at this point last year between the NFL and the Players Association, threatening the entire 2011 season and causing fans to become far too familiar with revenue splits and stadium credits. We all breathed a sigh of relief when the two sides reached an agreement with weeks to go before the regular season, with only the meaningless Hall of Fame game cancelled. And that would be the end of labor strife for at least ten years, until the end of that collective bargaining agreement, yes?

Not so fast! It's time for a shiny new lockout, potentially impacting your on the field NFL experience. But it's not the players and the owners fighting this time – their jabs over player safety and suspensions are contentious, but not season threatening in the slightest. No, this time it's the men in striped shirts who have reached an impasse with the NFL. Their CBA expired at the end of last season, and both sides have been in talks since last October in an effort to salvage an agreement, but talks have broken down and, on Monday, the NFL announced that they would begin hiring and training replacement officials, just in case no agreement is reached before the games begin. These replacements, according to rumors passed along by ESPN's Adam Schefter, would include "elite" retired college officials, officials from the smaller, non-BCS conferences, and even Arena League referees!

The main issue? No surprise there – it's money. It's always money when it comes to these things, of course. The referees feel that the raise offered to them by the NFL were too much lower than the raises they got back in 2006, the last time the two sides renegotiated. They claim that, despite record revenues for the NFL, they want to cut costs by underpaying their officials. NFL spokesman Greg Aiello countered by saying "do the officials get the same kind of raises in their other jobs as they did in 2006?"

And there lies the rub – unlike the officials in the MLB, NBA, or NHL, the NFL referees only work part time, holding down other jobs in the offseason. Ed Hochuli, perhaps the most visible of the referees, is a successful trial lawyer. Mike Carey owns a company that manufactures ski and snowboarding equipment. Bill Leavy used to be a police officer. The list goes on – when not on the field, these referees go home to their other jobs, leaving the world of flags and infractions behind them.

But being a referee is a very complicated job – although we only see them for a few hours on Sunday afternoons, most current referees spend twenty five to thirty five hours a week preparing for their role on Sundays. There's film study, dealing with constantly changing rules and points of emphasis, keeping in physical enough shape enough for fifty year old men to be able to keep up with twenty year olds without seriously injuring themselves, not to mention the travel requirements. These, and similar reasons, are why the other major sports leagues went to full time referees years ago.

Most of the NFL referees are very good at their jobs. It's an incredibly stressful situation, with split second decisions needing to be made nearly every play. A single mistake gets shown on slow motion replay over and over again, following them for the rest of their careers – think Ed Hochuli's blown fumble call in Denver a few years back, or Phil Luckett's inability to distinguish between the words "heads" and "tails" during a coin toss. Both of these referees have made thousands, if not millions, of correct calls over the years, but are perhaps best remembered for the one they missed. This has led, of course, to a great deal of effort in taking matters out of the hands of the officials on the field, with replay, both mandatory and in challenge form, but the NFL still insists that their current referees are the best in the world – and they're basically right. The only possible competitors would be those referees who work in the major college conferences – also part timers – but those aren't the ones being considered for these temporary replacement referee roles. Whether you think the referees now are doing a fantastic job or screwing up every other play, a replacement squad made up of officials who have been deemed not good enough to work a Duke – Miami game would almost certainly provide a lower level of quality throughout any NFL game.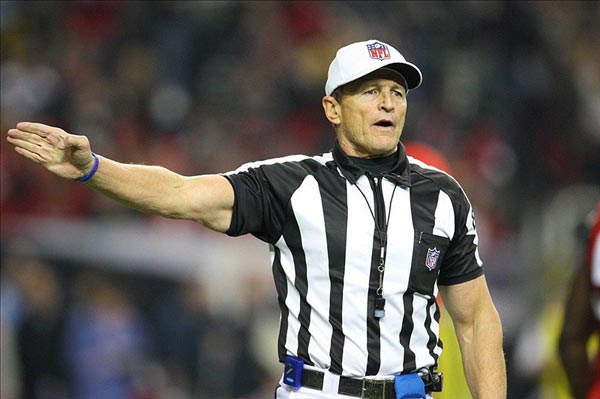 NFL referee Ed Hochuli calls a penalty in a game between the Atlanta Falcons and the New Orleans Saints in the second quarter at the Georgia Dome. Photo courtesy by: Brett Davis-US PRESSWIRE.


But it's not just the quality of the games that could be affected – the NFL has decided that their part-time referees need to take an active part in protecting the safety of their players. The league's injury and safety panel has directed the officials to receive concussion awareness training, and to remain alert for possible concussions during games. They have the power and responsibility to alert the medical staffs to get the player medical attention. With the increased emphasis on player safety, and the ever increasing knowledge of the danger and long term effects of hidden injuries like concussions, it is absolutely a necessity to have the officials help out and try to protect the players.

But, again, these are part-time officials – the majority of their time is not related to the study of NFL rules, much less health issues. If the NFL is really serious about using the referees as a first line of defense against these debilitating injuries, can they continue to rely on part-time referees? More to the point, if they are really serious about the role of referees as part of that line of defense, can they really rely on inexperienced and ill-trained replacements to perform that job? The NFL is cracking down hard on players and teams suspected of endangering the health of others; shouldn't they keep that level of concern for the safety of their employees here?

Of course the referees want to be paid more – the NFL, despite being the most successful and most profitable sports league in the United States at the moment, pays their referees far less than any of the rest of the big four. The average starting salary for a first year NFL official is $78,000 – certainly a great deal for a part time job. But compare that to the starting salary for, say, an MLB umpire --$120,000 a year. That's about as much as a ten year NFL veteran referee makes. NBA and NHL refs similarly make six figure salaries from the start. Of course, you could argue that they officiate dozens, if not hundreds, of games a year, while the NFL ref will top out at about twenty – a fair point. Yet, this doesn't stop Peyton Manning from making more money than Alex Rodriguez, despite the difference in workload. The NFL is offering a five-to-eleven percent raise for its officials, but that still leaves them trailing behind their counterparts significantly. They want to pay their officials part time wages while still holding them to the same standards of their full-time counterparts.

It's not as if the idea of full time referees is a new one. Commissioner Roger Goodell himself, in January, noted that they were "contemplating this offseason taking some of those officials from the field who are now part time -- they have other jobs -- and making a certain number of them, let's say ten, full time." This is an opportunity for the NFL to do just that – not just maintain the status quo, but to show their devotion to player safety and on-field integrity by joining the other three major sports leagues in providing a team of officials who can concentrate their attention and efforts solely on the game. It would reduce on-field errors, attract high quality potential officials who can't take the time away from their current jobs to add an NFL schedule on the side, and allow them to spend the necessary time training to help with the NFL's safety crusade.

By the time the regular season begins, I have a feeling this story will be a non issue. The referees will eventually determine that some money is better than no money, and that the games will continue with our without them. The NFL will decide that paying the referees more is worth avoiding a game being decided by a badly blown call from a replacement referee, or, worse, a repeat of Kris Dielman collapsing due to an undetected injury. Before too long, we'll be hearing Ed Hochuli's incredibly precise and overly wordy explanations of basic fouls and seeing Mike Carey's overly dramatic penalty calls. The status quo will be maintained, and the NFL's machine will keep rolling along as the most watched and most beloved professional sport in the US. I just wish they would take the opportunity to go beyond the status quo, and take steps to back their stated emphasis on the quality of their game and safety of their players with a strong action.

Other NFL Referee Lockout Articles
What do you think?
We'd love to hear your comments and/or opinions. If you submit them here, other visitors can read them, rate them and comment on them. An e-mail address is not required.
What Other Visitors Have Said
Click below to see contributions from other visitors to this page...