NHL Lockout Update
By Matt Green
Normally, in the case of a lockout, I side with the athletes, the guys who are putting their bodies on the line to make the owners their money. But in the case of the NHL lockout, I am kind of in the middle. It all comes down to this for the owners and players involved: they MUST get this deal done or hockey is going to be ancient history by 2013. Instead of watching games this season, fans will have to strap on their goalie equipment from goaliemonkey.com and mimic their favorite pro players.
After the last lockout, preceding the 2004-2005 season, they NHL lost a ton of support that season, and from 2006-2008, hockey looked like it might soon be obsolete. However, with some marketable young stars and some twists of luck, they were able to turn it around and hockey is just now reaching the levels of interest that it had in 2004 and prior. And now, they face the same problem. They need to come to an agreement in a hurry to save North American hockey.
The big issue, much like the NBA's lockout a year ago, comes down to the revenue that the players receive. Last year, the total revenue was $3.3 billion, and the players get 57% of that number, which, let's be honest, is a lot of money. The owner's are persisting that that number be reduced almost ten percent, from 57 down to around 47 percent. To put it in perspective, that's just over $300 million that would change hands from the players to the owners.
The owner's proposal, while seemingly realistic and fair, is being scoffed at by the players, who have drafted their own proposal, submitting that their revenue share be reduced from 57% to right around 53%, which, in reality, isn't all that much. It's not unheard of that the owners will not agree to that figure, as they deserve the money as well, and need it to run their franchises.
As I mentioned before, when there is a lockout, most people tend to side with the players, because that's who they know, even if they don't know all the facts. I'm not claiming to know every fact about this lockout, but I know enough to know who to side with. I said I'm straddling the fence a bit, which is true, but I also believe that the owners' proposal of 47% was fair, and their newest proposal of 49% was fair, while the players are simply asking for too much money.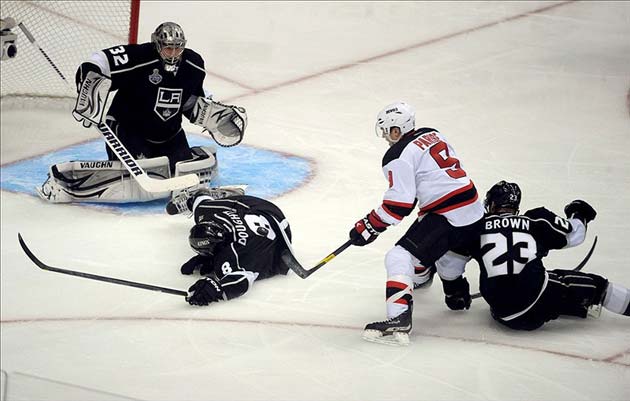 ---
I understand that hockey players are the lowest paid players in any of the 4 professional sports, but there is a reason for that: it's the least popular of any of the 4 professional sports, which means the owners are making less money and need the money as well to continue to run their franchise.
These types of situations are always a mess and there is never a win-win situation that can be come to, but they must take a lesson from the '04 lockout and the most recent near-NBA lockout (not to mention the referee lockout). Fan interest dies, absolutely dies, when you miss an entire season. And for the NHL, a sport that isn't America's love like the NFL, isn't America's most attended sport and it's pastime in the MLB, and a sport that has the marketable stars like the NBA, they need to realize that they're hanging on by a thread in the American sports market, and they cannot afford to miss a season. The NBA could have afforded it, but this is a dire situation. They really can't even afford to miss any of the season considering that most hockey fans are die-hards, and thusly purchase their season tickets early.
There is no obvious solution, and nobody will be an absolute winner, but if they don't come to an agreement soon, the owners and players could see the game they love lose all of its interest in the United States. Put your pride aside, come to your senses, sit down at the table and bang this thing out. I love hockey. A lot of people I know love hockey. GET IT DONE.
Find out more about the lockout here:
http://www.freep.com/article/20120916/SPORTS05/120916012/Q-A-Details-on-the-NHL-lockout
Read more at:
---
What do you think?
We'd love to hear your comments and/or opinions. If you submit them here, other visitors can read them, rate them and comment on them. An e-mail address is not required.
What Other Visitors Have Said
Click below to see contributions from other visitors to this page...

The NHLs Easy Steal Tactic Not rated yet
It is your money pro hockey fans. This "Easy Steal" process being utilized every few years of "locking out" is insulting and immoral. In these harsh …
---
From NHL Lockout Update to Other Archives | Sports Blog | NFL Football Blog | NCAA Football Blog | NFL Football Archives | College Football Archives | MLB Baseball Blog | College Baseball Blog | MLB Baseball Archives | NBA Basketball Blog | NCAA Basketball Blog | NBA Basketball Archives | NCAA Basketball Archives | Fantasy Football | Fantasy Basketball | Fantasy Baseball | Soccer Archives | Olympics Archives | Stupid Athletes Archives | Football Forum | Basketball Forum | Baseball Forum | NFL Football Store | NBA Basketball Store | MLB Baseball Store | NCAA Football Store | NCAA Basketball Store | NCAA Baseball Store | Fatheads | NFL Football Tickets | NBA Basketball Tickets | MLB Baseball Tickets | NCAA Football Tickets | NCAA Basketball Tickets | NCAA Baseball Tickets |
---
Home Page
About Us | Contact Us | Site Search | Advertise | Terms of Use |
---