The Federal Government Avoided the Fiscal Cliff, What Can the NHL Say?
Throughout December, the NHL and the Federal Government were each headed to their respective Armageddons: a never-ending lockout and the fiscal cliff. No matter what, NHL officials could always say, "well, at least we aren't the government!"
Well, not anymore.
Earlier this week, the Congress banded together and agreed on a short-term tax deal to avoid the worst tax increases set to come from the fiscal cliff. The NHL may have solved its lockout at the last second this week – but it will feel the cost for years to come from fans and sponsors alike.
What an embarrassing mess.
As the deadline for a 48 game season (don't even ask yourself what '48-game season' is supposed to mean, if you do you are already a lost hockey soul) passes, it's time to ask: is this the most embarrassing lockout ever?
Yes.
The two recent NFL and NBA lockouts, respectively, don't hold a candle to the NHL lockout because they ended far too early for players or fans to feel any pain.
The 1994 Major League Baseball strike may beg to differ but the NHL's current lockout is far worse – due to bad precedent, perception, and the ignorance of horrific consequences. In 1994, baseball was riding high and the two sides could not agree on how to divide huge new pools of revenue. Phrases like "free agency," "seven figure contract" and "new TV deal" were just entering the baseball lexicon and no one knew quite how to handle it. It took the strike – and a cancelled World Series – to figure it out. Sure, that is embarrassing no doubt – but it is understandable.
The NHL's current lockout is far more embarrassing – and far less understandable.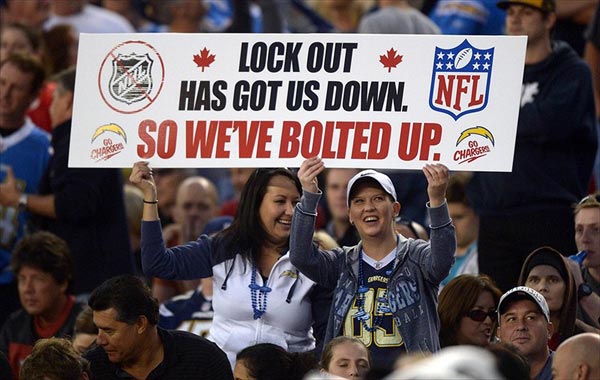 ---
Hockey can't claim ignorance or inexperience because the sport has been there and done that with lockouts. Well into the big contracts, free agency era, hockey has sustained four lockouts over the last two decades. Familiarity with the issues, and with one another, is not creating an ability to deal better (as it did in baseball, which has not suffered a work stoppage since 1994) it has actually introduced greater animosity and a complete inability to bargain effectively and compromise.
Criminally embarrassing.
Worst, the NHL's arguments were not even about how to divide enormous new revenues no one understood; as baseball's were in 1994. The NHL knows its revenues in and out – and it knows that they are shrinking. It knows lockouts will continue to shrink them and continue to raise fan apathy to levels not known to any modern sport outside of golf. Yet, the NHL and its players continued to engage in this lockout far too long, against all good judgment and sound sense because…well who knows?
And that is why the NHL's lockout was the most embarrassing in history.
Read more at:
---
What do you think?
We'd love to hear your comments and/or opinions. If you submit them here, other visitors can read them, rate them and comment on them. An e-mail address is not required.
---
From The Federal Government Avoided the Fiscal Cliff, What Can the NHL Say to Other Archives | Sports Blog | NFL Football Blog | NCAA Football Blog | NFL Football Archives | College Football Archives | MLB Baseball Blog | College Baseball Blog | MLB Baseball Archives | NBA Basketball Blog | NCAA Basketball Blog | NBA Basketball Archives | NCAA Basketball Archives | Fantasy Football | Fantasy Basketball | Fantasy Baseball | Soccer Archives | Olympics Archives | Stupid Athletes Archives | Football Forum | Basketball Forum | Baseball Forum | Sports Trivia Questions | NFL Football Store | NBA Basketball Store | MLB Baseball Store | NCAA Football Store | NCAA Basketball Store | NCAA Baseball Store | Fatheads | NFL Football Tickets | NBA Basketball Tickets | MLB Baseball Tickets | NCAA Football Tickets | NCAA Basketball Tickets | NCAA Baseball Tickets |
---
Home Page
About Us | Contact Us | Site Search | Advertise | Terms of Use |
---