Top Mid-Major College Basketball Teams in 2012-13
By Dennis Berry

We have done a lot of looking forward into the 2012-13 season. We have looked at the best freshmen, the best returning players, and the players that will have breakout seasons. We even gave you our picks for the teams with the best shot to win the 2012-13 NCAA Title.
There was one thing that we left out, we forgot to focus on the mid-major teams. Every year the college basketball rankings have a few mid-major programs mixed in. While these programs do not have the budget as the powerhouse programs from major conferences, they are still big players throughout the season.

Here is our look at some of the best mid-major teams in 2012-13, you will probably notice some familiar teams in this list.

VCU Rams

Virginia Commonwealth has become a national name after the last couple of seasons. They made the Final Four in 2011 and last year almost made it to the Sweet 16, losing to Indiana by only two points. They do lose their top scorer from last year, Bradford Burgess (13.4 ppg), but do return with their next four top scorers. Juvonte Reddic averaged 10.3 ppg, Troy Danielsa averaged 10.0 ppg, Rob Brandenberg added 9 ppg, and Daris Theus at 8.5 ppg all return in 2012-13. They also have a couple of freshmen who should be able to come in and contribute right away in Jordan Burgess and Melvin Johnson. The Rams have enough depth to be able to match up with any team in the country. Don't be surprised to see them in the Top 25 this year and make noise come March.

Creighton Bluejays

The Bluejays have perhaps the best known mid-major player in the country in Doug McDermott. As a sophomore he put up outstanding numbers. He averaged 22.9 ppg, 8.2 rebounds, while shooting 60% from the floor and 48.6% from the three point line. If Creighton is really going to make noise next season, McDermott is going to need some help. Someone will have to step up and they will look to seniors Gregory Echenique and Grant Gibbs to do that. Ecenique's scoring dropped last year to 9.7 ppg, but he did average 12.7 as a freshman at Rutgers. Gibbs started every game as a junior last year and if he could improve his three point shot, could be a factor for the Bluejays. The key though will be McDermott and if he stays healthy all year, Creighton will be a dangerous team.

Gonzaga Bulldogs

You cannot talk about mid-major basketball teams and not talk about Gonzaga. They will be in many pre-season Top 25 lists and should be a NCAA Tournament team. They return almost everyone from last year. The only player they lost was Robert Sacre. The top two scorers from last year are back in Kevin Pagos 13.6 ppg and Elias Harris 13.1 ppg. Another key returnee will be Gary Bell Jr. He averaged 10.4 ppg last year and will team with Pagos to give the Bulldogs an advantage in the backcourt. If Sam Dower continues to improve, it will give them an inside scoring presence. Just like in years past, teams will hope that Gonzaga are not in their bracket come NCAA Tournament time.

Murray State Racers

The key to Murray State season came when point guard Isaiah Canaan decided to return for his senior season. He averaged 19 ppg, while shooting 47% from the field and 45.6% from the three point line. He will once again be asked to do it all again for the Racers in 2012-13. Murray State lost a lot from last year. After Canaan, the next best scorer returning is Ed Daniel at 6.8 ppg. Expect UAB transfer Dexter Fields to have an immediate impact for the Racers. Another key returnee for Murray State is Head Coach Steve Prohm, who could have left after going 31-2 last year. Murray State should be favorites in the Ohio Valley and make the NCAA Tournament.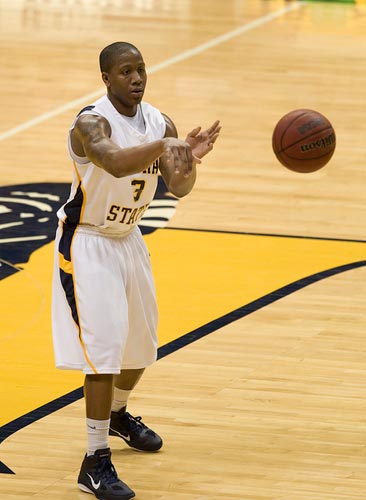 Ohio Bobcats

Last year Ohio made it to the Sweet 16 of the NCAA Tournament. There they lost to North Carolina, but not before giving the top seeded team in the Midwest a challenge and losing in overtime. There is a lot to like about the Bobcats going into this year. They will rely on their seniors to lead them. The top of that group is point guard D.J. Cooper. Last year Cooper averaged 14.7 points and 5.7 assists a game. He was great in the NCAA Tournament, but did not play great against the Tar Heels. He will look to make up for that this year. He will have help with Walter Offutt (12.4 ppg), Reggie Keely (9 ppg), Nick Kellogg (9 ppg) and Ivo Baltic (8.7 ppg). Look for the Bobcats to make the NCAA again this year.

Drexel Dragons

Last year Drexel won 29 games, went 16-2 and finished in first place in the Colonial Athletic Association. Even given those accomplishments they were left out of the NCAA Tournament. They ended up in the NIT where they fell one game short of making it to Madison Square Garden. This year they will be out to make the "Big Dance." They return all their key pieces from last year's teams expect for Sammi Givens. Last season's leading scorers Frantz Massenat (13.7pp) and Lee Damion (12 ppg) are back. Another key returnee will be Chris Fouch (10.5 ppg), who will add another outside shooter to go with Massenat and Damion. If Fouch is healthy this year, he will be another explosive scorer.

Wichita State Shockers

You might be surprised to see Wichita State on this list. They lost their top five scorers from last year. Their top returning scorer from last year is Carl Hall at 8.4 ppg. The Shockers will look at a group of new players to continue their success. Freshman Fred Can Vleet is the headliner of their 2012 class. While he might not start at the beginning of the year, he probably will be by the end of it. Wichita State will look to a group of transfers to help immediately. Malcolm Armstead from Oregon, JUCO transfers Cleanthony Early, Nick Wiggins, and Cleanthony Early are all expected to contribute this season. While they may struggle at the start of the year, the Shockers will be a tough team late in the season.

Long Beach State 49ers

The 49ers are a lot like Wichita State in that that will be looking to replace a lot of key players. Still there is plenty to like about the 49ers this year. The top returning scorer is James Ennis who averaged 10 ppg last year on 49.8% shooting from the floor. The other key returning player is Mike Caffey, who was Casper Ware's back-up last year. The 49ers will also count on transfers this year as well. They are JUCO transfers Kris Gulley and Dan Jennings. Then there is Tony Freeland from DePaul, Edgar Garibay from Loyola Marymount, Willie Hanks from Eastern Washington, and Keala King from Arizona State. King is the best of the bunch and gives the 49ers an impact wing scorer. If they can make it to 2013 healthy and get everyone eligible, they will be a dangerous team.

LIU-Brooklyn

Coming off a 25 win season the Blackbirds have a new coach in place in Jack Perri. He will be in change of building on LIU-Brooklyn's success the last couple of seasons. The good news is that he will have most of last year's starting lineup and four top scorers returning. He has two very good big men to work with in Julian Boyd and Jamal Olasewere. Boyd was the leading scorer last year at 17.4 points and added 9.4 rebounds a game. Olaswere added 16.9 points and 7.5 rebounds a game. The backcourt is intact as well with CJ Garner and Brandon Brickman back. Perri should keep the same style of offense that averaged 82 points a game during the 2011-12 season. They were one of the more exciting teams in the country to watch last year and should be again this year.

Butler Bulldogs

It would not be a mid-major preview if Butler did not get talked about. Last year was definitely a down year for a team that had been to the National Championship games two years in a row. They did win 22 games, but only made it to the College Basketball Invitational. The 2012-13 season should be much better for Butler. They have their three top scorers returning from last season in Andrew Smith (10.9 ppg), Khyle Marshall (9.8), and Christopher Hawkins (9.1). The key will be the addition of Arkansas transfer Rotnei Clarke. Clarke is a deadly shooter who was an All-SEC performer for the Razorbacks before leaving. Another key newcomer could be Kellen Dunham, who chose Butler over Indiana and Michigan. The Bulldogs are moving to the A-10, but should a NCAA Tournament team this year.

Check out the Top Mid-Major College Basketball Players in 2012-13.


What do you think?
We'd love to hear your comments and/or opinions. If you submit them here, other visitors can read them, rate them and comment on them. An e-mail address is not required.