Top Ten Returning College Basketball Players for the 2012-13 Season
By Dennis Berry

It is time to start looking toward the 2012-13 college basketball season. One of the keys every time is who they have returning from last year. Having your best player return can mean the difference between a deep NCAA Tournament run or having to start a new season with your current group.

With that in mind, here is our list of the top returning players for the 2012-13 season.
10. Peyton Siva, Louisville

Last year Siva averaged just 9.1 points on 40% shooting and 5.6 assists during the 2011-12 season, but he stepped his game up in the postseason. During the Big East Tournament he averaged 13.8 points on 47% shooting to win the Big East Championship. Then he averaged 9.4 points and 6.2 assists helping Louisville reach the Final Four.

If Louisville wants to return to the Final Four in 2013, Siva will have to be the leader of this team. The Senior point guard will have to improve his play by not getting out of control and running Louisville's offense better.

9. Jarnell Stokes, Tennessee

Stokes only played in 17 games last year as a freshman. It did not take long for him to make an impact, though. You knew that the Volunteers had an impact player during the game against then #2 Kentucky. He scored nine points and grabbed four rebounds in 17 minutes against the Wildcats. Keep in mind that he should have been a senior in high school at that time.

For the year he averaged 9.6 points and 7.4 rebounds a game. He will play an even larger role next year as Tennessee looks to get back to the NCAA Tournament.

8. Mike Moser, UNLV

After sitting out the 2010-11 season, Moser made an immediate impact his first season playing at UNLV. He averaged 14 points and 10 rebounds a game. He shot 45% from the floor and showed that he could stretch the defense with his 33% three point shooting.

This year's Rebels squad might be the best since the early 1990's. If that is to happen, Moser will have to be a big part of that.

7. BJ Young, Arkansas

Last year BJ Young probably should have been a starter for Arkansas. He averaged 15.3 points a game, shooting 50% from the floor and 41% from three. He only started in seven games though, choosing to be a spark off the bench.

This year, Arkansas is going to try and climb the SEC ladder. After going 18-14, expectations will be raised in Fayetteville. Young will be a major contributor for the Razorbacks next year.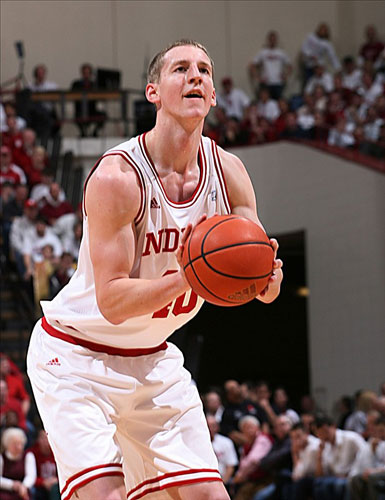 6. Aaron Craft, Ohio State

Is Aaron Craft going to be the leading scorer for Ohio State next year? Probably not. That does not mean that he will not be their best player. Although he only averaged 8.8 points a game last year, he is a great defender and leader on the court.

He is one of the best point guards in the country, if not the best.

5. C.J. McCollum, Lehigh

In the NCAA Tournament last year, America enjoyed watching 15th seeded Lehigh knock off 2nd seeded Duke. It was there that most of America got to see C.J. McCollum for the first time. McCollum scored 30 points for Lehigh in that upset.

McCollum has been a scorer since he came to Lehigh in 2009. He averaged 19.8 points as a freshman, 21.8 his sophomore season, and 21.9 as a junior. His strong play will be needed for Lehigh to make another run to the NCAA Tournament.

4. Doug McDermott, Creighton

Doug McDermott is a scorer. As a sophomore he averaged 22.8 points a game and led Creighton in scoring 28 times. He shot 60% from the floor and 49% from behind the three point line.

Last year the Blue Jays were knocked out by North Carolina in the third round of the NCAA Tournament. This year they should advance to the second weekend of the NCAA Tournament and have a legit shot at making the Elite Eight.

3. Isaiah Canaan, Murray State

There might be no player as important to a team as Canaan is to Murray State. Last year he averaged 19 points a game, shooting 47% from the floor and 46% from three. Whenever Murray State needed a play, Canaan made it for them.

If Murray State can build off their success from last season, Canaan will be the reason why. He should be a preseason All-American entering the 2012-13 season.

2. James Michael McAdoo, North Carolina

Last year McAdoo was in the shadows of more experienced Tar Heels. He only averaged 15.6 minutes in 38 games last year. With so little time on the court, he only averaged 6.1 points a game his freshmen season.

Look for McAdoo to be the center piece for North Carolina next year. His size and skills will make him a tough match-up for most of college basketball.

1. Cody Zeller, Indiana

Indiana basketball returned to the national spotlight last year. They will enter the 2012-13 season as favorites to win the national championship in 2013. The team is loaded with talent, but the key will be Cody Zeller.

Last year he averaged 15.6 points, 6.6 rebounds, and 1.2 blocks a game, while shooting 62% from the floor. That was good enough to lead Indiana in each category. There will be much pressure on Zeller to perform at a high level and lead Indiana back to the Final Four.


What do you think?
We'd love to hear your comments and/or opinions. If you submit them here, other visitors can read them, rate them and comment on them. An e-mail address is not required.