Watch Out for UNLV Basketball in 2012 - 2013
By Dennis Berry

Last season was the return of UNLV basketball to the national spotlight.

Actually the specific date was November 26, 2011. That was when UNLV played then number one North Carolina in Las Vegas. The Tar Heels were seen by many as the overwhelming favorite to win the NCAA Title last year with all their returning players. The Rebels were coming off back to back NCAA Tournament appearances and were predicated to win the Mountain West Conference, not much else.
That night the Rebels had a nationwide audience on ESPN and took advantage of it. After trailing at halftime the second half belonged to the Rebels. They went on 14-0 run to start the half on their way to 90-80 win.

Following that the Rebels entered the Top 25 in both the coaches and associated press poll. They would go on to win 26 games last year and make the NCAA Tournament. Yet the end of the season is one they have probably already forgotten. They lost to New Mexico in the Mountain West Conference Tournament final and then lost in their opening game of the NCAA Tournament to Colorado.

Fans of the Rebels should have already put those losses in the past and look forward to next year. With the incoming freshmen class and transfers that are headed west, the Rebels should be a Top 10 preseason team.

Before you look at what UNLV has coming in, you have to look at what UNLV is returning. The key returning player is Mike Moser, who could have been a first round pick in the NBA Draft this year. Instead he and his 14 points and 10 rebounds a game will be the key post player next year. Also coming back are Anthony Marshall (12 points, 5 rebounds, and 4.5 assists) and Justin Hawkins (7.9 points in 24 minutes a game). They Rebels will also have Quintrell Thomas (Senior), Barry Cheaney (sophomore), Wade Norman (sophomore), Bryan Glenn (redshirt freshman) and Carlos Lopez (Junior) returning next year.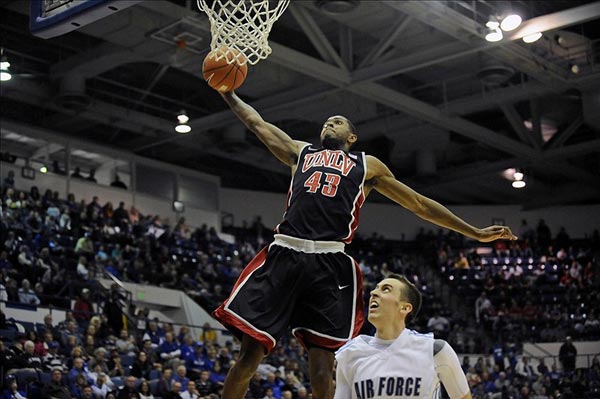 The incoming freshman class is one of the best in the nation next year. The headliner in the class is Anthony Bennett, who is considered to be the best power forward in the 2012 class. He is joined by shooting guard Katin Reinhardt, a Top 10 shooting guard in the class. Also in the class are point guard Daquan Cook and forward/center Demetris Morant. The newest addition is Savon Goodman and athletic wing from Philadelphia. This class should be considered a Top 10.

The other class to consider for UNLV is the transfer class. That group consists of Roscoe Smith, Khem Birch, and Bryce Jones.

Birch came from Pittsburgh where he left after his first 10 games into his freshmen season. He was a Top 15 player in the class of 2011. He will be able to play at the end of the fall 2012 semester. Bryce Jones comes for Southern California where he played in 18 games and averaged 7.9 points a game before leaving the team in January 2011. Then there is Smith and the unknown if he will play next year. He came to UNLV this summer from Connecticut because the Huskies cannot play in the NCAA Tournament next year. UNLV is going to try and have him eligible next year, but is expecting that he will not play there until the following season.

If Smith is granted the right to play next year it will just be another weapon for Head Coach Dave Rice, who will be entering his second season at UNLV. He will have plenty of talent to work with next year. The Rebels will be loaded with talent and it is not hard to see a 9-10 man rotation going next year. Can Rice manage all that talent and find enough minutes for everyone.

The 2012-13 season could be the best since the late 80'-early 90's run with Jerry Tarkanian was on the sidelines. Now it remains to be seen if this group that Rice has put together can perform on the court like those teams did, but this will certainly be the most talent at UNLV since then.


What do you think?
We'd love to hear your comments and/or opinions. If you submit them here, other visitors can read them, rate them and comment on them. An e-mail address is not required.