Top Incoming Freshmen in College Basketball in 2012-13
By Dennis Berry

A new college basketball season means a new group of freshmen players to get excited about. We know that UCLA and Kentucky have the best recruiting classes coming in next year, but there are other talented players across the nation.

Here is a breakdown of the top ten incoming freshmen next season:
10. Rodney Purvis, North Carolina State

Purvis is a huge addition for Mark Gottfried's Wolfpack squad. He is a scoring threat from anywhere on the court. Scoring is not the only thing he does well, though. He is a great passer and plays excellent defense. He will be able to play both point and shooting guard spots for the Wolfpack.

9. DaJuan Coleman, Sryacuse

Coleman is one of the best low post players in the incoming freshman class. At 6'8" and 280 pounds, he has no problem holding his own in the paint. He is a great scorer and rebounder as well. He should be a solid replacement of Fab Melo in the post for Jim Boeheim.

8. Brandon Ashley, Arizona

The Arizona Wildcats landed a versatile power forward with Ashley. He is a great athlete that runs the floor. He still needs to improve his low post moves, but can finish at the basket. The more Sean Miller works with him, the better he will get.

7. Alex Poythress, Kentucky

Poythress is another in a long line of high profile freshman to come to Kentucky. At 6'7" he will be able to play both forward positions for John Calipari. He is great at finishing at the rim and he can go outside also. He will fit perfectly in Kentucky's offense.

6. Gary Harris, Michigan State

Harris is one of the best shooting guards in this freshman class. His strength is shooting the three point shot. Once he improves ball handling, he will be able to drive and attack the basket in addition to shooting outside shots. That will make him an even more dangerous offensive player. He is also a great defender, which Tom Izzo will love.

5. Anthony Bennett, UNLV

UNLV added another great player with Bennett. He will be a tough match up for most low post opponents. He uses his athleticism to finish at the rim and for his strong rebounding. He also has a great outside shot that goes out to the three point line. Once he improves his low post game, he will be a complete player.

4. Isaiah Austin, Baylor

The word "freakish" comes out a lot when you hear people talk about Austin. At 7'0" he is a great ball handler and passer. He can score near the basket or stretch the defense with his jumper. His height and wingspan makes him a great shot blocker on defense as well.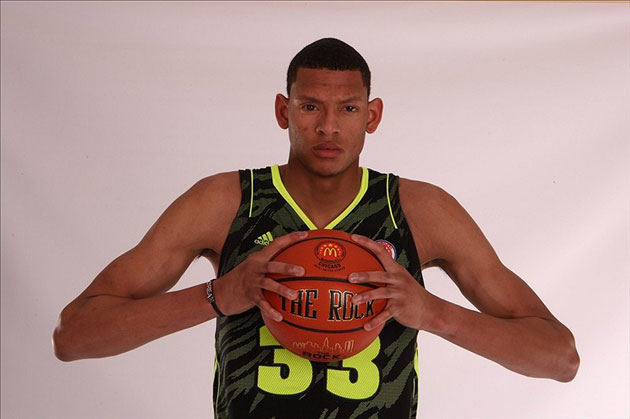 3. Kyle Anderson, UCLA

Anderson is used to playing with the ball in his possession most of the time. He is a smart player, great ball handler, and excellent passer. He also has a good mid-range game to compliment the rest of his game. Anderson is part of an incoming class with high expectations of turning UCLA around.

2. Nerlens Noel, Kentucky

Noel will come to Kentucky with big shoes to fill. He comes in with the reputation as the best shot blocker in the incoming class. He will have to replace Anthony Davis, who led Kentucky to a national championship. Noel's offensive game is limited, but he will be a great finisher at the basket and shot blocker.

1. Shabazz Muhammad, UCLA

Muhammad is the most explosive incoming player next year. He is an aggressive player who is always looking to attack the basket. His three point shot needs to improve, but he is good from mid-range in. He is great at creating his own shot, which is something that UCLA needs big time.


What do you think?
We'd love to hear your comments and/or opinions. If you submit them here, other visitors can read them, rate them and comment on them. An e-mail address is not required.