College Basketball Players That Will Breakout In 2012-13
By Dennis Berry

Every year it seems that a player comes out of nowhere and becomes a household name. It could be a second year player that is getting more playing time. It could even be an upper classman that has not lived up to expectations when he arrived on campus.

Here are 10 players who should rise from supporting role to having a big impact on their team during the 2012-13 season.
Quin Cook, Duke - His first year at Duke did not go the way Cook had hoped. He suffered a knee injury early on that kept him out of practice to start the year. Once he was healthy he only averaged 4.4 points and 1.9 assists in 11 minutes a game. He was mainly used as a back up to a much more heralded freshman, Austin Rivers. Cook should enter the 2012-13 season healthy and with a good shot at winning the starting point guard spot. If he does, look for his numbers to go way up.

P.J. Hairston, North Carolina - Last year was a new experience for Hairston. He did not get much playing time during his freshman season. He only averaged 13 minutes a game and that lack of playing time appeared to affect him. He came to North Carolina with a reputation of being an excellent shooter, but he only shot 31% from the floor and 27% from the three point line. With Harrison Barnes now in the NBA, look for Hairston's minutes to increase along with his scoring (5.7 ppg last year) and shooting percentages.

Kyle Wiltjer, Kentucky - Wiltjer came to Kentucky with the rep of being a great shooter and he lived up to it. He shot 44% from the floor and 43% from the three point line. The problem for Wiltjer was that he was playing with six guys who would be selected in the 2012 NBA Draft. If Wiltjer adds a low post game to his outside shot, he will be a tough matchup for anybody next year.

Michael Carter-Williams, Syracuse - As a freshman, Carter-Williams only averaged 10.3 minutes a game. Of course he was playing behind Branden Triche, Dion Waiters, and Scoop Jardine which made getting on the floor tough. Now that Waiters and Jardine have moved on, he should get his shot. Carter-Williams will probably play most as a shooting guard this year. He is a great athlete and if his jumper improves, he could have a big year for the Orange.

Davante Gardner, Marquette - Many expected Gardner to breakout last year, but it really did not happen. He averaged 19.6 minutes a game, but he only averaged 9.7 points a game. There are still questions about conditioning - he is listed as 6'8 290 lbs. If Gardner comes into 2012 in better shape, he could become a dominate big man in the paint. Last year, he shot 58% from the floor. One area that he needs to improve in is rebounding, in which he only averaged 5.5 a game last year.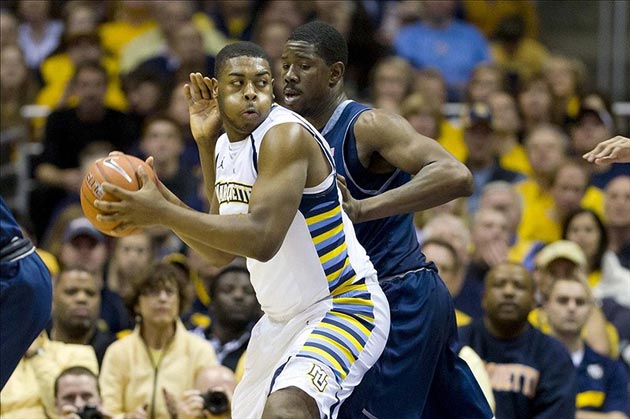 Wayne Blackshear, Louisville - Last year Blackshear missed the Cardinals' first 24 games dues to a shoulder injury. In his first game on the road at West Virginia he played 20 minutes and scored 13 points. He played sparingly after that but played well in the Louisville Final Four game against Kentucky. If Blackshear stays healthy, look for him to have a big season for Louisville as he will join Peyton Siva in the backcourt.

Le'Bryan Nash, Oklahoma State - Lat year Nash came to Oklahoma State with a lot of hype. While he put up good numbers as a freshman - 13.3 points a game in 30 minutes a game - he did not meet fans' expectations. One thing that Nash can do is to improve his scoring is improve his shooting .He shot only 39% last year. Nash is better at attacking the rim, but if that jumper improves he will wreak havoc on the Big 12.

BJ Young, Arkansas - If you follow SEC basketball then you already know who Young is. After Marshawn Powell went down to injury, Young became the Razorbacks' leading scorer averaging 15.3 points a game. He shot 50% from the floor and 41% from three point land. The real problem for Young last year was turnovers; he had a total of 74 turnovers and just 73 assists. A year under his belt should make Young a better player, which should scare the rest of the SEC.

Cory Jefferson, Baylor - Last year there was just not enough minutes for Jefferson in Baylor's front court. Early on it looked like Jefferson would be a contributor for the Bears, but his minutes fell off as the season went along. When he did get minutes, he proved to be a force on defense. He was second on the team in total blocks (42) while only averaging 10 minutes a game. Jefferson should get a chance for more playing time this year and should become one of the best shot blockers in the country.

Dezmine Wells, Xavier - Remember the name Dezemine Wells because at some point next year you are going to see him on ESPN's Top 10 plays with a nasty dunk. Wells started 30 of 31 games last year for Xavier and averaged 10 points a game while shooting 51% from the floor. Yet most of the attention was given to Tu Holloway and Mark Lyons. With those guys gone, Wells will dominate the ball and should become the Musketeers' leading scorer.


What do you think?
We'd love to hear your comments and/or opinions. If you submit them here, other visitors can read them, rate them and comment on them. An e-mail address is not required.