NBA Fantasy Basketball: Projecting This Year's Rookies
By Lorenzo Tanos
I was supposed to continue the fantasy basketball talk by looking at 2011-12's biggest surprises, but where's the fun in that? We all know Jeremy Lin shot upwards from 0% owned to somewhere in the neighborhood of 70-85% in just a week's time, thus rendering moot any debate about the biggest fantasy NBA surprise of last season. Besides, wasn't 2011-12 the year of the fantasy flop? Blame it on the shortened season. Anyway, we'll certainly have more tips and listings for fantasy basketball in the coming months, including this one – assessing the 2012-13 rookies and finding out whether it's safe to draft them or not this coming fantasy NBA season. We're going to start with picks 1 to 10 of the 2012 NBA Draft.
1. Anthony Davis (New Orleans – F/C) – With Robin Lopez and Jason Smith the only competition at center, opposing teams will have every reason to Fear the Brow. He's a lock to start immediately; he'll be one of the safest rookies to draft, perhaps as early as the fourth round in leagues of 12 teams or more. PROJECTED STATS – 16 ppg, 9 rpg, 3 bpg (~35 mpg)
2. Michael Kidd-Gilchrist (Charlotte – F) – Does he really have anybody to compete with at SF? MKG looks like the Bobcats' third or fourth option in the starting lineup, as Charlotte has high-scoring guards at both positions. Draft him in the eighth round onwards. PROJECTED STATS – 13.5 ppg, 6.5 rpg, 2 apg (~33 mpg)
3. Bradley Beal (Washington – G) – He'll probably start out as Jordan Crawford's backup at SG, but he's got the game and the athleticism to take over somewhere in the middle of the season, or develop into a high-scoring 6th man. Tenth round and onwards. PROJECTED STATS – 13 ppg, 4.5 rpg, 1.5 3pg (~28 mpg)
4. Dion Waiters (Cleveland – G) – His bust potential is scarier than ever as he's reportedly been stinking up the summer leagues. At the rate he's going, C.J. Miles looks most likely to start for the Cavs at SG. Draft at your own risk. PROJECTED STATS – 8 ppg, 2.5 rpg, 2 apg (~20 mpg)
5. Thomas Robinson (Sacramento – F) – He'll be stepping into a crowded situation with Jason Thompson and Chuck Hayes at the four. He's also had a rough going in summer league play, which makes him another risky pick. PROJECTED STATS – 10 ppg, 6.5 rpg (~24 mpg)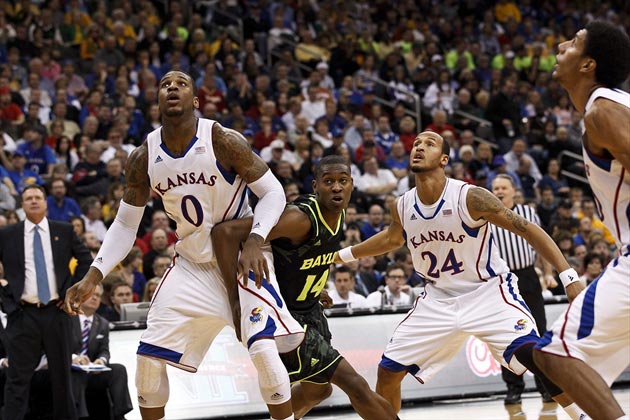 ---
6. Damian Lillard (Portland – G) – I've been high on this guy's pro prospects since his days at Weber State, and with Ray Felton now with the Knicks, he's a shoo-in to start as a scoring PG. Oh, and did I mention he's been great in the summer leagues? I'd say draft him in the fifth or sixth as your second PG. PROJECTED STATS – 15.5 ppg, 3 rpg, 5.5 apg (~31 mpg)
7. Harrison Barnes (Golden State – SF) – He only has a past-his-prime Richard Jefferson to deal with at SF. Probably Carl Landry as well, who's a decent backup at either spot. But R-Jeff is still handy with the 3-bomb, so Barnes may or may not start. Best not to draft him, but do pick him up as soon as you notice production improving. PROJECTED STATS – 11 ppg, 4.5 rpg (~26 mpg)
8. Terrence Ross (Toronto – F/G) – He'll probably be learning off the bench as a rookie, as Landry Fields has proven himself a capable starter with the Knicks. Only draft him if you need outside shooting badly, and only do so in the last round or two. PROJECTED STATS – 8 ppg, 3 rpg, 1.2 3pg (~20 mpg)
9. Andre Drummond (Detroit – C/F) – Like in Waiters' case, I wasn't a fan of his decision to turn pro so early. He's very raw despite the undeniable talent, a classic boom-or-bust pick. He could be this year's Bismack Biyombo, albeit with better offense. He could make a good pick at the tail-end of your draft. PROJECTED STATS – 8 ppg, 6.5 rpg, 2 bpg (~26 mpg)
10. Austin Rivers (New Orleans – G) – He's being groomed for a starting PG spot, despite mostly playing the two at Duke. We may be seeing a lot of Greivis Vasquez early on, as he did play quite well during the times Jarrett Jack was out. That said, Doc Rivers' son isn't the PG you want on your fantasy team, unless he learns the ropes quickly and proves capable of being an NBA point. PROJECTED STATS – 8 ppg, 2 rpg, 3 apg (~20 minutes)
Here's our NBA Fantasy Basketball: Projecting This Year's Fantasy Rookies (Part: 2).
---
What do you think?
We'd love to hear your comments and/or opinions. If you submit them here, other visitors can read them, rate them and comment on them. An e-mail address is not required.
---
From NBA Fantasy Basketball: Projecting This Year's Fantasy Rookies to Fantasy Basketball | Sports Blog | NFL Football Blog | NCAA Football Blog | NFL Football Archives | College Football Archives | MLB Baseball Blog | College Baseball Blog | MLB Baseball Archives | NBA Basketball Blog | NCAA Basketball Blog | NBA Basketball Archives | NCAA Basketball Archives | Fantasy Football | Fantasy Baseball | Soccer Archives | Olympics Archives | Stupid Athletes Archives | Other Archives | Football Forum | Basketball Forum | Baseball Forum | NFL Football Store | NBA Basketball Store | MLB Baseball Store | NCAA Football Store | NCAA Basketball Store | NCAA Baseball Store | Fatheads | NFL Football Tickets | NBA Basketball Tickets | MLB Baseball Tickets | NCAA Football Tickets | NCAA Basketball Tickets | NCAA Baseball Tickets |
---
Home Page
About Us | Contact Us | Site Search | Advertise | Terms of Use |
---