Twelve Biggest Fantasy Basketball Flops of 2011
By Lorenzo Tanos
The 2012-13 NBA season may be a little more than two months away, but as early as now, there are those who are already envisioning what the coming season's fantasy basketball lineup would look like. For me, last year was particularly challenging – though I finished in the upper half in three out of four leagues, I had a knack for drafting players who performed way below expectations. Oftentimes injuries were the culprit, though there were players who just flat-out sucked for most, if not all of the season.
This will be my first fantasy basketball article for the year, though there will certainly be more to come as we draw closer to Opening Day. As there is so much that could happen between now and the last week of October, let's take a look at the players who broke the most owners' hearts in last year's 2011-12 fantasy NBA season, starting with players ranked 12 to 7. These players are ranked based on expectations prior to the season and how they had actually turned out. (Note – This list only covers players who saw action in 25 games or more, so don't expect to see Brook Lopez or Eric Gordon in here.)
HONORABLE MENTION – Jameer Nelson, Jason Richardson, Raymond Felton, David West, Darren Collison
12. Stephen Curry (GSW, G, 14.7 ppg, 3.4 rpg, 5.3 apg, 2.1 3P/G) – So you thought it was just an ankle sprain that was slowing Curry down? You thought his poor performance in the first few games was a fluke, and after a few games' rest he'd be back to 100%? Like many fantasy NBA owners, I was wrong on both counts. That right ankle sprain kept recurring and recurring, and by March, he was effectively out for the season after playing just 26 games. He claims the ankle is much better now, and barring further complications, he'll be back scoring 20-plus a game this season.
11. Jason Kidd (DAL, PG, 6.2 ppg, 4.1 rpg, 5.5 apg, 36% FG, 1.6 3P/G) – The mistake here would've been thinking that even at age 38, Kidd would be like the Energizer Bunny, even as a "cheap" source of assists. Not only was he extremely injury-prone (understandable for older players in the cramped 66-game season), but his assist numbers were waaaay down. Kidd was signed by New York for the coming season as Jeremy Lin's backup and mentor, but with Linsanity having moved down south to Texas, he'll be splitting time at the point with an "honorable mention" fantasy flop from 2011-12, Raymond Felton. Don't even count on 2010-11-esque numbers from J-Kidd this season.
10. Zach Randolph (MEM, PF, 11.6 ppg, 8.0 rpg, 1.7 apg, 46% FG) – Year after year, you knew what you were getting from Z-Bo – at least 20 points and 10 rebounds, an occasional (minor) injury and absolutely porous defense, the latter of which doesn't matter much in the fantasy NBA world. Unfortunately, a partial MCL tear shortened Randolph's season to 28 games, and when he got back, it took a while before his game returned to 80% of what it was. Hopefully this season he'll be back to 100%, because 20-10 guys are a valuable commodity for every fantasy lineup.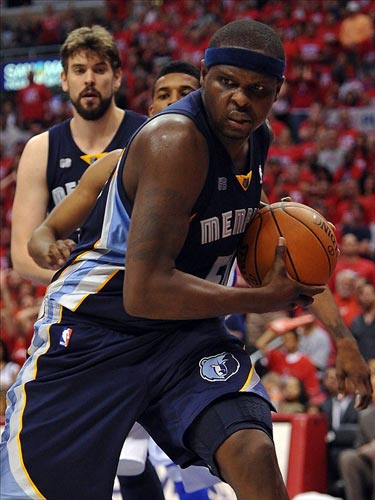 ---
9. Kevin Martin (HOU, SG, 17.1 ppg, 2.7 rpg, 2.8 apg, 41% FG, 2.0 3P/G) – Martin was either brilliant as usual as a scorer and supplier of three-pointers, injured and unable to play or injured and useless. The "injured and useless" moments were especially frustrating to his owners (myself included), as it suddenly became common to see this K-Mart go scoreless, or close to it. Case in point – a four-game stretch in February where he averaged 4 points and shot 19% from the field in 20 minutes of play. Provided he's healthy, the Jeremy Lin-Kevin Martin backcourt will be one of the Western Conference's more exciting and productive tandems.
8. Boris Diaw (CHA/SAS, 6.4 ppg, 4.9 rpg, 3.6 rpg, F/C) – Early in the season, Diaw looked like he was ready to become the only star-caliber player on an increasingly lousy team. But playing for the worst NBA team ever (with asterisk) took its toll on his morale, and it wasn't long before Diaw ended up in Paul Silas' doghouse. After mercifully being released by the Bobcats, he signed with the Spurs, where he was finally happy and contented and a vital cog in a winning team, but not at all a fantasy contributor. Don't expect things to change much this season.
7. Stephen Jackson (MIL/SAS, 9.8 ppg, 3.5 rpg, 2.5 apg, 1.2 spg) – You knew something was bound to happen eventually – stick one of the league's premier head cases in a team led by one of the league's fieriest coaches and you've got a recipe for trouble. Jackson and Scott Skiles never saw eye-to-eye, and 26 mostly disappointing games and two trades later, he was a Spur. Jackson was actually less productive with San Antonio (see: Diaw, Boris), but if it's any consolation, he hasn't given Coach Pop much trouble so far. Like Diaw, S-Jax isn't expected to contributein a fantasy basketball sense as long as he's part of such a deep lineup.
Please read these other related page Biggest Fantasy Basketball Flops of 2011: Part 2.
---
What do you think?
We'd love to hear your comments and/or opinions. If you submit them here, other visitors can read them, rate them and comment on them. An e-mail address is not required.
---
From Twelve Biggest Fantasy Basketball Flops of 2011 to Best Sports Blog | Sports Blog | NFL Football Blog | NCAA Football Blog | NFL Football Archives | College Football Archives | MLB Baseball Blog | College Baseball Blog | MLB Baseball Archives | NBA Basketball Blog | NCAA Basketball Blog | NBA Basketball Archives | NCAA Basketball Archives | Fantasy Football | Fantasy Basketball | Fantasy Baseball | Soccer Archives | Olympics Archives | Stupid Athletes Archives | Other Archives | Football Forum | Basketball Forum | Baseball Forum | NFL Football Store | NBA Basketball Store | MLB Baseball Store | NCAA Football Store | NCAA Basketball Store | NCAA Baseball Store | Fatheads | NFL Football Tickets | NBA Basketball Tickets | MLB Baseball Tickets | NCAA Football Tickets | NCAA Basketball Tickets | NCAA Baseball Tickets |
---
Home Page
About Us | Contact Us | Site Search | Advertise | Terms of Use |
---