NBA Fantasy Basketball: Projecting This Year's Fantasy Rookies
By Lorenzo Tanos
This time we'll be looking at picks #11-20 from the 2012 Draft, as well as a few late first-rounders and second-rounderswho could surprise. Here's our NBA Fantasy Basketball: Projecting This Year's Rookies (Part: 1).
11. Meyers Leonard (Portland – C) – J.J. Hickson's surprising performance upon joining the Blazers could move LaMarcus Aldridge to center, but if Hickson's trademark inconsistency manifests, there's a chance Leonard will get a lot of minutes. Best to hold off and pick him up early in the season depending on his playing time. PROJECTED STATS – 7 ppg, 4.5 rpg, 1 bpg (~19 mpg)
12. Jeremy Lamb (Houston – SG) – Don't expect a Jeremy and Jeremy starting backcourt – there's a good chance Kevin Martin will return to form after a horrible 2011-12. That said, Lamb may see a lot of bench time despite sparkling in the summer leagues. Don't draft unless K-Mart is moved to SF. PROJECTED STATS – 5.5 ppg, 2 rpg (~14 mpg)
13. Kendall Marshall (Phoenix – PG) – GoranDragic's understudy is the epitome of pass-first – Marshall averaged nearly 10 apg in college. He's best picked up during the season if your team's in dire need of assists. PROJECTED STATS – 4.5 ppg, 5 apg (~16 mpg)
14. John Henson (Milwaukee – PF) – Here's another summer league performer who's stuck in a crowded situation. In fact, it's especially crowded at 4 and 5 for the Bucks – Sam Dalembert, Drew Gooden, EkpeUdoh, Joel Przybilla, Larry Sanders…and now John Henson. Not a wise pick. PROJECTED STATS – 2.5 ppg, 2 rpg, 0.5 bpg (~8 mpg)
15. Moe Harkless (Orlando – SF) – He's stuck on a potentially awful Orlando team where the best returning player happens to play his pro position. Only draft (or pick up) if HedoTurkoglu is injured. PROJECTED STATS – 3 ppg, 1.5 rpg (~10 mpg)
16. Royce White (Houston – F/C) – Everything's open at PF with Luis Scola now a Sun. There also may be some chances at center, even if White only stands 6'8". For what it's worth, he's a beefy and strong 270 pounds, and he's extremely versatile – statistically, he could be a very poor man's modern-day version of Wes Unseld. We could be looking at a steal here, and with that in mind, you may want to draft him in the last 2-3 rounds. PROJECTED STATS – 9 ppg, 5.5 rpg, 3 apg (~23 mpg)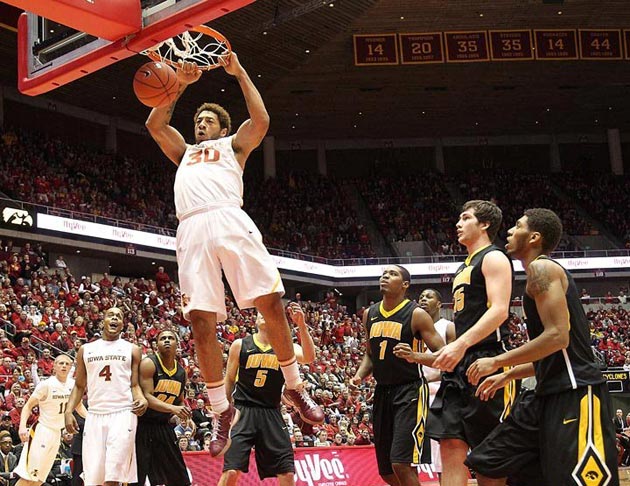 ---
17. Tyler Zeller (Cleveland – C) – Anderson Varejao has been especially brittle in the past two years, so if Sideshow Bob finds himself "locked up" again on the injury list, Zeller will get lots of minutes. But as long as Varejao's healthy, I wouldn't draft him if I were you. PROJECTED STATS – 6.5 ppg, 4 rpg (~17 mpg)
18. Terrence Jones (Houston – F) – Another potential steal for the Rockets. It wouldn't be too far-fetched to see a rookie 4-5 combo of Jones and Royce White, but young veteran Patrick Patterson has the inside track at PF. He's a risky late pick at best. PROJECTED STATS – 6 ppg, 4 rpg (~20 mpg)
19. Andrew Nicholson (Orlando – PF) – Even with the inexplicable Ryan Anderson-for-Gustavo Ayon trade, Nicholson might not see a lot of playing time. Don't draft. PROJECTED STATS – 4 ppg, 2.5 rpg (~12 mpg)
20. Evan Fournier (G/F – Denver) – The first European pick in the 2012 Draft, Fournier will be a good backup to Andre Iguodala. But you shouldn't draft him in your league, as Iggy's a lock to see his usual 35+ minutes per game. PROJECTED STATS – 4 ppg, 2 rpg (~12 mpg)
OTHER ROOKIES:
Three Euro big men drafted before 2012 will be making their NBA debuts this year – Jonas Valanciunas (Toronto), DonatasMotiejunas (Houston) and Joel Freeland (Portland). All three could see significant playing time, therefore it wouldn't hurt to take a flyer on them if you've got a deep league.
As far as this year's other picks go, keep an eye on Jeffery Taylor (Charlotte, #31) – if either one of the Bobcats' incumbent frontcourt men get injured or fail to produce consistently (I'm looking at you, Tyrus Thomas), it's possible Michael Kidd-Gilchrist may be moved to PF while the Bobcats, who can't get any worse, try Taylor at SF. Taylor's Vanderbilt teammate John Jenkins (Atlanta, #23) could be a surprise source of threes and points off the bench – monitor his performance and minutes in the early goings of the season. Also, there's a good chance Jared Sullinger (Boston, #21) would see valuable minutes off the bench at 4/5, and maybe start at either position, alongside Kevin Garnett and Paul Pierce in the frontcourt. He was, after all, a potential lottery pick leading into the 2011 and 2012 Drafts.
---
What do you think?
We'd love to hear your comments and/or opinions. If you submit them here, other visitors can read them, rate them and comment on them. An e-mail address is not required.
---
From NBA Fantasy Basketball: Projecting This Year's Fantasy Rookies to Fantasy Basketball | Sports Blog | NFL Football Blog | NCAA Football Blog | NFL Football Archives | College Football Archives | MLB Baseball Blog | College Baseball Blog | MLB Baseball Archives | NBA Basketball Blog | NCAA Basketball Blog | NBA Basketball Archives | NCAA Basketball Archives | Fantasy Football | Fantasy Baseball | Soccer Archives | Olympics Archives | Stupid Athletes Archives | Other Archives | Football Forum | Basketball Forum | Baseball Forum | NFL Football Store | NBA Basketball Store | MLB Baseball Store | NCAA Football Store | NCAA Basketball Store | NCAA Baseball Store | Fatheads | NFL Football Tickets | NBA Basketball Tickets | MLB Baseball Tickets | NCAA Football Tickets | NCAA Basketball Tickets | NCAA Baseball Tickets |
---
Home Page
About Us | Contact Us | Site Search | Advertise | Terms of Use |
---