Discover Fan Loyalty Poll
Posted by Aaron Saas in Discover Fan Loyalty Poll
Dec 19, 2013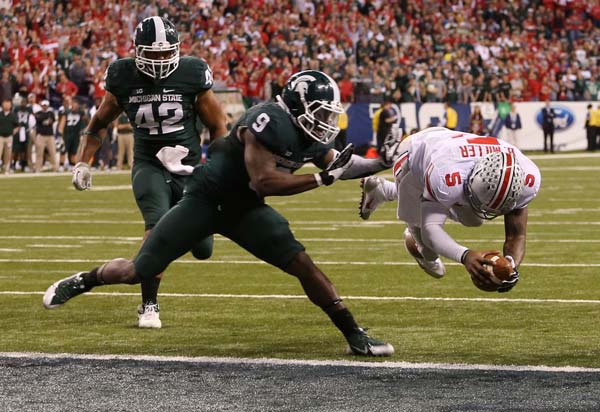 The 2014 Discover Orange Bowl just around the corner, which will be taking place on January 3rd from Sun Life Stadium in Miami, Florida, and be contested by the 7th ranked Ohio State Buckeyes and the 12th ranked Clemson Tigers.

Some of you may have wondered what that Discover Card "Official Correspondent" badge at the bottom of the right column of the site is about. Well, for the rest of the season, we'll be covering the Discover Card Fan Loyalty Poll and commenting on college football aspects of it -- "officially." You'll be able to find links to all our articles about it here. It looks to be a fun series of articles.
You, as a reader, will also have an opportunity to win tickets to the upcoming Orange Bowl -- more about that to come!

This week, DiscoverCard commissioned a survey to find out if college football fans would go back and relive a day of college if they could.   No suprise here -- most said "sure."  In fact 56% said "yes, I have great memories of college;"  40% said "nah, I've moved on." 

If the surveyor asked me the same question, I'd have a hard time answering, because it would depend on which day.  I mean I wouldn't want to go back and relive my Accounting II final exam day.  No thanks.  But, if I could relive the day my Vols won the National Championship -- oh yea, that would be cool.  I bet my friend "Coach Scooter" would like to go back and relive this day.

Now, any difference between men and women in the survey?  Of course.  Women apparently miss college more as you can see from the graphic below.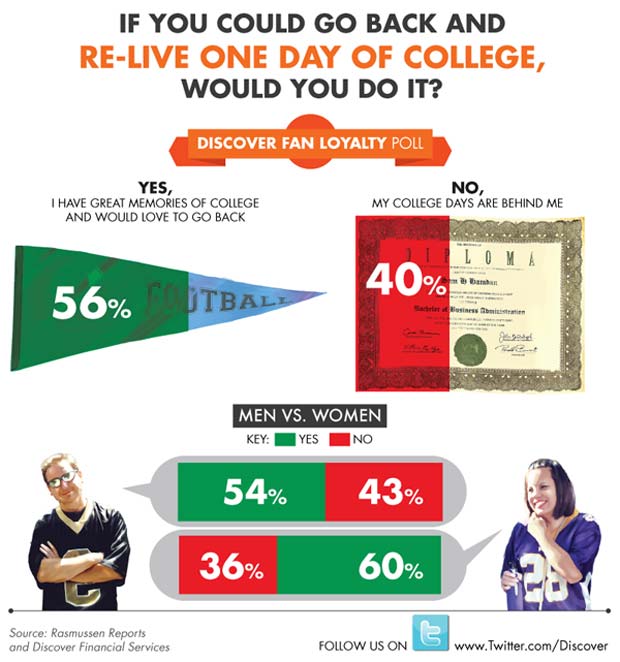 Also, the poll found that the younger people were, the more they wanted to go back to college.  I'm not sure if that is more a positive reflection on college life or a negative reflection of the sometimes not so fun life of working every day.   It's also interesting that from West to East the fans wanted to return the most.  Pac-12 fans the most; then Big 12; then Big Ten....  I wonder if it has to do with time zones or maybe it's just nicer weather the further west one goes??

When asked which team is best in the nation right now, the poll found most people thought Alabama was; followed by Oregon, Florida State and Ohio State.

Well, that's it for this week. Feel free to comment below if you have comments.  Otherwise, check back in a week for our next installment of the Discover Card.

Fan Loyalty Poll.  At that point, we'll reveal how you can win free tickets to the 2014 Orange Bowl in sunny Miami, Florida!


In the meantime, feel free to check out Discover Card's Facebook and Twitter pages:

Please Read These Other Related Pages:
What do you think?
We'd love to hear your comments and/or opinions. If you submit them here, other visitors can read them, rate them and comment on them. An e-mail address is not required.
From Discover Fan Loyalty Poll to Football Forum