2011 NCAA Tournament Predictions
Its time for March Madness. Basketball's craziest, zaniest, most unpredictable tournament is here! Unlike the NBA, which is pretty predicable based on regular season records and playoff matchups, March Madness always surprises us. These are college kids not professionals so the game is more fluid…teams always have the potential to play inspired basketball and give us an upset special while the favorites are liable to throw out a clunker at any time.
Despite that, people try and predict it every year. Predicting the unpredictable: that's the fun of it. You can use ESPN Insider, Writer's Tips, Ken Pomeroy's famous rankings, computer simulations, the whole nine yards but what you really need to win with your March Madness predictions is a bit of luck. Luck with seeding, luck with your team's draws, and luck with their performance on the court. Knowing that, here are a few of my own predictions for the 2011 NCAA Tournament:
Prediction 1: Ohio State will defeat Kentucky in the Sweet Sixteen and reach the NCAA Championship
Ohio State, the nation's most mature basketball squad, should cakewalk to the Sweet Sixteen but Kentucky will pose a strong challenge. The Wildcats are the nation's most talented team and they are peaking at the right time. But if OSU can make it through that gauntlet-and I think they will-they have a good shot of making it to the final game.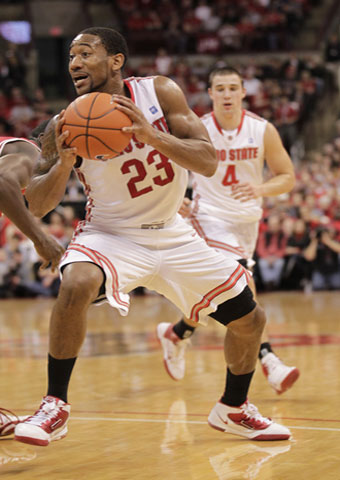 27 February 2011: Ohio States guard/forward David Lighty (23) in a college basketball game in Columbus, Ohio.
---
Prediction 2: Kansas will reach the National Title Game and defeat Ohio State
Kansas is the most complete team in college basketball right now. The Jayhawks also have the clearest path to the final game: Purdue, Notre Dame, Florida, and Pittsburg are all tough teams but Kansas was definitely in the right part of the bracket. I expect them to play-and defeat-Ohio State in the title game.
Prediction 3: San Diego State will make the Final Four
San Diego State is my mid-major blockbuster of 2011. Their potential elite eight opponent, Duke, is very strong but has not been the same since freshman phenomenon point guard Kyrie Irving was lost to injury. The Aztecs have only two losses on the season and could bust a lot of brackets.
Prediction 4: There will be a lot of upsets in the early rounds
This is the most equal tourney field we have seen in years. What separates Michigan, an eighth seed, from twelve seeds Richmond or Utah State? Not much. There are a lot of potential upset specials out there and I'm looking forward to seeing if I predicted the right ones!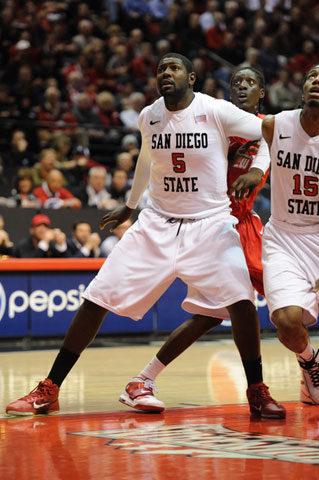 February 16, 2011: San Diego State Aztec (5) Brian Carlwell during a game against New Mexico
on Wednesday at Viejas Arena in San Diego, CA.
---
Other 2011 March Madness Articles:
---
---
What do you think?
We'd love to hear your comments and/or opinions. If you submit them here, other visitors can read them, rate them and comment on them. An e-mail address is not required.
---
From 2011 NCAA Tournament Predictions to NCAA Basketball Blog | Sports Blog | NFL Football Blog | NCAA Football Blog | NFL Football Archives | College Football Archives | MLB Baseball Blog | College Baseball Blog | MLB Baseball Archives | NBA Basketball Blog | NBA Basketball Archives | NCAA Basketball Archives | Fantasy Football | Fantasy Basketball | Fantasy Baseball | Soccer Archives | Olympics Archives | Stupid Athletes Archives | Other Archives | Football Forum | Basketball Forum | Baseball Forum | NFL Football Store | NBA Basketball Store | MLB Baseball Store | NCAA Football Store | NCAA Basketball Store | NCAA Baseball Store | Fatheads | NFL Football Tickets | NBA Basketball Tickets | MLB Baseball Tickets | NCAA Football Tickets | NCAA Basketball Tickets | NCAA Baseball Tickets |
---
Home Page
About Us | Contact Us | Site Search | Advertise | Terms of Use |
---