2011 March Madness Tournament Schedule
FREE Printable 2011 NCAA Tournament Brackets PDF
The most exciting time of the year is here at last: March Madness is upon us. Both for the collegiate men's and women's teams. This is the time when people call into work sick, order a boatload of takeout, and print their free march madness brackets off in preparation for the sheer chaos that is the NCAA Men's Basketball Tournament, or as most call it, March Madness.
Like most years, this year looks to be a nightmare for people who are trying to fill out their free march madness brackets out. Unlike the past few years, however, there are no teams that have truly stepped forward to be named as surefire number 1 seeds; instead, there are theoretically still 8-9 teams that could make an argument for a 1 seed. This will lead to difficulty come decision time, as no one really knows if this year is a case of having no dominant teams or a case of having 8 fantastic teams that have just had a few hiccups.
There are many important March Madness dates that one should remember when discussing men's basketball. The first is, of course, March 13th. This date signifies the beginning of all the madness, as it is Selection Sunday. This is the day that the Selection Committee sits down and draws up the final bracket for the NCAA Tournament. Next on the March Madness schedule is March 15th and 16th, which are the first ever "First Four" games.
The real fun starts on March 17th and 18th, when the NCAA Tournament starts the official first round. This is where some of the biggest upsets happen, and also where unknown players make their mark on the tournament. There is no rest after the first round, as March 19th and 20th start off the second round. After the round of 32, we finally come to the Sweet Sixteen, which on the March Madness schedule falls on March 24th and 25th.
The Elite Eight begins the final stretch of the tournament, and it will be played on the 26th and 27th of March. Finally, the Final Four will be played on April 2nd, with the National Championship finishing off the season on April 4th this year. All of these March Madness dates are important for anyone that is serious about following all of the NCAA Tournament action.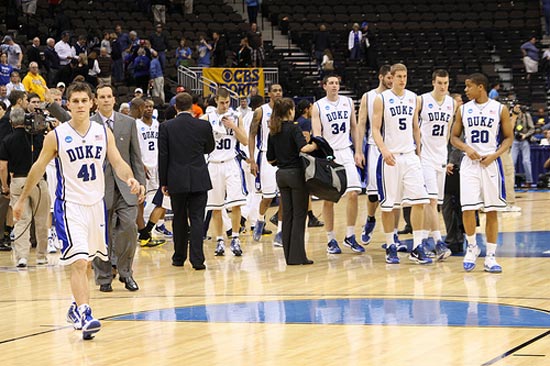 Thanks to Toni Busch from Flickr.com for this great picture of NCAA March Madness Duke Team.
---
Direct TV is one of the forerunners in bringing its viewers all of the action from the first whistle to the final buzzer of the NCAA Tournament. This year is a bit different from past years in terms of deals, however, as the tournament will be played on more than one channel, and the game times will be staggered so that there is never a lull in the action as one game will start as soon as another finishes.
This has not stopped Direct TV from offering some great deals, however. This deal is called Mega March Madness and is great for everyone that wants to be able to watch more than one game at a time. In fact, this deal allows viewers to watch as many as four games at the same time on the same screen. Also, this package offers real-time scores and updates so viewers are never behind on any of the action. Also, you can enter your own March Madness bracket and Direct TV will help you track how your bracket is going in real time. This is a great deal for anyone that is truly excited about keeping track of every moment of the action.
Our projected brackets for 2011 March Madness look like this (as of March 7):
1 Seeds:
• Ohio State
• Kansas
• BYU
• Pittsburgh
2 Seeds:
• San Diego State
• Duke
• Notre Dame
• Texas
3 Seeds:
• Purdue
• Syracuse
• Wisconsin
• North Carolina

4 Seeds:
• Louisville
• St. John's
• Connecticut
• Florida

5 Seeds:
• Georgetown
• Kentucky
• Arizona
• Vanderbilt

6 Seeds:
• Xavier
• West Virginia
• Texas A&M
• Villanova

7 Seeds:
• George Mason
• Temple
• Cincinnati
• Missouri

8 Seeds:
• Utah State
• UCLA
• UNLV
• Kansas State

9 Seeds:
• Virginia Tech
• Washington
• Old Dominion
• Tennessee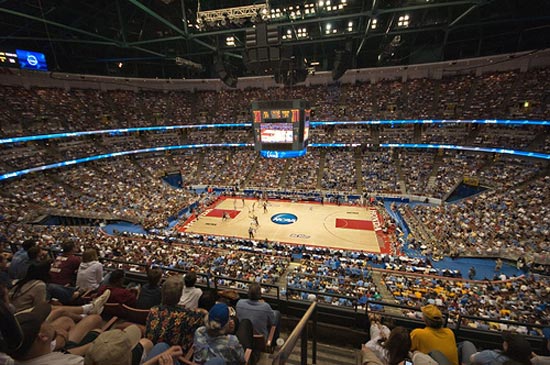 Thanks to SD Dirk from Flickr.com for this great picture of Honda Center NCAA Tournament UCLA vs Texas A&M.
---
10 Seeds:
• Illinois
• Marquette
• Michigan State
• Florida State
11 Seeds:
• Arkansas/Georgia
• Richmond/Alabama
• Gonzaga
• St. Mary's
12 Seeds:
• UAB
• Missouri State
• Butler
• Michigan

13 Seeds:
• Charleston
• Belmont
• Oakland
• Princeton

14 Seeds:
• Bucknell
• Vermont
• Fairfield
• Coastal Carolina

15 Seeds:
• Long Beach State
• Long Island
• Milwaukee
• Kent State

16 Seeds:
• Play-in Games to be decided
We'll see if our predictions hold up. In any event, click this link to get your free
2011 Printable NCAA Tournament Brackets
.
---
Other 2011 March Madness Articles:
---
What do you think?
We'd love to hear your comments and/or opinions. If you submit them here, other visitors can read them, rate them and comment on them. An e-mail address is not required.
---
From 2011 March Madness Tournament Schedule to NCAA Basketball Blog | Sports Blog | NFL Football Blog | NCAA Football Blog | NFL Football Archives | College Football Archives | MLB Baseball Blog | College Baseball Blog | MLB Baseball Archives | NBA Basketball Blog | NBA Basketball Archives | NCAA Basketball Archives | Fantasy Football | Fantasy Basketball | Fantasy Baseball | Soccer Archives | Olympics Archives | Stupid Athletes Archives | Other Archives | Football Forum | Basketball Forum | Baseball Forum | NFL Football Store | NBA Basketball Store | MLB Baseball Store | NCAA Football Store | NCAA Basketball Store | NCAA Baseball Store | Fatheads | NFL Football Tickets | NBA Basketball Tickets | MLB Baseball Tickets | NCAA Football Tickets | NCAA Basketball Tickets | NCAA Baseball Tickets |
---
Home Page
About Us | Contact Us | Site Search | Advertise | Terms of Use |
---