2011 NCAA Basketball Tournament Preview
March Madness has begun! The NCAA Men's basketball tournament is one of the most unpredictable sporting events of the year. There are sixty eight teams in the field this year (up from sixty four in years past) so it should be more competitive than ever! Plus, with Duke's Kyrie Irving still injured, there isn't a single "super team" this year that everyone expects to be national champion. Instead, there are several contenders-Duke, Ohio State, Kansas, and North Carolina to name only a few-who have a legitimate shot at the title and it should be one of the most exciting-and upset-riddled-tournaments in years! So, knowing that, let's take a look at the tournament schedule and some of the potential matchups that await teams looking for March glory!
The Second Round: March 17-18
The March Madness tournament truly begins this Thursday March 17. As always, the beginning of the tournament will feature more simultaneous games than any human being can keep track of, which is part of the fun! It's going to be absolutely overwhelming! So, let's take a quick look at a few games you might want to circle on the schedule. These games are either between close seeds or potential upset specials:
George Mason (8) vs. Villanova (9): Villanova started out the season on a major hot streak. However, the Wildcats hit a major rut midseason, lost several games consecutively, and haven't been the same since. By contrast, George Mason is peaking late and looks like a prime candidate to bust some brackets-if they can possibly get past Ohio State in the Round of 32.
Xavier (6) vs. Marquette (11): Xavier is peaking at the right time and might even be seeded a bit low. But Marquette is always dangerous and could give Xavier a run for its money.
UNLV (8) vs. Illinois (9): Bruce Webber's Illini squad has had an up and down season but they are a talented group that plays defense. If Webber can keep guard Demetri McCamey motivated and the defense humming then the Illini should beat UNLV and could prove a handful for Kansas in the Round of 32.
Vanderbilt (5) vs Richmond (12): This is one of my biggest upset calls of the round. I think Richmond is a tough, underrated group and I see them beating a struggling Vanderbilt squad. Of course, they are likely to face a talented Louisville squad if they do win so I'm not sure they are a real bracket buster beyond the early rounds.
Michigan (8) vs. Tennessee (9): A lot of people think Michigan is overhyped and over-seeded. Well, this devout Wolverines fan thinks Michigan has a good shot of getting out of the round….but their chances against Duke in the round of 32 are slim to none.
Texas (4) vs. Oakland (13): On paper this game is a wash; Texas is an ultra-talented, defense-first team that should make a deep run. But the Longhorns have been slumping, Texas coach Rick Barnes' tournament record is dismal, and Oakland is a very tough group so this will be a very interesting game to watch.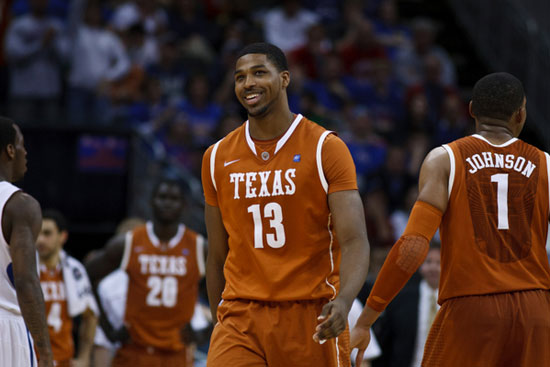 March 12, 2011: Texas Longhorns forward Tristan Thompson (13) smiles after getting called for a foul during the Phillips 66
Big 12 Men's Basketball Championship final.
---
Third Round: March 19-20
There are always major upsets to start the tournament so it's impossible to predict who we will see make it to the first weekend round. But, here are a few interesting matchups we are likely to see:
Ohio State (1) vs. George Mason (8): Everyone's favorite bracket-buster comes face to face with the juggernaut. But even those with an appetite for risk are unlikely to bet on Ohio State exiting this early; they are a talented, mature group with a low post threat and should make a deep run.
North Carolina (2) vs. Washington (7): According to a number of statistical metrics, Washington is actually a top 15 team nationally and better than UNC. But the Tar Heels are peaking at the right time and they have the talent to make a Final Four run.
Kansas (1) vs. Illinois (9): Talent-wise, Kansas should crush Illinois but Bruce Webber's group is very mature and could give them all they can handle.
Purdue (3) vs. Georgetown (6): Georgetown has had a good year but slumped late while Purdue may be the Big Ten's best kept secret. We will see who wins out.
BYU (3) vs. St. Johns (6): BYU lost one of its best players, Brandon Davies, to an honor code infraction but don't count them out. St. Johns is a wild card: on some nights they will come out and beat anyone and on others they would lose to a few high school squads.
Sweet Sixteen: March 24-25
By the Sweet Sixteen, upset specials have ruined brackets across the nation. At least one major seed will be gone and a good number of fantasy matchups will remain just that….fantasies. But, here are a few matchups that the NCAA tournament schedule might bring us in the Sweet Sixteen:
Ohio State (1) vs. Kentucky (4): This will be the marquee pre-Final Four matchup of the tournament….if it actually happens. Ohio State is the most complete team in college basketball and Kentucky is the most talented. Bring it on!
North Carolina (2) vs. Syracuse (3): Syracuse is a very solid, well coached group. Fab Melo is an excellent big man. They will prove a major test for a rejuvenated North Carolina, which is playing its best late in the season and has as much talent as anyone.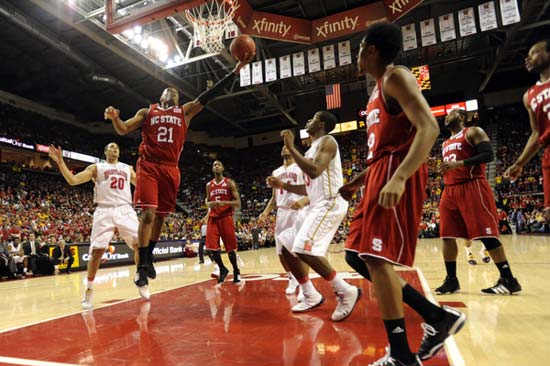 20 February 2011: North Carolina State Wolfpack guard C.J. Williams (21) in action against Maryland Terrapins at the Comast
Center in College Park, Md.
---
Notre Dame (3) vs. Purdue (3): As a Big Ten fan, this is a game I am really looking forward to seeing. Notre Dame is an offensive juggernaut that has been red hot for weeks while Purdue plays a tough blue collar game. It will be interesting to see which style wins out if both teams make it to the Sweet Sixteen.
San Diego State (2) vs. Connecticut (3): SDSU is the mid-major darling of the tournament with BYU hobbled. The Aztecs are an interesting group but if red-hot Kemba Walker and UConn makes it this far they will be very tough to beat down the stretch.

Elite Eight: March 26-27
As you can see, the Sweet Sixteen will eliminate several contenders for sure. Whoever survives to the Elite Eight will be battle hardened. My favorite matchups we might see are Ohio State (1) vs. North Carolina (2), Kansas (1) vs. Purdue (3), and Duke (1) vs. Connecticut (3). But predicting results that far in advance is a crapshoot….which is why making brackets is so fun!
Final Four: April 2
Championship: April 4
This year's Final Four will be very interesting. There are no super-teams and few true favorites. Duke could be there….but so could San Diego State. Traditional basketball power Kansas is a favorite….but it could be busted by football powerhouse Notre Dame. We'll just have to wait and see….in the meantime, watch and enjoy March Madness!
Here's more March Madness schedules; predictions; trivia and history.
---
---
What do you think?
We'd love to hear your comments and/or opinions. If you submit them here, other visitors can read them, rate them and comment on them. An e-mail address is not required.
---
From 2011 NCAA Basketball Tournament Preview to NCAA Basketball Blog | Sports Blog | NFL Football Blog | NCAA Football Blog | NFL Football Archives | College Football Archives | MLB Baseball Blog | College Baseball Blog | MLB Baseball Archives | NBA Basketball Blog | NBA Basketball Archives | NCAA Basketball Archives | Fantasy Football | Fantasy Basketball | Fantasy Baseball | Soccer Archives | Olympics Archives | Stupid Athletes Archives | Other Archives | Football Forum | Basketball Forum | Baseball Forum | NFL Football Store | NBA Basketball Store | MLB Baseball Store | NCAA Football Store | NCAA Basketball Store | NCAA Baseball Store | Fatheads | NFL Football Tickets | NBA Basketball Tickets | MLB Baseball Tickets | NCAA Football Tickets | NCAA Basketball Tickets | NCAA Baseball Tickets |
---
Home Page
About Us | Contact Us | Site Search | Advertise | Terms of Use |
---