To Pay or Not to Pay: St. Louis Cardinals Learn Why It's Hard to Lose a Superstar
If Albert Pujols were swinging his bat in the 3rd spot of the St. Louis Cardinals' lineup last night, would he have led them back to the World Series?
Pujols' hypothetical impact is impossible to know but it still makes you think: after a great season, the Cardinals finally felt the consequences of his departure. When they were down 7-0 and needed a big hit, the kind of hit Pujols delivered with mechanical efficiency for his whole St. Louis career, it was nowhere to be found.
All season long, the Cardinals made it their business to show everyone Pujols did not matter. Their lineup, led by no-name stars Matt Holliday, David Freese, and Allen Craig, made the playoffs and tromped to the NLCS, while Pujols' star-studded Angels squad watched the playoffs from home. But, when it mattered, in Game 7 of the NLCS, the Cardinals found that Pujols' absence left a gaping wound in their lineup.
Fear of a moment like this, a moment of desperation like the Cardinals faced last night, has driven many teams to overpay their superstars to stay. The New York Yankees feared Alex Rodriguez' departure in 2007 so much that they paid him for 10 years and 275 million. Talent evaluators knew Rodriguez had five years of good production left, at best, and steroid questions already surrounded his early-career numbers but the Yankees brushed that aside. Their fear of missing A-Rod's big bat in a critical moment drove them to pay him the insane contract they are just now beginning to regret.
The Cardinals, whose franchise lacks the Yankees' absurd spending power, were not interested in a Rodriguez-like financial outlay. Confident in their undervalued stars and exceptional farm system, they let Pujols walk to Los Angeles.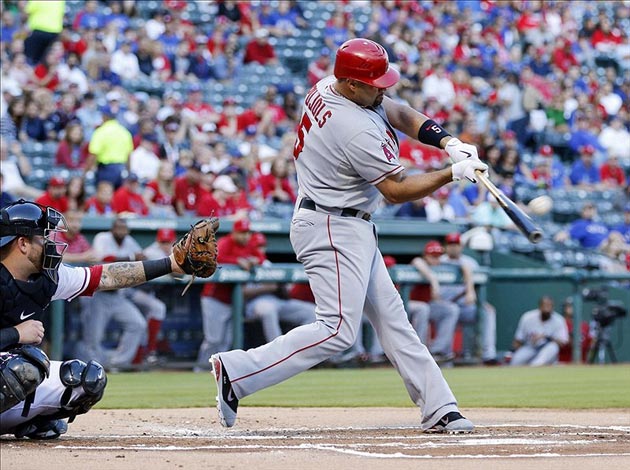 ---
New York won a World Series in 2009, buoyed through tight postseason races by Rodriguez's best career playoff performance. They Yankees would never have won without him. Then, in 2011, the Yankees still had A-Rod but paid the price for their financial lassitude; their $30 million man was so bad they benched him when down 3-0 in the ALCS.
Would the Cardinals have won this year's NLCS with Pujols in the fold? It's an impossible question to answer, with many variables. St. Louis was up 3-2 on the San Francisco Giants and could have closed out the series before Game 7. But, in back-to-back shutout losses in Games 6 and 7, including one to fallen star Barry Zito, St. Louis could not buy the kind of hit that Pujols made look easy his whole career. Unlike the 2009 Yankees, who milked the last MVP-level performance out of Rodriguez to clinch the World Series title, the Cardinals could not milk the last out of Pujols and went down swinging.
What should future teams facing a gut wrenching decision over their best player make of these decisions? The Texas Rangers, who lost in this year's ALDS after back-to-back World Series trips, may conclude they lack the firepower to let star Josh Hamilton walk in free agency. Eventually, when Miguel Cabrera reaches free agency, the Detroit Tigers will sign the check. But, depending on circumstance, there are no hard conclusions to draw.
As philosophers say, "all is perception." But, after watching Game 7 of the NLCS last night, my perception was that the Cardinals sure could have used one more, big hit from Albert Pujols.
Why Playoff Baseball is Still Special to Americans?
---
What do you think?
We'd love to hear your comments and/or opinions. If you submit them here, other visitors can read them, rate them and comment on them. An e-mail address is not required.
---
From To Pay or Not to Pay: St. Louis Cardinals Learn Why It's Hard to Lose a Superstar to MLB Baseball Blog | Sports Blog | NFL Football Blog | NCAA Football Blog | NFL Football Archives | College Football Archives | College Baseball Blog | MLB Baseball Archives | NBA Basketball Blog | NCAA Basketball Blog | NBA Basketball Archives | NCAA Basketball Archives | Fantasy Football | Fantasy Basketball | Fantasy Baseball | Soccer Archives | Olympics Archives | Stupid Athletes Archives | Other Archives | Football Forum | Basketball Forum | Baseball Forum | NFL Football Store | NBA Basketball Store | MLB Baseball Store | NCAA Football Store | NCAA Basketball Store | NCAA Baseball Store | Fatheads | NFL Football Tickets | NBA Basketball Tickets | MLB Baseball Tickets | NCAA Football Tickets | NCAA Basketball Tickets | NCAA Baseball Tickets |
---
Home Page
About Us | Contact Us | Site Search | Advertise | Terms of Use |
---