The Basics of Indoor Soccer
Ask a lot of sports fans, and they'll say that soccer sucks. But many more will defend the game to the death. You don't have to like soccer. But those that do often want to immerse themselves in it as much as possible. Some are satisfied with watching the World Cup every four years. Others always want more, however. And they'll watch any match, from under 21s to the top players. Another side to soccer, both in the US and the rest of the world, is indoor soccer. In fact, it was originally developed in the USA and Canada. The idea was to give players a way to play during the cold winter months. But what exactly is indoor soccer?


The Basics
Indoor soccer is also called arena soccer, mini football, fast football and floorball. It's played inside most of the time (obviously), but can also be played outside. The game is most often played on
artificial turf
indoors. It has different rules to other football games designed to be played inside. For example, the FIFA sanctioned version is futsal, which is also mainly played indoors. However, futsal isn't played on synthetic turf; instead, it's played on a hard court. Indoor soccer is most popular in the US, Canada and Mexico. There are both amateur and professional leagues in North America. It's especially popular in the north of Canada. You can even watch it in the Arctic Winter Games.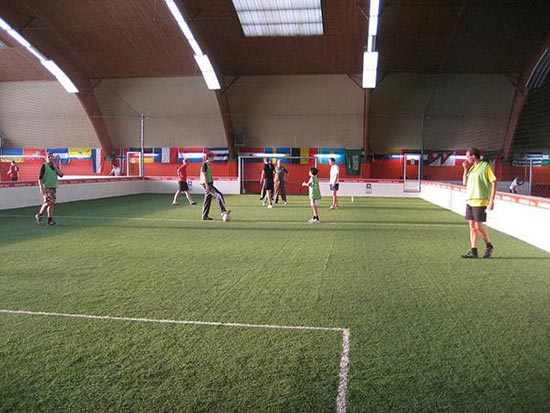 The Rules
The rules of indoor soccer differ, depending on the governing body.
There are some broad regulations that distinguish it from other types of soccer played indoors. The field is usually rectangular or oblong, with walls defining the arena. The space is smaller than a soccer field, often the size of a
regulation hockey rink
, with goals set in the walls. Games usually last an hour and are divided into four sections. There are most often six players per team in the arena, with substitutes allowed. The ball is allowed to bounce off the walls. But if it goes over them or hits the ceiling, the opposing team gets a free kick. Unlike in regular soccer, there's no offside rule. A lot of the other rules depend on the league the game is part of.
Where to Watch and Play
Interested in either watching or playing indoor football? Look up the
Major Arena Soccer League
or the Premier Arena Soccer League. Both operate in the United States and Mexico. Or there's the Western Indoor Soccer League, based in Washington state. If you want to play, look up sports facilities in your area to find somewhere. For example, try the NYC Indoor Soccer League if you live in New York. As well as being an adult game, it's also great for kids and teenagers. If you've got children who want to get involved, you can find a program like Lil' Kickers in Las Vegas.
Soccer is a much more versatile game than some people imagine. There are lots of different versions of it, whether you're looking to play or watch.