The All-Time Baltimore Ravens Team

Earlier this week, we looked at an all-time 49ers team.   Now, the Ravens can also trace their history back to the AAFC (as they of course spun off of the Cleveland Browns, who were the dominant force in the AAFC), but the actual history of the Baltimore Ravens is lacking compared to the 49ers, only stretching back to 1996, so we're lacking in depth.  The 49ers team actually could leave off a Hall-of-Famer or two; the Ravens will be including role players.  That's alright, though – that's interesting.  As I'm a lifelong 49ers fan, I called for some help from my Raven fan friends to help me flesh out this list.  As always, feel free to argue other player's cases in the comments.
Quarterback:
Joe Flacco(2008-2012): We can argue back and forth about whether or not Flacco is truly elite or not – though he seems to have stepped his game up to another level in this year's playoffs – but he shines head and shoulders above his competition in the purple and black.  He's never had an elite, Hall-of-Fame quality season – but he's never had a poor one, either, completing around 60% of his passes year in and year out.  He's also the only Ravens quarterback to lead his team in passing five years in a row, making him one of the most consistent QBs they have.  A top-10 QB in today's NFL, and the #1 QB in Ravens history.

Honorable mentions: T. Banks, K. Boller, V. Testaverde: A lot of one-shot wonders here.  Testaverde's Pro Bowl pick in 1996 is the only Ravens QB to appear in that game as the converted Brown led the Ravens for their first two years of existence.  Banks was the leading quarterback on the 2000 Super Bowl winning team, even if Trent Dilfer ended up finishing off that season.  Boller was considered the future of the franchise at one point, and led the team into the playoffs after taking the reins in 2003, but he never lived up to the potential his arm gave him.

Running Backs:
Ray Rice (2008-2012), Jamal Lewis (2000-2006): Rice has quickly established himself as one of the premier running backs in the NFL today – he racked up more than 1600 yards from scrimmage this season, in what can be considered an off-year for him!  Since taking the reigns as a full-time starter in '09, he's made the Pro Bowl 3 times, rushing for more than 1,100 yards each and every year.  An absolute stud in an era of shared backfield.  Lewis' 2,000 yard season would have been enough to give him the other slot on this list, but people sometimes forget he had two other very solid seasons for the Ravens, including being the lead rusher on the 2000 Super Bowl squad.

Honorable Mentions: Priest Holmes, Vonta Leach, Willis McGahee, Bam Morris: Holmes, of course, went on to greater success with Kansas City, but showed flashes of his future success throughout his early Ravens career before being replaced by Lewis.  Lewis, in turn, was replaced by McGahee, making the Pro Bowl in '07, though injuries eventually led to his replacement by Rice.  Leach has been named the all-pro fullback in each of his two seasons on Baltimore.  Morris is an example of the lack of depth on the squad, but was the Ravens leading rusher in each of their first two seasons.

Wide Receivers: 
Derrick Mason (2005-2010), Qadry Ismail (1999-2001): Mason's an easy choice for the #1 slot here – the all-time Ravens receiving leader, he holds the #1, 2, and 3 season records for receptions in a season, as well.  The second slot was much tougher, and the answer will likely be different in one or two years, but for now, Ismail holds onto the slot, due to his performance leading the Ravens to their '00 Super Bowl victory, as well as leading the team in receiving his other two seasons with the team.  Plus, he has the best name on the squad, and that goes a long way.

Honorable Mentions: Derrick Alexander, AnquanBoldin, Mark Clayton, Travis Taylor, Torrey Smith: Both starting receivers for this year's squad make this list due to their production, and either or both will likely end up in the starting lineup for this squad by the time their careers are over – Smith's only in his second season, but has demanded a spot on this list with his play.  Alexander, Clayton, and Taylor each led the Ravens in receiving one season each, earning their spots on this list.

Tight End:
Todd Heap (2001-2010): It's hard to imagine someone playing a position on the Ravens at a high level for a decade and missing out on both Super Bowl appearances, but, well, there you are.  Heap never had a truly great season – though he made the pro bowl twice in his first two years as starter – but delivered quality play year in and year out, both in the receiving and running games, even leading the team in receiving in 2003.  His consistency is more impressive when you note that he put up with four different primary quarterbacks over his career.

Honorable Mentions: Dennis Pitta, Shannon Sharpe: Sharpe was the leading receiver on the 2000 Super Bowl team; had he stuck around for longer rather than leaving in free agency, he might have ended up being the #1 name on this list.  Pitta has played his way onto the team in the past two seasons, and looks like he'll be able to anchor the position for a while longer to come, though it would take quite a run to knock Heap off the top of the, erm, heap.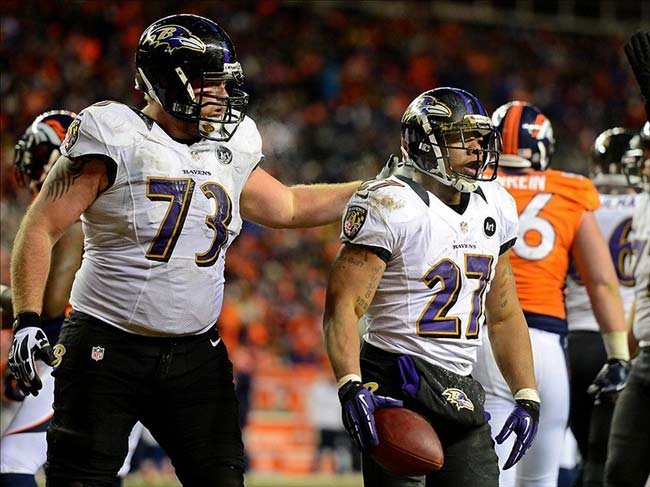 Jan 12, 2013; Denver, CO, USA; Baltimore Ravens running back Ray Rice (27) celebrates a touchdown with guard Marshal Yanda (73) against the Denver Broncos during the AFC divisional round playoff game at Sports Authority Field. Photo Courtesy By Mark J. Rebilas-USA TODAY Sports.
Offensive Line:
Jonathan Ogden (1996-2007), Marshall Yanda (2007-2012), Matt Birk (2009-2012), Ben Grubbs (2007-2011), Michael Oher (2009-2012): Yeah, I think the current iteration of the Ravens offensive line is the best one they've ever had, with Yanda, Birk, and Oher anchoring it.  They've shuffled the line around some this season, but those three have been consistent all year 'round.  People talk about Ray Lewis' retirement, but this is likely Birk's last season, too – another respected veteran leaving.  No discussion of Ravens linemen, however, would be complete without Ogden, a Hall of Fame finalist this season.  The first ever Ravens draft pick and a member of the '00 All-Decade Team, Ogden would have an argument to start for any team at any time – not just on a relatively new franchise like the Ravens.  Grubbs is regarded as one of the best linemen today, and I'm sure Ravens fans were sorry to see him go in the offseason.

Honorable Mentions: Jeff Blackshear, Orlando Brown, Chris Chester, Mike Flynn, Jared Gaither: Flynn was on the '00 Super Bowl winning team, and anchored the center position for many years afterward.  Brown was part of the old Cleveland Browns, and continued playing at a high level for the new-Ravens franchise for their first several years of existence.  The other names on this list had a couple solid seasons, but will likely be removed as future generations of Ravens players come down the line.

Defensive Line:
Michael McCrary (1997-2002), HalotiNgata (2006-2012), Kelly Gregg (2002-2010), Marques Douglas (2001-2004; 2008): Now, I probably could have just said "the entire 2000s Ravens defense", and you would be satisfied  -- after all, it's either them or the '85 Bears with the most sturdy defense of all time.  But the Ravens have always been defensively oriented, so some more recent players actually surpass that lineup – Ngata is arguably the team MVP this season, can play any spot on the defensive line, and looks to be a pro bowler for years to come.  McCrary represents that '00 team here, though his best seasons were actually the ones right before it.  Gregg earned a ring with that '00 team on the practice squad, but it's his eight years as a stalwart nose tackle that gets him onto this list, despite his never making a pro bowl.  Douglas had a couple strong seasons in the first half of the decade, in addition.

Honorable Mentions: Sam Adams, Rob Burnett, Anthony Weaver: Adams and Burnett were both starters on the '00 team along with McCrary– Adams only played for the team for two years, but they were two amazing seasons, while Burnett had a longer career with less peaks but more overall quality.  Weaver had four solid seasons with Baltimore in the middle of the decade, bridging the gap to today's defense.

Linebackers:
Terrell Suggs (2003-2012), Ray Lewis (1996-2012), PeterBoulware (1997-2005): You were expecting anyone else?  Lewis is the last original Raven.  His storied career doesn't need any recap here – he's my pick for best middle linebacker of all time, and will be a shoo-in for Canton in five years.  Suggs was defensive player of the year last season, and has made the Pro Bowl five times over his career.  Boulware, another part of that '00 defense, is the all-time Ravens sack leader, and was a nearly unstoppable force – he started 111 straight games and has all the Ravens defensive statistical records, which is impressive considering this is Ray Lewis's team.

Honorable Mentions: Ed Hartwell, Jarret Johnson, Jamie Sharper, Adailus Thomas: Johnson, of course, left the team last season, but set the record for consecutive starts before he went.  Sharper started for that punishing '00 defense alongside Lewis and Boulware, and would have ranked higher had he not gone to the Texans in their expansion draft.   Thomas never lived up to expectations after leaving the Ravens, but with them, he was a first-team all-pro.  Hartwell played alongside Lewis for three years solidly – with so much of Ravens history being taken up by the three men in the first thee slots, that's about the best you can hope for.

Defensive Backs:
Chris McAlister (1999-2008), SamariRolle (2005-2008), Ed Reed (2002-2012), Rod Woodson (1998-2001): Two more starters for that '00 team get slotted in here – Woodson's, of course, a Hall of Famer who was playing some of his last seasons in Baltimore, at a very high level, and McAllister's best seasons actually were yet to come – impressive for someone who lead the league in interception return yardage that season.  Rolle's Baltimore career was beset by injuries, but when healthy, he played at a very high level.  And then there's Reed, who can handle both safety spots brilliantly, and likely will be joining Woodson in the Hall of Fame when he finally retires.

Honorable Mentions: Will Demps, Kim Herring, Dawan Landry, Duane Starks, Cary Williams: Herring and Starks were the other two starters for the '00s Ravens team, meaning the entire starting squad, with the exception of Tony Siragusa, is represented on the team somewhere.  Landry and Demps probably both have benefited from playing across from Ed Reed, but they are the best of the bunch to play across from Ed Reed, so they get the slots here.  Williams is a relatively new name on this list, and is still developing as a player, so his inclusion might be premature, but I think he has the ability to become a very good starter for the Ravens for a long time.

Yes, this squad is not nearly as deep as the one we did last week, but that defense is a ferocious thing to behold – even franchises which have existed for three times as long would have a hard time matching up against that squad.  Led by their defense, the Ravens have been fantastic for nearly their entire stint in the NFL, and that's why they're here now, looking for their second Super Bowl ring, while teams like the Vikings and Bills wish they could just get one – and the Browns, the poor Browns who lost their team to Baltimore, have to sit and watch and think about what could have been.
What do you think?
We'd love to hear your comments and/or opinions. If you submit them here, other visitors can read them, rate them and comment on them. An e-mail address is not required.