Super Bowl Lead-up: San Francisco 49ers All Time Team

So, we're down to it – 49ers and Ravens for all the marbles in New Orleans in just two weeks.  As a life-long 49ers fan, I couldn't be happier – I was nine years old the last time San Francisco made the Super Bowl.  The storylines are endless – Ray Lewis' last game, Jim and John Harbaugh going at it, Colin Kaepernick's inexperience – but I wanted to take a moment or two, this week, to look at some of the great players both teams have fielded over the years.  Obviously, a 49ers all-time team is much deeper than a Ravens all-time team, just due to the fact that the 49ers have been around significantly longer, so don't think of this as a head-to-head comparison – there'll be plenty of time for that in the two weeks ahead.  Just think of it as a way of honoring both franchises – and a distraction from the endless Super Bowl hype we'll have to put up with for the next two weeks.
I'm starting with the 49ers, because I'm horribly biased towards them, but don't worry – the Ravens will come later this week.

Quarterback: Joe Montana (1979-1992): There are very few teams where Montana wouldn't be a clear, obvious #1 pick, but the quarterback position in San Francisco is one of those slots – with three Hall of Famers to their credit, you have to go above and beyond to grab a starting slot here.   Montana would be an elite quarterback if you just looked at the regular season stats, but add in his postseason and Super Bowl successes – including his 127.8 passer rating in Super Bowls, with 11 touchdowns and 0 interceptions – and you have an argument for the best quarterback of all time, not just in San Francisco.

Honorable Mentions: Jeff Garcia, YA Tittle, Steve Young: Tittle and Young are both in the Hall of Fame, and are both multiple time MVPs.  Both could easily be the starting quarterback for nearly any franchise out there, and you'll still find strong arguments for Young over Montana – the quarterback controversy never really has ended, despite both players being long retired.   Garcia's more of a wildcard pick, but he went to the pro bowl three times himself, and helped keep the team relevant for years after the end of their dynasty in the '80s.  The run of quality quarterback play from 1981 to 2003 can't really be beat.

Running Backs: Roger Craig (1983-1990), Ricky Watters (1992-1994): Craig needs very little introduction to 49ers fans – he was the first player in NFL history to run and receive for at least 1,000 yards in a season, a feat only Marshall Faulk has duplicated.  He made the pro bowl at both running back and fullback, and was a key factor in the West Coast Offense.  Watters is bound to be a more controversial selection for several reasons – his short stay with the 49ers, the presence of several hall of famers throughout 49ers history, the lack of selection of the all-time leading rusher in 49ers history – but for the three seasons he started at running back, he was a nearly unstoppable force.  His performance in the playoffs – five rushing touchdowns versus the Giants in '94 and three more in the Super Bowl against the Chargers – have buried him in my memory, at least.  Perhaps this is more a fact that your writer was nine when Watters was running, so nostalgia may be playing a factor, but I'm keeping him here.

Honorable Mentions: Frank Gore, Garrison Hearst, Hugh McElhenny, Joe Perry: Perry and McElhenny are Hall of Famers, parts of the "Million Dollar Backfield with YA Tittle and John Henry Johnson.  They worked best with one another, due to their contrasting styles, but there'd be no strong argument from me putting either over Watters.  Hearst is the only man to have won comeback player of the year awards on two separate occasions, and rushed for more yards in a season than any other man on this list – until Gore came along, and set both the single-season and career rushing records for 49er running backs, despite playing for some truly awful teams.

Wide Receivers:  Jerry Rice (1985-2000), Terrell Owens (1996-2003): Rice, of course, needs no introduction.  Just one glance at his numbers, which dwarf any other receiver in history, is enough – pile on a Super Bowl MVP, the thirteen pro bowls and twelve all-pros, and his legendary work ethic, and you can see why NFL Films named him the greatest player of all time.  Owens has legendarily been a headache everywhere he's gone – but teams put up with him because of his fantastic production.  He took over when Rice went down with a torn ACL in 1997, and never really looked back.  His catch in the '98 playoffs against Green Bay has gone down into 49ers lore as The Catch II.  Before he became a reality TV star, or a media annoyance, he was simply one of the greatest receivers to have played the game.

Honorable Mentions: Dwight Clark, Gordy Soltau, John Taylor, Gene Washington, Billy Wilson: Clark made the most famous catch in NFL history, which would be enough to place him on this list, even without nearly a decade of production during the 49ers glory days.  Taylor played second banana to Rice, but could have been the lead receiver on half the teams in the league.  Wilson and Soltau played for the first NFL 49er teams in the '50s – Wilson was the lead receiver, but Soltau lead the league in scoring as he did double duty as receiver and kicker.  Washington started his career off with four straight pro bowl appearances, and in 1970, led the NFL in receiving yards.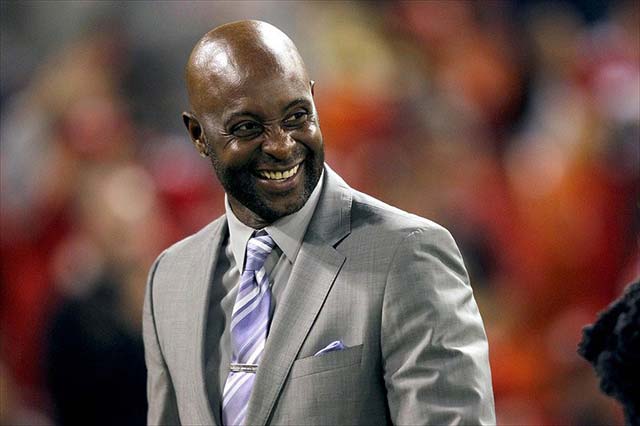 November 19, 2012; San Francisco, CA, USA; San Francisco 49ers former wide receiver Jerry Rice walks on the field before the start of the game at Candlestick Park. The San Francisco 49ers defeated the Chicago Bears 32-7. Photo Courtesy By Cary Edmondson-USA TODAY Sports.

Tight End: Brent Jones (1987-1997): Jones, a four-time pro bowler, was safety valve and key player in the West Coast Offense in the late stages of the 49ers dynasty.  Never much of a blocker on the line, Jones had tremendous speed for a tight end of his era and fantastic hands, making him a threat down the field, be it catching key receptions or paving the way for yards after the catch for the likes of Jerry Rice and John Taylor.

Honorable Mentions: Vernon Davis, Ted Kwalick: I'll be stunned if Davis doesn't end up atop this list by the end of his playing career – tight end has become such a different beast even since the '90s that Davis' explosion and sheer athleticism should see him trump Jones in a few years.   Kwalick had three pro bowl seasons for the Niners in the early '70s and was a key contributor to the first ever 49er playoff teams.

Offensive Line: Bob St. Clair (1953-1963), Guy McIntyre (1984-1993), Forrest Blue (1968-1974), Harris Barton (1987-1996), Steve Wallace (1986-1996): From '87 to '93, McIntyre, Barton, and Wallace helped anchor the underrated 49ers line, helping win two Super Bowls.  For all the dismissal of the 49ers as a finesse team, the line took pride steamrolling their opponents.  Montana and Young may have kept clean jerseys, and it was these guys doing the duty work.  St. Clair was even better, making the Hall of Fame – St. Clair had the odd distinction of playing his entire career, from high school through the pros, in the same home stadium.   Blue made four consecutive pro bowls in the early '70s as part of the first really good Niners teams.

Honorable Mentions: Randy Cross, Derrick Deese, Keith Farnhorst, Bubba Paris, Jesse Sapolu:  Farnhorst, Cross, and Paris are part of the 49ers offensive linemen that just preceded the McIntyre, Barton, and Wallace trio -- winning the earlier of the 49ers Super Bowls.  Sapolu played on four of those Super Bowl teams himself – really, any lineman who played more than a couple years during their run in the '80s and '90s could make this list, as they had quality up and down the line.  Deese is the most recent member of the list – he anchored the left tackle position from '97 until '03.

Defensive Line:  Bryant Young (1994-2007), Leo Nomellini (1950-1963), Michael Carter (1984-1992), Justin Smith (2008-2012): Here's where the concept of an all-star team starts to break down, as Carter was strictly a 3-4 nose tackle, despite the 4-3 alignment of this squad.  That's not nearly enough to keep him off this list – not only was he  a force in the middle of the line, but also a silver medal winner in the Shot Put, making him the only man to win an Olympic medal and a Super Bowl ring in the same year.  Nomellini was the first ever 49ers draft pick, played every game for 14 seasons, and made the hall of fame.  He played both ways, too, making the all-NFL team at both offensive and defensive tackle.  Young's a member of the all-1990s team, and excelled at both defensive end and tackle.  Smith has been a dominant force since coming over from Cincinnati, and the performance of the 49ers defense with and without him this year shows just how valuable he has been.

Honorable Mentions: Tommy Hart, Charlie Krueger, Dana Stubblefield: Krueger made the Pro Bowl twice at two different positions.  Hart had 106 sacks in his career, back before the sack was an official statistic, including six in a primetime Monday night game against the rival Rams.  Both Krueger and Hart were fixtures at their respective positions for over a decade, in the '60s and '70s.  Stubblefield faded late in his career, but that when he was overpaid an on other teams – as a 49er, he was both defensive player and rookie of the year.  His name is overshadowed by the BALCO incident, however.

Linebackers: Dave Wilcox (1964-1974), Patrick Willis (2007-2012), Charles Haley (1986-1991; 1998-1999): Quite a listing. We have a Hall of Famer (Wilcox, great at shutting down tight ends right on the line, and shedding blocks to get into the backfield), a Hall of Fame finalist this year (Haley, a pure pass-rushing specialist who made life horrible for opposing quarterbacks on his way to winning five Super Bowl rings – two with San Francisco), and a probably future Hall of Famer (Willis, who is arguably the best middle linebacker in football today).  For a team historically known for its offense, that's a tough trio to match.

Honorable Mentions: Matt Hazeltine, Ken Norton, Keena Turner, SkipVanderbundt:  Only one more name from the 49ers glory periods – Turner, a force on the field for over a decade, despite only one pro bowl appearance.  Hazeltine played outside linebacker for longer than any other player in 49ers history, and has a team award named after him for courageous and inspirational play.    Norton was a tackling machine, although most of his best years came with Dallas.  Vanderbundt is more of a wildcard, but he started at outside linebacker across from Wilcox, playing for over a decade.

Defensive Backs: Ronnie Lott (1981-1990), Jimmy Johnson (1961-1976), Tim McDonald (1993-1999), Merton Hanks (1991-1998): Lott and Johnson are both Hall of Famers --  Lott excelled at both cornerback and safety, and led the 49ers defense during the '80s with his toughness and physical play.  Johnson played a bit of wide receiver, too, but is most known for being one of the best man-to-man cover cornerbacks ever to play the game.  McDonald and Hanks anchored the safety positions for the 49ers for most of the '90s; both made multiple pro bowls and formed a duo that couldn't be matched by anyone else in the league.

Honorable Mentions: Jim Cason, DashonGoldson, Dwight Hicks, Abe Woodson, Eric Wright: Defensive back is the weakest of the positions in 49er history, but there are some solid names here:  Hicks and Wright contributed for multiple Super Bowl winning teams, Cason is an AAFC original 49er who ended up making two pro bowls in the NFL, Woodson was a fantastic punt and kick returner – arguably the most dangerous the 49ers have ever had – and Goldson, of course, made the first-team All Pro squad this year.

Coming later this week: The all-time Ravens squad.  Less deep than 49ers squads, but that can be more fun, especially in the honorable mention field, as I'll be listing just as many players despite the difference in the depth of their histories.  Also, more active players, less players from the '50s.
What do you think?
We'd love to hear your comments and/or opinions. If you submit them here, other visitors can read them, rate them and comment on them. An e-mail address is not required.