Prediction: Jim Boeheim Will Be Gone Within Two Weeks
Yes, that is right. In the wake of assistant Bernie Fine's firing today, it makes sense to look at who else will become a casualty of college sports' latest sexual misconduct scandal. Jim Boeheim, who brashly (and rashly) came to the immediate defense of his long-time employee, will pay a steep price for his words; he is likely to be gone within a few weeks.
Why can I make such a brash prediction? It's true, this is only a prediction: I have no direct proof to suggest that Boeheim will be fired and I do not have evidence that he was aware of Fine's alleged activities. However, if recent history is any guide, Boeheim will be let go because he let these activities go on under his watch and was far too quick to defend his assistant before letting the investigative process play itself out.
Loyalty is a good, powerful thing. Boeheim undoubtedly felt compelled to be loyal to Fine, the assistant most responsible for his enduring success at Syracuse, and defend him when these accusations sprang up against him. However, he should have known that, as Jerry Sandusky proved, people are not always what they seem. Friends are not always who they appear to be and, clearly, it is important to let the investigative process play out before rendering judgment on one side or the other.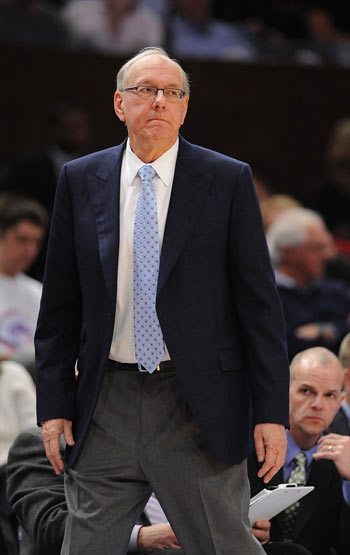 Syracuse Orange head coach Jim Boeheim during the second half in the quarterfinals round of the Big East Championship at the Madison Square Garden in New York, New York. The Syracuse Orange defeated the St. John's Red Storm 79-73.
---
To attack Fine would have been to declare him guilty before due process but to defend him was to vilify his accusers (who are growing in number since a third alleged victim emerged this weekend). That was not only a tactical mistake-since a shrewd operator would have treated Fine like the plague the moment the accusations became public-it was the wrong decision on a moral level.
Fine may still be innocent. In my last piece on Fine, I wrote that it is important to let the investigation play out before passing judgment. However, the accusations are piling up and, to put it lightly, his firing (after statements of support and continued employment following an earlier investigation in 2005) suggests Syracuse University may have found damning information. Boeheim's support came too quickly and, with Fine now gone, he will soon pay the ultimate price.
Check out our Bernie Fine: Will We See An Allegations Snowball?
---
What do you think?
We'd love to hear your comments and/or opinions. If you submit them here, other visitors can read them, rate them and comment on them. An e-mail address is not required.
---
From Prediction: Jim Boeheim Will Be Gone Within Two Weeks to NCAA Basketball Blog | Sports Blog | NFL Football Blog | NCAA Football Blog | NFL Football Archives | College Football Archives | MLB Baseball Blog | College Baseball Blog | MLB Baseball Archives | NBA Basketball Blog | NBA Basketball Archives | NCAA Basketball Archives | Fantasy Football | Fantasy Basketball | Fantasy Baseball | Soccer Archives | Olympics Archives | Stupid Athletes Archives | Other Archives | Football Forum | Basketball Forum | Baseball Forum | NFL Football Store | NBA Basketball Store | MLB Baseball Store | NCAA Football Store | NCAA Basketball Store | NCAA Baseball Store | Fatheads | NFL Football Tickets | NBA Basketball Tickets | MLB Baseball Tickets | NCAA Football Tickets | NCAA Basketball Tickets | NCAA Baseball Tickets |
---
Home Page
About Us | Contact Us | Site Search | Advertise | Terms of Use |
---