Bernie Fine: Will We See An Allegations Snowball?
By Paul Grossinger
Yesterday, ESPN reported that longtime Syracuse University men's basketball assistant coach Bernie Fine is under investigation for molesting young boys. Does this sound familiar to you? Fine is the first sports figure to fall victim to the post-Sandusky investigation "allegations snowball effect:" when a high profile, interest-generating case encourages other victims to come forward.
The role of allegations snowballing is quite clear in this case. Fine was investigated by Syracuse University police in 2003 but the issue was dropped after only one victim, Bobby Davis, came forward. However, in the post-Sandusky world, a second victim named Mike Lang has accused Fine of molestation. The investigation will presumably be re-opened and, if history is any guide, Fine will ultimately be charged and go to trial.
But, is this one second, isolated instance or might it lead to third, fourth, fifth, or more inquiries into the behavior of coaches across the sports world? That is not yet clear at this point. Like Sandusky, Fine was suspected of improper activity for decades and investigated several years ago so he was "on the radar." The question remains: will other coaches who have so far remained above both public scrutiny and private suspicion ultimately be implicated in a snowball of molestation inquiries?
Now is not the time or place to speculate on Fine's guilt; his behavior certainly sounds suspicious and multiple accusers have come out of the woodwork but everyone is innocent until proven guilty. In Sandusky's case, he has already admitted to improper activity on network television and several victims have accused him of criminal molestation so, to say the least, he looks like an extremely guilty man. Fine's case has not yet gotten to that point, though it might sooner than you might think.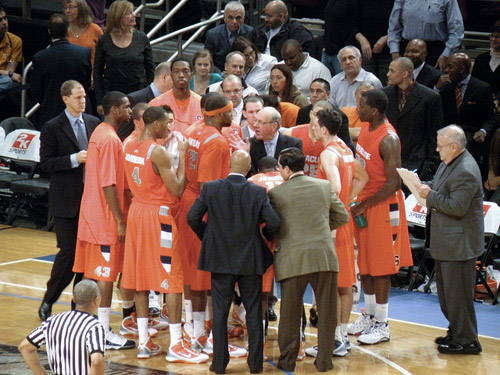 Thanks to IllegalShift from Flikr.com for this great picture of Bernie Fine.
---
The better question to focus on right now is: will the public inquiry into Fine encourage other victims to come forward? There is, justifiably, a fear that morally ambiguous individuals will use these investigations as an opportunity to falsely accuse anyone they hold a strong grudge against. The sports world is an unforgiving environment and may former athletes carry anger towards their coaches or mentors. However, as the development of the Fine case shows, investigations don't become public-and bring coaches down-until there are several accusers and at least one has compelling evidence. That was precisely what was lacking in the 2003 investigation. So, it is more than likely that many of the victims who ultimately bare their long-hidden secrets will be telling the truth. What will be the implications of that allegations snowball?
Here's an article about Prediction: Jim Boeheim Will Be Gone Within Two Weeks
---
What do you think?
We'd love to hear your comments and/or opinions. If you submit them here, other visitors can read them, rate them and comment on them. An e-mail address is not required.
---
From Bernie Fine: Will We See An Allegations Snowball? to NCAA Basketball Blog | Sports Blog | NFL Football Blog | NCAA Football Blog | NFL Football Archives | College Football Archives | MLB Baseball Blog | College Baseball Blog | MLB Baseball Archives | NBA Basketball Blog | NBA Basketball Archives | NCAA Basketball Archives | Fantasy Football | Fantasy Basketball | Fantasy Baseball | Soccer Archives | Olympics Archives | Stupid Athletes Archives | Other Archives | Football Forum | Basketball Forum | Baseball Forum | NFL Football Store | NBA Basketball Store | MLB Baseball Store | NCAA Football Store | NCAA Basketball Store | NCAA Baseball Store | Fatheads | NFL Football Tickets | NBA Basketball Tickets | MLB Baseball Tickets | NCAA Football Tickets | NCAA Basketball Tickets | NCAA Baseball Tickets |
---
Home Page
About Us | Contact Us | Site Search | Advertise | Terms of Use |
---