Peyton Manning is Going to Denver
Peyton Manning is Going to Denver, What Happens Next
By Jason Fryer
Former Colt and 4-time league MVP Peyton Manning has decided to sign with the Denver Broncos, leading to many questions that need to be answered in the near future. For all those wondering, yes, I will address where I feel Tebow will play in 2012 question. However, there are other questions that need to be addressed before analyzing where Tim Tebow will play in 2012.
Who will sign Reggie Wayne? Peyton Manning's favorite wide receiver (since Marvin Harrison retired from the NFL) is still a free agent and I feel Reggie Wayne will eventually sign with his former signal caller. The Broncos offense already features a few nice pieces to their roster (Demarious Thomas, Eric Decker, and Willis McGahee) and if Denver was able to add Reggie Wayne to the mix, Denver would then feature a vastly improved offense in 2012. Along with a strong offensive line and improved passing game, the Broncos would feature a very solid offense to help their young defense.
Will the Broncos also sign Jeff Saturday? The Broncos currently feature 0 right guards and one center (J.D. Walton started all 16 games at center last year) on their current roster. If Walton is able to move over to the right guard position, Manning would have his long time center to work with and help the other members of the Broncos offensive line learn his complex offense. As important as Reggie Wayne would be to Denver, (and the Broncos need a number 1 or 2 wide receiver with the departure of Eddie Royal to San Diego), I feel the signing of Jeff Saturday would be more important to the Broncos roster to help them learn Manning's offense at a faster rate. If the Broncos are able to sign both Wayne and Saturday, Denver would then feature a good combination of Manning's old teammates (Wayne and Saturday) that know this offense to go along the current players on the Broncos roster.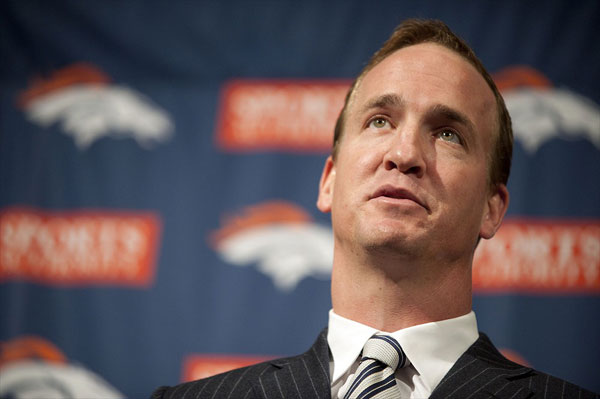 Peyton Manning (18) is introduced as the Denver Broncos quarterback after signing a $96 million 5 year contract with the team during a press conference at the Denver Broncos' Dove Valley headquarters in Englewood, Colorado.
---
Where will Alex Smith sign? With Manning and Matt Flynn (who signed with the Seattle Seahawks over the weekend) off the free agent market, Alex Smith has one of two options to now choose from; either resign with the San Francisco 49ers or sign with the Miami Dolphins. Smith had a nice bounce back 2011 season (17 touchdowns and 5 interceptions) but still showed he can't be the focal point of an NFL offense. If Alex Smith decides to leave the 49ers and sign with the Dolphins, he wouldn't have any targets to throw to (Brandon Marshall now plays for the Chicago Bears) and still wouldn't have a good running game to help him out (Reggie Bush had a nice 2011 season but I'm still not sold on him being an every-down NFL running back. On the other hand, if Smith decides to resign with the 49ers, he would be going back to a Super Bowl caliber team that would include more offensive targets next year (Mario Manningham and Randy Moss just signed with the Niners) to go along with a full off season to learn Jim Harbaugh's offense. The 49ers gave Alex Smith many chances to succeed and now I feel it's time for Alex Smith to reciprocate (and realize the 49ers were going after one of the 10 greatest quarterbacks of all time) and resign with the 49ers.
Where will Tim Tebow be traded to? OK Tim Tebow fans, it's time for me to address the question "...where will Tim Tebow play next season?" I feel there are three different trade options for Tim Tebow which include: Miami, Jacksonville, and San Francisco.

If the Dolphins decided to trade for Tim Tebow, the Dolphins would sell out every game; however, they would feature an above average roster and play in one of the most difficult divisions in football (New England Patriots, New York Jets, and the Buffalo Bills).

If the Jaguars decided to trade for Tebow, they would admit they made a mistake with Blaine Gabbert after one year and once again would have to start over. The situation currently featured in Jacksonville would greatly resemble the situation that surrounded Tim Tebow last year. First, the city of Jacksonville is only 70 miles away from Gainesville, where Tebow played college football at the University of Florida, so just as he did in Denver, Tebow would be the most popular player on the their roster. Another resemblance to last year were that the two teams featured one of the best running backs in the league (Maurice Jones-Drew) to go along with a young and unproven receiving core (Laurent Robinson, Jarett Dillard, Mike Thomas, and Marcedes Lewis). Another resemblance between the two teams is in the team's defensive rankings as the two teams defenses ranked in the top 12 last year (Denver 11th and Jacksonville 6th). Lastly, (like the AFC West last year) outside of Houston, the AFC South is one of, (if not the worst), division in the NFL.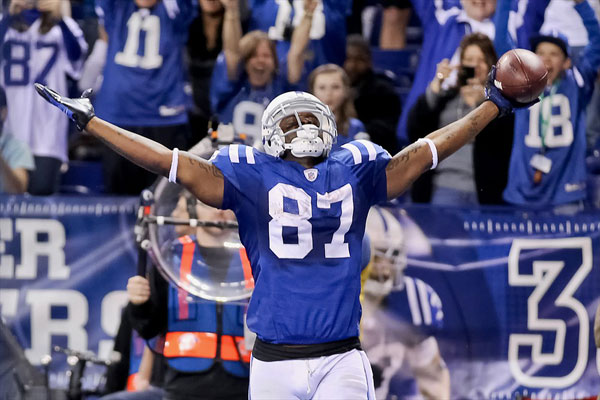 Indianapolis Colts wide receiver Reggie Wayne (87) catches the winning touchdown pass and celebrates during game action. The Indianapolis Colts defeated the Houston Texans by the score 19-16 winning their second victory of the season at Lucas Oil Stadium, Indianapolis, IN.
---

The last team that I feel might make a run after Tim Tebow and trade for the QB are the San Francisco 49ers. The 49ers are once again the sleeper team in a quarterback sweepstakes, as they quietly might decide to make a play for Tebow this offseason. During the 2011 offseason, people laughed at Jim Harbaugh when he announced that Alex Smith would be his starting quarterback for the 2011 season and all Smith did was led the 49ers back to the NFC Championship game for the first time since winning Super Bowl 29. I feel if the 49ers are unable to resign Alex Smith, they should look into trading for Tim Tebow as head coach Jim Harbaugh proven he can work with any quarterback in the league and get the best out of any quarterback.
My predictions:
Reggie Wayne and Jeff Saturday will sign with the Denver Broncos
Alex Smith will resign with the San Francisco 49ers
Tim Tebow will get traded to the Jacksonville Jaguars for a conditional 3rd round pick
---
What do you think?
We'd love to hear your comments and/or opinions. If you submit them here, other visitors can read them, rate them and comment on them. An e-mail address is not required.
What Other Visitors Have Said
Click below to see contributions from other visitors to this page...

The Difference Peyton Manning Will Make in Denver






Tebow is out; Manning is in. This will be a huge change for not only the fans of the mile high city, but also the players. When Tim Tebow started getting …
---
From Peyton Manning is Going to Denver to NFL Football Blog | Sports Blog | NCAA Football Blog | NFL Football Archives | College Football Archives | MLB Baseball Blog | College Baseball Blog | MLB Baseball Archives | NBA Basketball Blog | NCAA Basketball Blog | NBA Basketball Archives | NCAA Basketball Archives | Fantasy Football | Fantasy Basketball | Fantasy Baseball | Soccer Archives | Olympics Archives | Stupid Athletes Archives | Other Archives | Football Forum | Basketball Forum | Baseball Forum | NFL Football Store | NBA Basketball Store | MLB Baseball Store | NCAA Football Store | NCAA Basketball Store | NCAA Baseball Store | Fatheads | NFL Football Tickets | NBA Basketball Tickets | MLB Baseball Tickets | NCAA Football Tickets | NCAA Basketball Tickets | NCAA Baseball Tickets |
---
Home Page
About Us | Contact Us | Site Search | Advertise | Terms of Use |
---