NBA Weekly Draft Rewind: 2000
By Lorenzo Tanos

You can say that many busts from the Class of '86 had an excuse – drugs.  But since drugs shouldn't be an excuse for anything, let's just say that the Class of '00 sucked.  Just like the infamous Class of '86, but without the likes of Chris Washburn, Roy Tarpley and William Bedford who squandered the chances they got by getting high.  Read on and you'll see why the 2000 NBA Draft is considered by many to be one of the worst draft classes ever.

http://www.basketball-reference.com/draft/NBA_2000.html
THE TOP PICK – You can't call Kenyon Martin (NJN, F/C, 6'9"-234, Cincinnati, #1) a bust, but his career wasn't what first overall picks are made of either.  If he was in any other draft class, he'd probably be a mid-lottery pick at best, but in 2000, he was as good as they got – a good defender, active enough on the boards and not too bad on the offensive end.  He even played in one All-Star Game, scoring 17 points in 2004.  Still, K-Mart never became what you would call a superstar, and when it comes to first overall picks, that's the kind of player you want to draft – someone to carry the franchise.   Instead, what the New Jersey Nets  and later on, the Denver Nuggets got was a decent, though not awe-inspiring big man.

THE BEST/THE STEAL – If not for those nagging injuries, Michael Redd (MIL, SG, 6'6"-220, Ohio State, #43) would still be in the NBA, sinking threes with regularity and being, at least, an instant source of offense, either as a starter or as a top reserve.  Instead, he's a player without an NBA team, one who isn't officially retired but one who was scoring over 20 points a game not too long ago.  Though Redd's best statistical season came in 2006-07, when he averaged 26.7 ppg for the Bucks (in only 53 games, might we add), he made Third Team All-NBA and played in his only All-Star Game in 2003-04.  It says a lot about a draft class when the best player to come out of it wasn't even drafted in the first round.

HONORABLE MENTION – For this, we'll have to go with the two lottery players in this class who are still in the NBA, plus one more who got picked in the middle of the first.  Mike Miller (ORL, F/G, 6'8"-218, Florida, #5) won Rookie of the Year honors in 2001, and had a nice, steady career as one of the NBA's top three-point shooters and one of its most versatile players.  Currently, he's playing a key role off the Miami Heat's bench as a designated three-point bomber, but is seemingly at the tail-end of a solid, respectable career.

Jamal Crawford (CLE, SG, 6'6"-185, Michigan, #8) got off to a slow start, but by his third year in the NBA, he was a nice source of instant offense off the bench for Chicago.  He's been around since then, a regular threat for big scoring nights as either a starter or as a sixth man, even up to now.  Like Miller, HedoTurkoglu (SAC, SF, 6'10"-220, Turkey, #16) is likely close to the end of his career.  Still, he's had his moments, having won Most Improved Player in 2007-08 and been another versatile player who can shoot, pass and score for most of his career.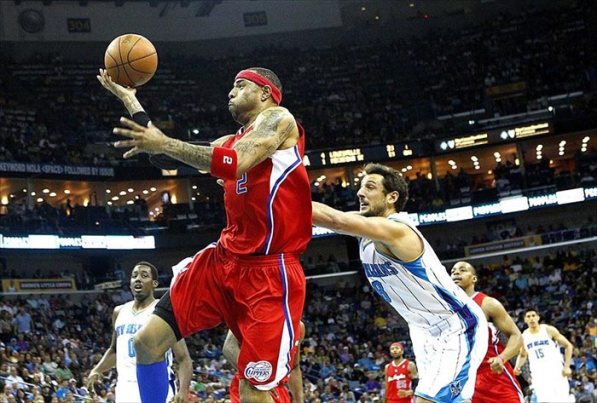 Mar 22, 2012; New Orleans, LA, USA; Los Angeles Clippers forward Kenyon Martin (2) is fouled by New Orleans Hornets guard marco Belinelli (8) as he goes up for a basket during the second quarter at the New Orleans Arena. Photo Courtesy By  Crystal Logiudice-USA TODAY Sports.
THE BUSTS – Where do you want us to start?  We can start with Stromile Swift (VAN, F/C, 6'9"-225, LSU, #2), who was a much better athlete than basketball player in his nine NBA seasons, where he averaged in double figures in just two.  Marcus Fizer (CHI, PF, 6'9"-262, Iowa St., #4) never had a bad statistical season – that is, if you're a mid-first-rounder.  He was a 3-4 tweener all the way.  DerMarr Johnson (ATL, F/G, 6'9"-201, Cincinnati, #6) might have had a chance for success if not for a career-threatening auto accident.  But even when healthy, he showed little of the "upside" he exhibited as a Bearcat.

Then we have the likes of Chris Mihm (CHI, C, 7'0"-265, Texas, #7), who only started for the Lakers late in his career because they didn't have too many other options at center, and Jerome Moiso (BOS, F/C, 6'10"-235, UCLA, #11) who served as another precautionary tale against what NBA scouts and analysts call as "upside" as a college or high school player.  Finally, Mateen Cleaves (DET, PG, 6'2"-205, Michigan State, #14) wasn't quite the winner he was in the pros as he was in college – might have had more to do with lacking NBA-level skills more than anything else. 
Here's profiling the best picks and major busts of the 1999 NBA Draft.
What do you think?

We'd love to hear your comments and/or opinions. If you submit them here, other visitors can read them, rate them and comment on them. An e-mail address is not required.