NBA Wekly Draft Rewind: 1999
By Lorenzo Tanos

The best way to describe this class is solid – you won't find any first-ballot future Hall of Famers in here, but you wouldn't find too many big-time busts either.   Okay, maybe you would, but at least it isn't as bad as the Class of 1986 or next week's offering, the Class of 2000.  This week we take a look at the 1999 NBA Draft, which boasts of 9 out of 10 players with career scoring averages of 13.5 ppg or more, a talented, yet polarizing two-way threat who now goes by a strange, and often ironic name, and probably the best #57 selection in draft history.

http://www.basketball-reference.com/draft/NBA_1999.html
THE TOP PICK/THE BEST – It's a very close call, but the top pick in the 1999 NBA Draft is also the best thus far.  Elton Brand (CHI, PF/C, 6'8"-275, Duke) may have taken seven NBA seasons to play in his first Playoffs series, but it's not through any fault of his.  From 1999 to 2007, Brand was a consistent 20-10 player, even making the All-NBA Second Team in 2005-06 (24.7 ppg, 10.0 rpg, 2.5 bpg, 53% FG) and playing in two All-Star games.  Unfortunately, it's been downhill since then – after missing most of 2007-08 due to injury, Brand became less of a rebounding and scoring threat, though still very productive, and as of this season, he's coming off the bench for the struggling and aging Dallas Mavericks.
 
HONORABLE MENTION – There are quite a few in this extremely solid class – Baron Davis (CHA, PG, 6'3"-200, UCLA, #3), Lamar Odom (LAC, PF/SF/C, 6'10"-220, Rhode Island, #4), Shawn Marion (PHO, PF/SF, 6'7"-220, UNLV, #9), Jason Terry (ATL, SG/PG, 6'2"-176, Arizona, #10), Ron Artest/Metta World Peace (CHI, SF, 6'6"-244, St. John's, #16) and Manu Ginobili (see below).  Also, Rip Hamilton (WAS, SG, 6'6"-185, Connecticut, #7) and Andre Miller (CLE, PG, 6'2"-200, Utah, #8) are still in the NBA like all the aforementioned honorable mention choices except Davis.  Steve Francis (VAN, PG/SG, 6'3"-195, Maryland, #2) can be listed here even if he was out of the NBA by 30.  Since it's so hard to single out one player from this list as a definitive honorable mention for the Class of '99, we're listing them all.

THE BUSTS –The biggest one of them all, without a doubt, is Jonathan Bender (IND, SF/PF, 6'11"-202, Picayune Memorial HS, #5), whom the Indiana Pacers thought could be their answer to Kevin Garnett.  At first, it seemed possible – he scored 10 points in 13 minutes in his NBA debut – but the holes in his game and chronically bad knees turned him more into a Big Flop rather than the second coming of the Big Ticket.  Bender's knee injuries forced him to an early retirement at age 25, but he did come back with little fanfare and productivity for the New York Knicks in the 2009-10 season.

We also can include giant Bosnian AleksandarRadojevic (TOR, C, 7'3"-250, Barton County CC, #12), who played just 15 NBA games and proved to be much ado about nothing for erstwhile Ohio State coach Jim O'Brien, who allegedly offered Radojevic close to $7,000 to become a Buckeye after his juco stint.  William Avery (MIN, PG, 6'2"-197, Duke, #14) was one of the best point guards in the NCAA but couldn't get past third string duties in the NBA.  And Frederic Weis (NYK, C, 7'2"-250, France, #15) never even played in the NBA.  Instead, he turned into a basketball punchline, having been so convincingly (no pun intended) dunked on by Vince Carter in the 2000 Sydney Olympics.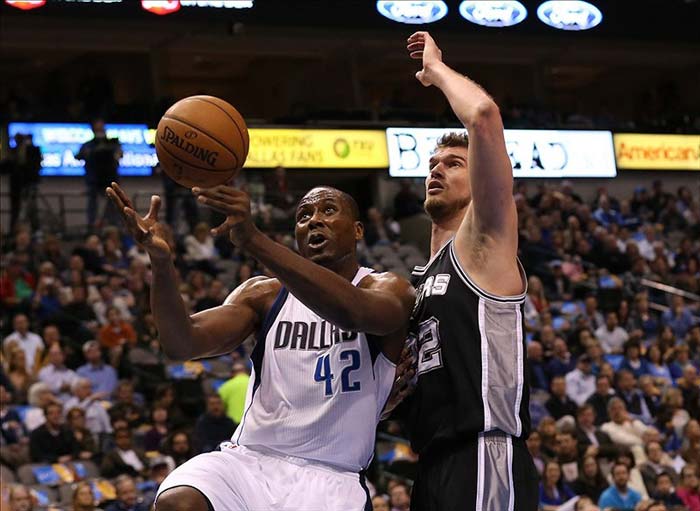 Jan 25, 2013; Dallas, TX, USA; Dallas Mavericks forward Elton Brand (42) shoots against San Antonio Spurs center Tiago Splitter (22) in the first quarter at the American Airlines Center. Photo Courtesy By Matthew Emmons-USA TODAY Sports.
THE STEAL – This one's a gimme.  Manu Ginobili (SAS, SG/PG, 6'6"-210, Argentina, #57) was one pick away from being the 1999 Draft's Mr. Irrelevant.  But the Spurs did well in snapping up the dynamic combo guard even if they'd have to wait three years for him to debut in the NBA.  As it turns out, Ginobili was more than worth the wait.  Whether serving as the Spurs' starting off-guard or playing the sixth man and filling in at up to three positions, Ginobili has been a very valuable cog for arguably the NBA's steadiest and most consistent team of the past 15 years.  And that remains the case even as age and injury have been slowing him down as of late.
Here's More NBA Draft Rewind Articles:
What do you think?

We'd love to hear your comments and/or opinions. If you submit them here, other visitors can read them, rate them and comment on them. An e-mail address is not required.