Major League Baseball: 2013 National League Preview
My recent predictions may not have been so hot – though if Florida survives another weekend in the NCAA tournament, I'll feel better about the smoldering remains of my bracket – but baseball's a different beast entirely – at 162 games a season, you can expect the cream to rise to the top.

Combine that with the lack of a salary cap and the relative consistency of standings from year to year – none of 2011's playoff teams finished outside of the top 3 of their division in 2012, and only Baltimore's amazing season brought them into the playoffs from below the top 3 of their division in 2011 – and you can boil down each divisional race to a certain extent now.  I'm not saying teams like the Cubs, Rockies and Astros have no chance at the playoffs this year – OK, maybe I'm saying that about the Astros –but they're not playing with the same goals in mind as some of the other squads out there.

So, while I will be making predictions in each division, I'm also highlighting the teams that I think are major contenders for playoff berths.  If a team not listed slips in?  I think it's quite the amazing story – though, obviously, as we saw last year, anything can happen if things break the right way.  I'm just saying that there are certain clubs that should consider missing the playoffs a letdown, and those are the clubs I'm talking about here.
NL East: Braves v. Nationals
This is an example of a pennant race that is actually made less exciting with the expansion of the playoffs to two wildcard teams.  The odds that either of these clubs fall out of the playoffs seems miniscule – one team passing them for a wildcard feels possible, but there's too much talent here for either of these squads to finish sixth in the National League.  You could make a strong argument, in fact, that these are the best two teams in the NL, with Stephen Strasburg pitching a full season this year and Bryce Harper looking like an MVP candidate in Washington, and the Upton brothers providing enough offense to give the Braves' killer bullpen room to work.

Now, the Braves are going to be hurt by losing Chipper Jones to retirement this offseason – I believe Juan Francisco will be a dropoff over at third base.  The addition of Justin Upton also brings with it some risk – his power numbers dropped off in 2012, as his SLG dropped do .430.  It's just enough uncertainty for me to predict the Nationals win the division, though the Braves should pick up the higher of the two NL wildcards.  Really, this should be a fun rivalry all the way down the stretch – assuming Strasburg stays active this season.

NL Central: Reds v. Brewers v. Cardinals
I'm including the Brewers in the discussion here, as I like what they've done since the all-star break last year – when they actually started playing well.  They were in playoff contention as late as September, though a late-season slide ended up with them 14 games out.  I think they'll build on their 83-79 record – but I don't like that pitching staff.  They dealt Zack Greinke at the trade deadline last season, and the cupboard is bare, apart from ace Yovani Gallardo.  If they figure out a way to get Gallardo to start 80 times, they'll be alright; otherwise, they're going to need a lot of young players stepping up very quickly.  A year too soon, at least.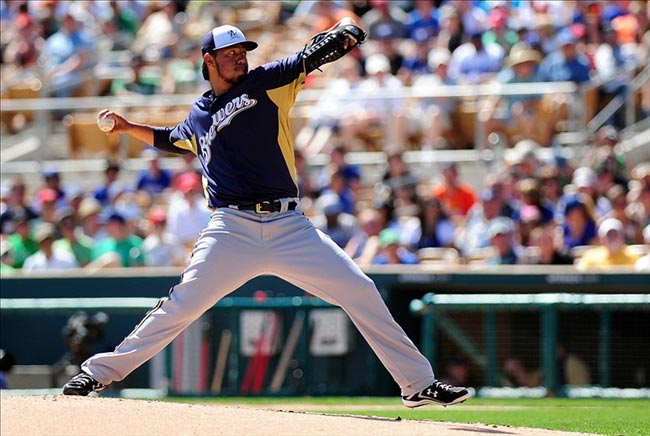 Mar 17, 2013; Phoenix, AZ, USA; Milwaukee Brewers pitcher Yovani Gallardo (49) pitches in the first inning during a spring training game against the Los Angeles Dodgers at Camelback Ranch. Photo Credit: Jennifer Hilderbrand-USA TODAY Sports.

That leaves the Reds and Cardinals to battle for a playoff spot, and perhaps I'm just bored with St. Louis.  Full of veterans, we know pretty much how every player is going to perform in a Cardinals uniform – you can pencil them in to the high 80s in win total and not stand too much risk, barring a major injury, as their bench is a little weak.  The Reds, on the other hand, are exciting – though they'd be more exciting if they pulled the trigger on moving Aroldis Chapman to the starting rotation.  They did add Shin-SooChoo to hit leadoff and try to play centerfield, where he's only played five games in the past six years – essentially trading defense for offense, which seemed to escape them in their playoff loss to San Francisco.  Plus, they've still Joey Votto and Jay Bruce, so Cincinnati is my pick in the division.
NL West: Diamondbacks v. Dodgers v. Giants

The Diamondbacks were a .500 team last season, but they're a young team on the rise.  Their pitching staff – with an all-under-age-30 rotation – was quite good last year, and all could see their fortunes improve again in 2013. The problem is, after trading away Justin Upton, there's not much there offensively, and against these other two teams in the NL West, they're just going to have trouble scoring runs.  They hope Adam Eaton, a .375 minor league hitter with speed, can spark the offense, but I think they're just a step down from the big boys in the division.

The Dodgers are really trying to become Yankees West -- $215 million dollars brings with it a lot of expectations.  I feel they've got a definite offensive edge over San Francisco – if they all stay healthy.  They're already getting injury bug issues with Carl Crawford and Hanley Ramirez, so that could be an issue to watch out for.  The Giants have Buster Posey and possibly Brandon Belt, but then the offense takes a nosedive.  If the Giants are going to win this one, it's going to be behind the duo of Matt Cain and Madison Bumgarner – and possibly Tim Lincecum, if he finds his control once more and returns to Cy Young form, which is far from a guarantee.  The Dodgers wheel out Clayton Kershaw and  ZackGreinke, with Josh Beckett playing the Lincecum role of "if he can find his stuff again".  It will be a hell of a race, but it's hard to go against the money, so I'm saying Los Angeles wins the division – but San Francisco makes enough noise to slip back into the playoffs once more as the wildcard, where you can't count out the defending World Series champions.  A third win in four seasons would be dynasty territory – but we're getting ahead of ourselves.

Next time, we'll wheel on over to the American League!
What do you think?
We'd love to hear your comments and/or opinions. If you submit them here, other visitors can read them, rate them and comment on them. An e-mail address is not required.
What Other Visitors Have Said
Click below to see contributions from other visitors to this page...

Odds for the next Tampa Bay Rays game Not rated yet
While the Tampa Bay Rays are not one of the outstanding favourites for this season's World Series, they are certainly considered to be realistic contenders …