Los Angeles: Baseball's Power Structure Shifts Westward
Zach Grienke. Kevin Youkilis.
Two years ago, Grienke would have been a sure-fire New York Yankee while the ageing Kevin Youkilis would have been banished to the West Coast.
Since 2010, all of that has changed.
With new ownership from Guggenheim Partners and a mammoth TV deal looming, the Los Angeles Dodgers have bought up everything in sight over the last year. Adrian Gonzalez, Zach Grienke, Hanley Ramirez, super-prospect Yasrael Puig…all Dodgers. Now, Brooklyn, NY's former baseball team is ear-marked for glory, with a roster full of all-stars and a payroll over $200 million.
It seems what was once New York's now belongs to Los Angeles.
But don't go thinking it's only the Dodgers: money is flowing freely across Hollywood.
Last year, the Angels, formerly a mid-market team from Anaheim, shocked the baseball world and signed Albert Pujols, the best first baseman in history, to a $240 million, ten year contract. They also added all-star pitcher C.J. Wilson, who was expected to head to the East Coast. And, just recently, the Angels added former AL MVP Josh Hamilton on a 5 year, $125 million contract to join future MVP Mike Trout in baseball's best outfield.
Even better for LA: it's not just baseball.
The Los Angeles Lakers have always been basketball kings but this year they've taken it a whole new level. With barely any payroll flexibility – but a huge new TV deal looming – the Lakers managed to trade for two-time MVP Steve Nash and future NBA MVP Dwight Howard. Recent poor performance notwithstanding, the Lakers have more talent than anyone else in the league and will right the ship soon enough, likely bringing yet more titles to Hollywood in the near future.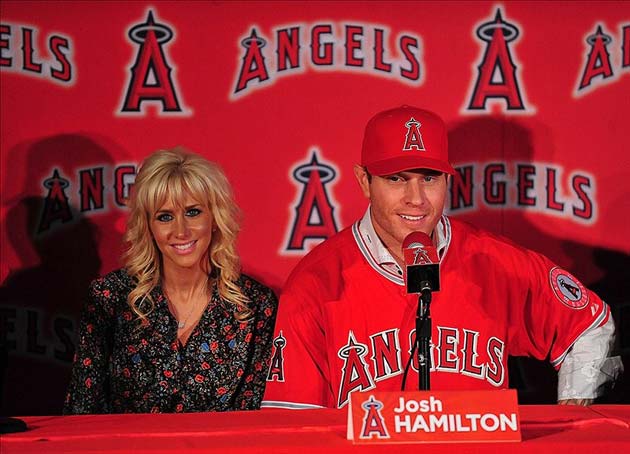 ---
If there weren't a NHL lockout, the Los Angeles Kings would probably be in the mix too; they won the 2011 Stanley Cup, why not improve some more?
The big question is: will this trend westward continue indefinitely?
The answer, as always, is nuanced. 2012 is an outlier year because the Yankees want to avoid the luxury tax for a single season, 2014, and the Red Sox and Chicago Cubs had to get out from under a few bad deals. Both will be back soon enough: though one has to wonder if the Red Sox, Cubs, and Phillies will all hit a pay-wall while Los Angeles' teams keep steamrolling forward.
As they say on Capitol Hill: $150 million isn't $150 million anymore.
The bet here is that New York, being New York, will always keep up with Hollywood. The West Coast may be "the Best Coast," as locals like to say, but the Big Apple bows to no one, let alone its cross-country rival. The New York Knicks and Brooklyn Nets will rival the Lakers' spending and, come 2015, the Yankees will be back with a vengeance.
But, Los Angeles is here to stay and, perhaps, the future capital of the American sports world.
Please read these other related pages:
---
What do you think?
We'd love to hear your comments and/or opinions. If you submit them here, other visitors can read them, rate them and comment on them. An e-mail address is not required.
---
From Los Angeles: Baseball's Power Structure Shifts Westward to MLB Baseball Blog | Sports Blog | NFL Football Blog | NCAA Football Blog | NFL Football Archives | College Football Archives | College Baseball Blog | MLB Baseball Archives | NBA Basketball Blog | NCAA Basketball Blog | NBA Basketball Archives | NCAA Basketball Archives | Fantasy Football | Fantasy Basketball | Fantasy Baseball | Soccer Archives | Olympics Archives | Stupid Athletes Archives | Other Archives | Football Forum | Basketball Forum | Baseball Forum | Sports Trivia Questions | NFL Football Store | NBA Basketball Store | MLB Baseball Store | NCAA Football Store | NCAA Basketball Store | NCAA Baseball Store | Fatheads | NFL Football Tickets | NBA Basketball Tickets | MLB Baseball Tickets | NCAA Football Tickets | NCAA Basketball Tickets | NCAA Baseball Tickets |
---
Home Page
About Us | Contact Us | Site Search | Advertise | Terms of Use |
---