It's Not Marijuana I Smell But a Cover Up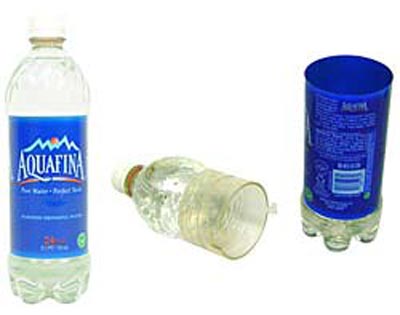 Dsfina
---
As we all know the intellectual Michael Vick brought an Aquafina bottle with a hidden compartment behind its label last week. Perfect for hiding that girl's phone number you don't want your girlfriend to know about. Instead airport screeners found a dark particle and an odor resembling marijiuana. If it looks like marijuana, smells like it, and is stashed in a hidden compartment what could it be? His grandmother's top secret spices that she uses in her pot roast?
Instead he was allowed to board the plane, embarassment ensues for the Atlanta Falcons organization, and Michael Vick becomes another athlete busted for weed.
But no. Now police are saying the dark stuff was not weed and the video of Vick at the airport has been erased. I don't smell marijuana...sniff...sniff...I smell a pile of shit.
In a report on its web site, the Atlanta Journal-Constitution said it requested a copy of the video on Jan. 18 from the Miami-Dade Police Department under the state's public records law. Police spokesman Robert Williams said at the time that police decided they would not release it because it was part of an open investigation.

On Tuesday, after authorities said the case was closed, the newspaper again requested a copy of the video and was told it had been erased.
The lab results came back but it never said what exactly that substance was. They carbon date cavemen skulls and determine how many thousands of years ago it is from. So I KNOW they could tell us what that stuff was if it wasn't weed. It just sounds like the Miami Dade police just did not bother to check it cause of a little nudge and a little wink from some higher power.
'With the volume of things [the crime lab] has passing through, they really don't have the time to take an intellectual jaunt as to what he was carrying around,'' said Ed Griffith, a spokesman for the Miami-Dade state attorney's office.
Usually someone in power can faclilitate this sort of hush-hush. The NFL? Arthur Blank? Somebody did and it should not have happened. I know it's Miami and thousands of pounds of drugs get illegally passed through that city yearly. So what's a little green stuff? So when flying to Miami next week for the Super Bowl, Aquafina with hidden compartments containing dark substances are OKAY!
---
What do you think?
We'd love to hear your comments and/or opinions. If you submit them here, other visitors can read them, rate them and comment on them. An e-mail address is not required.
What Other Visitors Have Said
Click below to see contributions from other visitors to this page...

---
From It's Not Marijuana I Smell But a Cover Up to NFL Archives | Sports Blog | College Football Archives | MLB Archives | NBA Archives | NCAA Basketball Archives | Soccer Archives | Olympics Archives | Stupid Athletes Archives | Other Archives |
---
Home Page
About Us | Contact Us | Site Search | Advertise | Terms of Use |
---