If I Hate a Team, I'll Never Root for Them
Listening to sports talk radio is my daily routine as I drive to work each day. Today I heard something truly disturbing. A Michigan fan had called in and said that he was rooting for Ohio State to win against Florida. He almost sounded sad they had lost. Wait...don't the two hate each other with a passion? Hearing that didn't cause me to have seizure and crash my car but it got me thinking. His reasoning was he was rooting for the conference to win. It's not the first time I've heard that. Since I've been a sports fan, I have never followed that theory.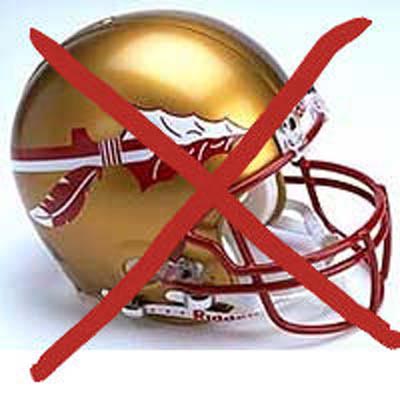 FSU Helmet
---
Ohio State and Michigan are one of the greatest rivalries in college football. Rivialry usually means you cannot stand the other team. You have funny jokes about them. You could lose all your games that season but as long as you beat your main rival, the fans are happy. If I talked to a fan of either team, they could go on and on about how stupid everything is about the other school down to their colors.
So then I do not understand how a Michigan fan can go rah-rah for Ohio State in a national championship game?? I would not want the team I hate the most to have bragging rights over my school when counting national championships. No matter if they're in the same conference. I don't want to see the stupid t-shirts. I don't want to be reminded of it constantly the following season.
For example, I am a Florida Gator fan and not by bandwagon either. I consider our big rivals as Georgia first and Florida State right behind. To some, those really could be interchangable. If either one were playing in the championship game, I'm cheering like I'm seeing two hot girls mud wrestling in jello for them to lose and lose badly. If it's Georgia, forget keeping the championship in the conference. Making it to the championship game says enough about the conference already. No need to win one more game. I've been around Bulldog fans enough to know how obnoxious they are. I do not want bragging come from those tobacco chewing lips, brother and sister kissing lips.
If I want to have the championship stay in the conference and if the Gators don't do it, I don't mind if it's South Carolina, Auburn, Alabama, Vanderbilt, or even a ugly Tennesee team win. They don't make my blood boil as much. I wouldn't root for them to win though. I'm not one of those "Do it for the conference!" folks even if it's a non-rival. In that case, I'm a fan of whoever I have my money on. That's how I decide.
Keeping the championship in the conference is a great thing if it's your team. Don't have satisfaction to see your most hated rival have all the glory. Don't root for them. You might as well just switch teams cause you'd be considered a traitor. If anything, you can take some solace in poking fun at the fact that they didn't win.
What do you think?
We'd love to hear your comments and/or opinions. If you submit them here, other visitors can read them, rate them and comment on them. An e-mail address is not required.
What Other Visitors Have Said
Click below to see contributions from other visitors to this page...

I was one of those people who said he'd root for Ohio State





2007/01/11 at 11:55 pm As a Michigan fan, I was one of those people who said he'd root for Ohio State. (Though before Florida was selected for the BCS …
I root for come from the Mountain West Conference


2007/01/11 at 4:33 pm Maybe it's because the teams I root for come from the Mountain West Conference (which seek respect every year) but I'm one of those …
Bulldog fans are classy people Not rated yet
2007/02/12 at 12:56 pm You are an IDIOT! I have always hated the Gaylosers, and I always will. Bulldog fans are classy people. You and your asshole Gayturds …
---
---
From If I Hate a Team, I'll Never Root for Them to College Football Archives | Sports Blog | NFL Football Blog | NCAA Football Blog | NFL Football Archives | MLB Baseball Blog | College Baseball Blog | MLB Baseball Archives | NBA Basketball Blog | NCAA Basketball Blog | NBA Basketball Archives | NCAA Basketball Archives | Fantasy Football | Fantasy Basketball | Fantasy Baseball | Soccer Archives | Olympics Archives | Stupid Athletes Archives | Other Archives | Football Forum | Basketball Forum | Baseball Forum | NFL Football Store | NBA Basketball Store | MLB Baseball Store | NCAA Football Store | NCAA Basketball Store | NCAA Baseball Store | Fatheads | NFL Football Tickets | NBA Basketball Tickets | MLB Baseball Tickets | NCAA Football Tickets | NCAA Basketball Tickets | NCAA Baseball Tickets |
---
Home Page
About Us | Contact Us | Site Search | Advertise | Terms of Use |
---