David Stern's Fine of the San Antonio Spurs Feels Like a Last Gasp of Political Power
Here's a guess: Greg Popovich will be in the NBA longer than David Stern.
The Commissioner recently announced his intent to retire in 2014. Then his old publicity nemesis, Popovich, decided to announce he was sitting his five star players…because he wanted to. Needless to say, Stern was not amused by such an obvious thumb to the nose of his authority.
Indeed, what better way is there to enrage the outgoing, self-conscious commissioner, you ask? None, apparently, since a visibly riled Stern then went on national TV, promising major consequences, and levied a $250,000 fine.
For fans of old-school politics, it made for a hilarious scene: one old veteran of the wars thumbing his nose at another old war-dog, who decided to bring the hammer down before losing his chomps.
Let's forget, for a moment, the hilarious hypocrisy of fining Popovich for the first time for something he has done countless times. Let's forget that the Spurs were fined for something teams do routinely, and flagrantly. Let's forget that Stern has conspicuous ignored teams sitting veteran stars for months on end towards the end of the season, including Cleveland's egregious tanking of the entire 2003 season to draft LeBron James.
Let's forget all that. The ESPN guys will cover it ad nauseum.
Instead, let's enjoy focusing on the hilarity; on the clear-cut comparisons with the political world. Stern is, after all, a political animal, and this ridiculous fine shows that he wants to exercise his power just a bit more before his time is up.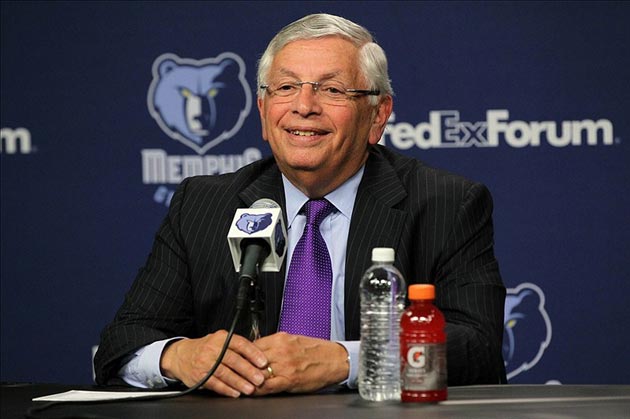 ---
It's like taking the last two Viagra pills at the same time before the bottle is finished; a little thrill before the end of the road.
So, how will Popovich respond? Probably by shrugging his head and carrying on. The old veteran knows he will outlast Stern. Fine or no fine, the Spurs' bench belongs to Popovich so long as he wants to sit on it.
And the rest of the NBA world? Well, they'll probably just keep laughing.
Here's why David Stern needs to retire.
---
What do you think?

We'd love to hear your comments and/or opinions. If you submit them here, other visitors can read them, rate them and comment on them. An e-mail address is not required.
---
From David Stern's Fine of the San Antonio Spurs Feels Like a Last Gasp of Political Power to NBA Basketball Blog | Sports Blog | NFL Football Blog | NCAA Football Blog | NFL Football Archives | College Football Archives | MLB Baseball Blog | College Baseball Blog | MLB Baseball Archives | NCAA Basketball Blog | NBA Basketball Archives | NCAA Basketball Archives | Fantasy Football | Fantasy Basketball | Fantasy Baseball | Soccer Archives | Olympics Archives | Stupid Athletes Archives | Other Archives | Football Forum | Basketball Forum | Baseball Forum | Sports Trivia Questions | NFL Football Store | NBA Basketball Store | MLB Baseball Store | NCAA Football Store | NCAA Basketball Store | NCAA Baseball Store | Fatheads | NFL Football Tickets | NBA Basketball Tickets | MLB Baseball Tickets | NCAA Football Tickets | NCAA Basketball Tickets | NCAA Baseball Tickets |
---
Home Page
About Us | Contact Us | Site Search | Advertise | Terms of Use |
---