David Stern Needs to Retire
It's Time for David Stern to Retire
David Stern has been a great NBA commissioner but now it's time for him to go.
Stern became commissioner in 1984, when the NBA was in dire straits. Poor rapport with fans, alienated players, drug use, and uneven play threatened to sink the league. Stern rode the Magic Johnson-Larry Bird wave to restore popularity to NBA basketball while also setting up enforceable rules through collective bargaining and bringing the NBA players under control. He will always deserve credit for building the NBA up to its peak, the 1990s Jordan-era, and making basketball the sport it is today.
But now Stern is ageing and proved during the lockout that he no-longer has the control or influence he once wielded. It's time for him to retire and inject some new blood into the role.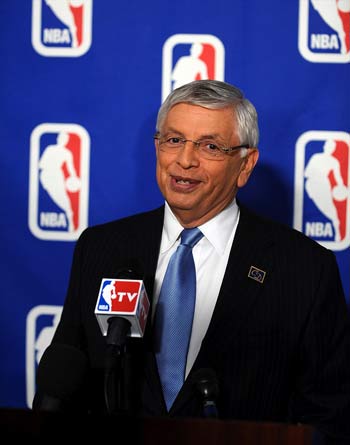 NBA Commissioner David Stern speaks to reporters at the 2009 NBA Draft Lottery at the studios of NBA Entertainment in Secaucus
---
Adam Silver, the deputy commissioner, seems ready to take on the role. It's hard to say whether he can truly fill Stern's shoes. But it's time to give him the chance to try.
Stern, for all his greatness, is simply disconnected from many of the league's owners and players at this point. The new owners want to run their teams individually and lack the unity of their predecessors. They also don't have much rapport with Stern.
Whereas in the 1980s Stern was as close to many owners as he is to Bulls Chairman Jerry Reinsdorf, now several of them, like Mikhail Prokohorov and Robert Sarver, barely give him the time of day. The players, for their part, don't seem too inclined to respect his influence much either.
So, the NBA has moved on from David Stern. Now it's time for Stern to move on from the NBA.
Check out David Stern's Fine of the San Antonio Spurs Feels Like a Last Gasp of Political Power.
---
What do you think?

We'd love to hear your comments and/or opinions. If you submit them here, other visitors can read them, rate them and comment on them. An e-mail address is not required.
---
From David Stern Needs to Retire to NBA Basketball Blog | Sports Blog | NFL Football Blog | NCAA Football Blog | NFL Football Archives | College Football Archives | MLB Baseball Blog | College Baseball Blog | MLB Baseball Archives | NCAA Basketball Blog | NBA Basketball Archives | NCAA Basketball Archives | Fantasy Football | Fantasy Basketball | Fantasy Baseball | Soccer Archives | Olympics Archives | Stupid Athletes Archives | Other Archives | Football Forum | Basketball Forum | Baseball Forum | NFL Football Store | NBA Basketball Store | MLB Baseball Store | NCAA Football Store | NCAA Basketball Store | NCAA Baseball Store | Fatheads | NFL Football Tickets | NBA Basketball Tickets | MLB Baseball Tickets | NCAA Football Tickets | NCAA Basketball Tickets | NCAA Baseball Tickets |
---
Home Page
About Us | Contact Us | Site Search | Advertise | Terms of Use |
---