Consequences of Calipari Recruitment Violations
Calipari Collapse
Violations at Kentucky and their Impact on Future Recruitment
In early September, several unnamed sources reported that top Kentucky recruit Enes Kanter, a 6'10" power forward widely projected as a top five pick in the 2011 NBA draft, had accepted both a salary and other benefits from the Turkish team he played for as a team. The allegations, which the NCAA is still investigating, would make Kanter ineligible to play in the 2010-2011 NCAA college basketball season and likely end Kentucky's hopes for an eighth national title.
Less than a week later, additional allegations surfaced which suggested that former Wildcat point guard (and 2010 NBA first round draft pick) Eric Bledsoe had falsified at least one class grade on his transcript. Reports stated that Bledsoe had a history of poor grades and would have been academically ineligible to play for Kentucky had his grades not improved. However, with ineligibility looming, Bledsoe "miraculously" received an 'A' in an Algebra III class despite nearly failing Algebra I and not actually taking Algebra II. Though Bledsoe will keep his eligibility, common sense would dictate that this scenario was impossible without foul play.
While neither of these two sets of allegations ultimately bore fruit in the form of NCAA sanctions, they speak to a changing mentality at both Kentucky and in all of college basketball: the objective is now to recruit the best talent regardless of the NCAA rules and the future costs to the program. John Calipari, Kentucky's new coach, is of course the worst offender and in a class all his own. Indeed, this is hardly his first go-around with the NCAA investigative committee; his two final four berths with Massachusetts and Memphis were both withdrawn due to violations and Calipari himself barely avoided being implicated in the investigation on both occasions.
Here's our Derrick Rose Jersey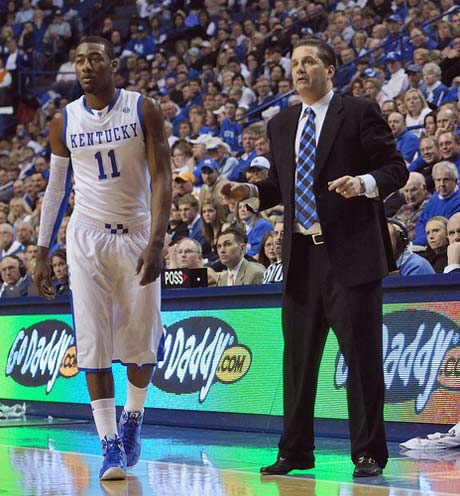 Kentucky Wildcats John Wall and John Calipari.
Thanks Tennessee Journalist at flickr.com for the picture.
---
However, while Calipari is the poster boy for these issues, he is hardly the only collegiate coach or athletic director who quietly violates NCAA recruiting rules to gain an edge. These two particular cases are part of a growing trend in which officials at top schools are increasingly willing to skirt, fudge, and slightly violate rules on the edge of the NCAA guidebook. Years ago, the situation was different: most coaches recruited "the right way"-Hall of Fame coach Bob Knight likes to say-while those few who did violate the rules did so in spectacular fashion: they completely falsified transcripts, covered up criminal records, and they allowed recruits to attend wild college parties and receive gifts and perks while visiting the schools. However, while these rules violations were higher on the food chain, they also used to be few and far between. The new paradigm is much more insidious: previously unimpeachable college coaches (Connecticut coach Jim Calhoun comes to mind) have violated NCAA rules in smaller ways. In Connecticut's case, a former UConn student still vaguely associated with the school provided minor gifts, perks and favors to recruit Nate Miles back in 2007. The violations were hardly spectacular but they still violated the NCAA rulebook.
We've got your O.J Mayo Jersey
Hopefully this trend merely represents a blip fad on the historical timeline and successive NCAA investigations will convince top coaches to stick to the straight and narrow recruiting style. However, as players get bigger, faster, and better every year and the recruiting process gets more competitive every year, it seems likely that even more coaches will be tempted to skirt the rules slightly to land a big fish for their program. To stop this, the NCAA may need to make an example of a repeat offender from a top college; they could start with John Calipari.
---
---
What do you think?
We'd love to hear your comments and/or opinions. If you submit them here, other visitors can read them, rate them and comment on them. An e-mail address is not required.
What Other Visitors Have Said
Click below to see contributions from other visitors to this page...

Where is D. Miller? Not rated yet
Not a huge Cal fan but him yelling at players doesn't bother me. Him yelling about D. Miller excites me!!! D. Miller has been the single greatest disappointment …
---
From Consequences of Calipari Recruitment Violations to NCAA Basketball Blog | Sports Blog | NFL Football Blog | NCAA Football Blog | NFL Football Archives | College Football Archives | MLB Baseball Blog | College Baseball Blog | MLB Baseball Archives | NBA Basketball Blog | NBA Basketball Archives | NCAA Basketball Archives | Fantasy Football | Fantasy Basketball | Fantasy Baseball | Soccer Archives | Olympics Archives | Stupid Athletes Archives | Other Archives | Football Forum | Basketball Forum | Baseball Forum | NFL Football Store | NBA Basketball Store | MLB Baseball Store | NCAA Football Store | NCAA Basketball Store | NCAA Baseball Store | Fatheads | NFL Football Tickets | NBA Basketball Tickets | MLB Baseball Tickets | NCAA Football Tickets | NCAA Basketball Tickets | NCAA Baseball Tickets |
---
Home Page
About Us | Contact Us | Site Search | Advertise | Terms of Use |
---