Comparing America's Greatest Presidents and Coaches
Exceptional sports coaches and legendary American presidents share much in common, including being so famous and culturally iconic that they become near parodies. While comparing the achievements of legendary presidents to magnetic sports personalities borders on the ludicrous, there are compelling similarities between the them to explore; not least their outsize personalities. Phil Jackson, the Zen Master. Abraham Lincoln, the stoic savior. Red Auerbach, the cigar chomping perfectionist. George Washington, the ruthless general in tights. Now that President Obama has been re-elected, the question is: which former president, and former sports coaching legend, will the president ultimately resemble?
Indeed, after President Obama's re-election, the first question that came to mind was: "what will the president's next term look like?" Will he compromise, work to get things done, and embrace greatness and a chance at immortality or dissolve into petty partisanship and colossal failure? Will he channel the spirit of George Washington, whose inescapable presence and consensus-building efforts brought the Thirteen Colonies together, or Ohio State legend Woody Hayes, whose feisty divisiveness ultimate got him fired and brought his dynasty to an ignomious end?
President Obama has a chance to become either Washington or Hayes, his career is not yet over. Less than half the chapters have been written and the conclusion is a lifetime away. Yet, looking at legendary presidents past, whose chapters in history are already written, published, and dusting on the shelf, which sports heroes do those greats most compare to?
George Washington, the ruthless general with a wig and tights, always reminds me of Phil Jackson, the Zen Master. Thinking of Jackson standing stoically on the sidelines, calming guiding a feuding Kobe Bryant and Shaquille O'Neal to the three consecutive NBA titles, it's easy to imagine Washington standing amidst the feuding colonial leaders, calmly working with them to create a bi-partisan constitution and form the United States.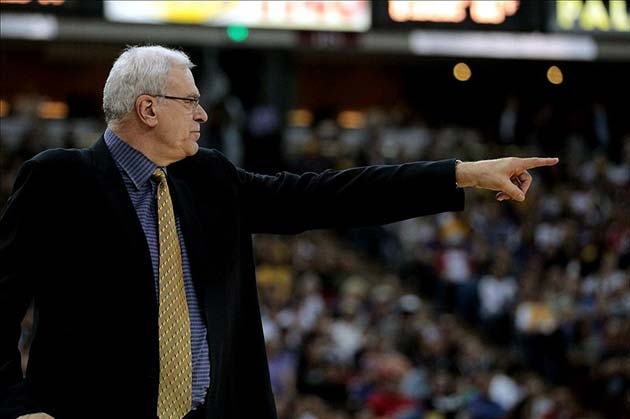 ---
Abraham Lincoln, the man who reunited a divided house, is similar to Red Auerbach, the ruthless perfectionist who fielded the first all-black starting lineup in the face of racial criticism and crafted a championship legacy.
Franklin Roosevelt, molder of the Greatest Generation, is akin to Pat Riley – without the slick-back hair. Roosevelt inherited a great country in the throes of a depression and returned it to greatness by restoring the people's confidence, getting the nation back to work, and winning World War II. Riley inherited a dying franchise with exceptional potential in the Miami Heat, restored confidence and respectability with Alonzo Mourning and Tim Hardaway, got the franchise back to work with Dwayne Wade, Shaquille O'Neal, and the 2006 title, and finally won the great war by netting LeBron James and Chris Bosh in 2010 and the capturing the 2011 NBA title. Can't you see a Cold War between the Heat and the Los Angeles Lakers on the horizon?
It's true: great coaches are not great presidents. They don't solve debt crises, declare wars, and employ millions; they just win sports games and capture championships. Yet, there is something inescapably similar in the achievements, demeanor, and the legacies of America's greatest coaches and its greatest presidents.
So, which coaching legend will America's 43rd president become?
---
What do you think?

We'd love to hear your comments and/or opinions. If you submit them here, other visitors can read them, rate them and comment on them. An e-mail address is not required.
---
From Comparing America's Greatest Presidents and Coaches to NBA Basketball Blog | Sports Blog | NFL Football Blog | NCAA Football Blog | NFL Football Archives | College Football Archives | MLB Baseball Blog | College Baseball Blog | MLB Baseball Archives | NCAA Basketball Blog | NBA Basketball Archives | NCAA Basketball Archives | Fantasy Football | Fantasy Basketball | Fantasy Baseball | Soccer Archives | Olympics Archives | Stupid Athletes Archives | Other Archives | Football Forum | Basketball Forum | Baseball Forum | NFL Football Store | NBA Basketball Store | MLB Baseball Store | NCAA Football Store | NCAA Basketball Store | NCAA Baseball Store | Fatheads | NFL Football Tickets | NBA Basketball Tickets | MLB Baseball Tickets | NCAA Football Tickets | NCAA Basketball Tickets | NCAA Baseball Tickets |
---
Home Page
About Us | Contact Us | Site Search | Advertise | Terms of Use |
---