In Sports, And Government, Compromise is Needed
Barack Obama was re-elected President of the United States on November 6th 2012.
As of this moment, Obama will need to turn his attention to bridging his gulf with Republicans and creating critical compromises that eluded him during his first term; on the nation's debt crisis, tax reform, healthcare reform implementation, and social security.
In American sports, deadlock also remains the order of the day: the NHL is locked out, the NFL remains engaged in a virtual Cold War with its Players Union, and Bob Arum still isn't speaking to Golden Boy Promotions.
In government, as in politics, compromise needs to make a comeback.
Sports are a reasonable facsimile for government in at least one sense; working together always produces the most effective reform and long-term progress. While politicians and sports leaders alike have recently endorsed deadlock, Americans have seen that path leads nowhere and satisfies no one.
In sports, deadlock led to an NBA lockout that cancelled games and nearly shut down the league for an entire season, despite record revenues following the 2010 formation of the Big Three Miami Heat. It also produced two hugely unpopular lockouts in the NFL: one of the Players that was only resolved after court battles and one of the referees that was so preposterous it actually dragged on for three regular season weeks before the replacement officials cost the Green Bay Packers a needed game and embarrassed the league in front of the entire nation. In the NHL, deadlock currently threatens to cancel the entire season, next season, and potentially ruin the future of hockey in the United States.
By contrast, compromise is responsible for sports' best recent success stories. Major League Baseball avoided a Players lockout and extended their collective bargaining agreement, largely through honest brokering, cooperation, and dialogue between MLB and the Players Union. Baseball also continues to implement effective drug policy to clean up what remains of the sports' infamous steroid era. After a decade of deadlock and inefficient testing from 1998-2008, baseball's new, jointly-negotiated drug policy nailed positive tests for super-stars Ryan Braun (since rescinded for un-related reasons) and Melky Cabrera. Unlike in the deadlocked past, no one is immune from this unified, collectively endorsed drug testing.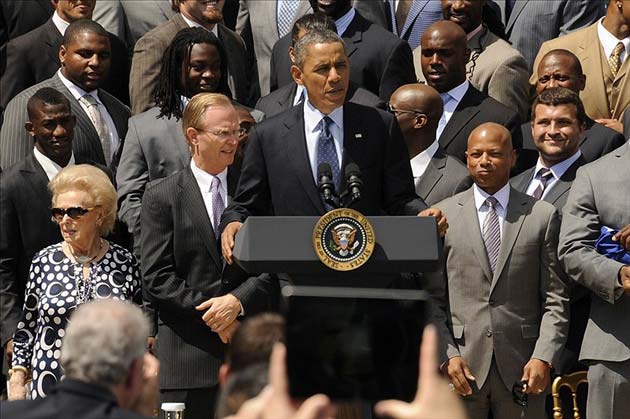 ---
Compromise was also the great savior of the NFL during the past year. After the officials cost the Packers the game, the NFL sensed fans' deepening anger and rapidly compromised with officials, working out a fair deal in less than 48 hours. That deal restored the old officials and restored integrity and rules to a sport that was starting to look like a badly-acted farce.
Government should draw a lesson from sports.
As the President looks to his new term, sports present him with a compelling diorama that both accurately represents his past and can predict his future. American sports' recent past has been defined by lockouts in three major sports, the NFL's officiating debacle, and rampant fan frustration. The President's own recent past, defined by nearly two years of deadlock over healthcare reform, deficit reduction, and upcoming federal elections, is also largely one of failure. Even the President admits that: his four years are filled with failure to live up to opportunity and have not lived up to the hope he so successfully evoked in 2008.
Yet, sports also offer a glimpse at two potential futures; one of Major League Baseball's compromise success and one of the NHL's gridlocked failure. Baseball's lockout prevention and effective drug policy, both models for sports, showcase what can be accomplished when the leaders of two respective parties, in that case MLB and its Players Union, sit across from one another and broker an honest, fair deal that gives parties an acceptable measure of what they were looking to achieve. By contrast, the NHL's future, which promises poor future ratings, star attrition to overseas markets, and shrinking revenue growth, offers a glimpse at what happens when the two respective parties fail to acknowledge mutual needs and work together.
The President has been elected for four more years. He would be wise to heed the critical lesson sports has to offer him: compromise, not deadlock, is what breeds success.
---
What do you think?
We'd love to hear your comments and/or opinions. If you submit them here, other visitors can read them, rate them and comment on them. An e-mail address is not required.
---
From In Sports, And Government, Compromise is Needed to Other Archives | Sports Blog | NFL Football Blog | NCAA Football Blog | NFL Football Archives | College Football Archives | MLB Baseball Blog | College Baseball Blog | MLB Baseball Archives | NBA Basketball Blog | NCAA Basketball Blog | NBA Basketball Archives | NCAA Basketball Archives | Fantasy Football | Fantasy Basketball | Fantasy Baseball | Soccer Archives | Olympics Archives | Stupid Athletes Archives | Football Forum | Basketball Forum | Baseball Forum | NFL Football Store | NBA Basketball Store | MLB Baseball Store | NCAA Football Store | NCAA Basketball Store | NCAA Baseball Store | Fatheads | NFL Football Tickets | NBA Basketball Tickets | MLB Baseball Tickets | NCAA Football Tickets | NCAA Basketball Tickets | NCAA Baseball Tickets |
---
Home Page
About Us | Contact Us | Site Search | Advertise | Terms of Use |
---