Bobcats Questionable Head Coach Hiring
By Dennis Berry

The Charlotte Bobcats had no problem in winning only seven games this season. They were looking ahead to the NBA draft and hoping to land the top pick. With that they could draft Anthony Davis and build their team around him.

That would have been a good plan if it had worked. Unfortunately for Charlotte the ping pong balls did not fall their way. Instead they ended up with the number two pick and tried to figure out who to draft.
While trying to figure that out, they also had to decide who would be the next Head Coach. Last week it seemed that they would choose between three finalists: former Utah Jazz Head Coach Jerry Sloan, Indiana Pacers assistant Brian Shaw, and Los Angeles Lakers assistant Quinn Snyder. All three appeared to have a chance to win the job.

Then to surprise of almost everybody who follows basketball Bobcats owner Michael Jordan made a hire out of left field. Instead of going with one of the finalists, Jordan hired St. John's assistant coach Mike Dunlap. He did interview for the job, but was not a finalist.

The hiring makes Dunlap the first NCAA assistant coach to become an NBA head coach.

Dunlap is no stranger to the NBA. He served as an assistant coach under George Karl in Denver for two years. Karl even took the time to defend the hiring of Dunlap by Charlotte.

"If you know Mike, he has a head coach mentality," Karl said. "He was a head coach for 10 years or longer and went to be an assistant. I don't think it'll be hard for him to get back to being a head coach, because his strength is his belief in himself. He thinks the game as a head coach. And this guy has coached in championship games in Australia and in Division II. He has a head coach mind."

While Dunlap is an unknown to most basketball people, he has had success as a head coach. It came on the NCAA Division II level. He won the NCAA Division II Championship at Metro State in 2000 and 2002.

After he left Denver in 2008 he would bounce around the NCAA as an assistant coach. He spent a year at Arizona. That was followed by a year at Oregon. Then he landed at St. John's this past season. There he served as the interim Head Coach while Steve Lavin was under treatment for cancer.

He has reputation as being a great X's and O's coach. He understands the game and knows what it takes to win. He is also known for being able to work with players and get them to improve.

While that is good, there is plenty to be concerned about in this hire.

First is Dunlap's lack of coaching experience at a high level. Sure he has had success at the Division II level, but he has no head coaching experience in Division I or the NBA. Will the players buy into Dunlap as a head coach?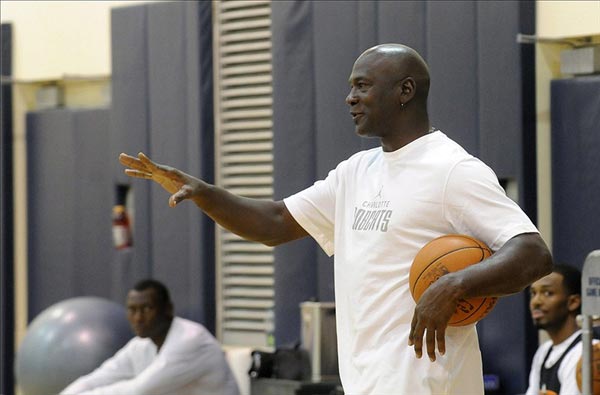 NBA players need to know that you have had been successful as a coach. When players make more than their coach, they better believe that he can make them winners.

Speaking of the players that is another negative for Dunlap taking over in Charlotte. There is a reason why the Bobcats went 7-59 last year and they were a big part. Charlotte was a young team that was still learning to play together.

They have decent young core to build around. Still the Bobcats will have to improve the roster. It seems most believe they will take either Thomas Robinson of Kansas or Bradley Beal of Florida in this year's draft. While that will help, they still need to bring in a veteran player who has had success in the NBA to show this young group of players what it takes to win in the league.

The final red flag in this hire is that man who made it; Michael Jordan. Now there is no question that Jordan was the greatest to ever play the game. His record as an executive though is not as good.

Most of his decisions end up not working out. Remember when the Wizards drafted Kwame Brown with the first overall pick in 2001? How did his coaching hire of Leonard Hamilton in Washington workout?

In Charlotte he let go Larry Brown after a slow start to the 2010-11 season, less than year after Brown led the Bobcats to 44 wins and the playoffs. During the 2011 NBA draft he traded to get the draft rights to Bismack Biyombo who averaged 5.2 points, 5.8 rebounds, and 1.8 blocks a game as a rookie.

Most believe that Jordan let "Carolina Connections" influence his decision. Dunlap worked for Karl in Denver who went to North Carolina and played under Dean Smith. Just like the Bobcats owner.

Given all the problems facing the Bobcats a proven NBA coach probably would have been better. A coach with the record of Sloan or former Portland head man Nate McMillan may have been better. They have dealt with rebuilding NBA teams and proven they can turn them around.

Whether Dunlap succeeds in the NBA is unknown right now. All we do know is that he will have his work cut out for him.


What do you think?
We'd love to hear your comments and/or opinions. If you submit them here, other visitors can read them, rate them and comment on them. An e-mail address is not required.