Baseball Free Agency Mistakes
MLB Owners Free Agency Conundrum
It's that time of year again. No I don't mean Christmas. The Major League Baseball Winter Meetings just finished and, looking back, I'm stuck thinking that something doesn't make sense. Why do teams always sign bad deals right after they've got done paying off their past mistakes?
That's not to say that all big free agency deals are bad. The Red Sox signed two massive contracts this week and, credit to GM Theo Epstein, both Adrian Gonzalez and Carl Crawford should provide good value over their whole deals. Both Gonzalez and Crawford are two way players in their primes capable of hitting in middle of any lineup so, from the Red Sox point of view, creating a fearsome lineup featuring both additions, Kevin Youkilis, and Dustin Pedroia was worth the hefty price tag. For the first time in over a decade, the Red Sox lineup will be more potent than New York's.
However, such deals represent the minority. Most large deals in free agency-both baseball's and in other sports-tend to go badly. What makes it even worse is that front office executives never seem to learn from their mistakes: desperation trumps caution and teams hand out ridiculous contracts to players who will never, ever, live up to the cost.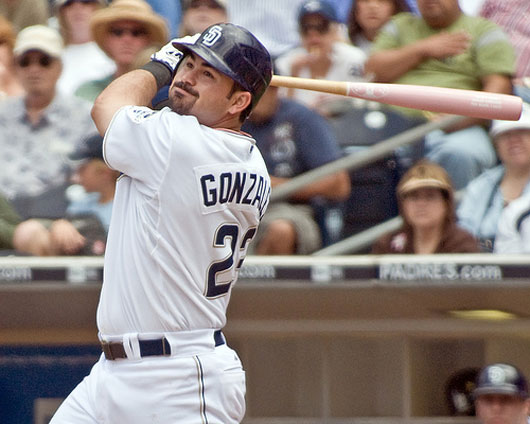 Adrian Gonzalez.
Thanks to SD Dirk at flickr.com for this photo.
---
If you watched the winter meetings this week, then you know where I'm going with this train of thought. The Nationals seven year; one hundred twenty six million dollar deal for free agent outfielder Jayson Werth is the worst contract handed out by a baseball team since Alfonso Soriano received a cringe-worthy boat-load from the Cubs in 2007. Werth is a very good two way player but he is not elite. He has made only one all-star team. His defenders say that is because he was injured for a good part of several seasons but that's hardly a defense: if he was injured for parts of several seasons and made only one all star team, then why lock him up until his 39th birthday? If that was what he was producing in his twenties, then what makes the Nationals think he will get much better in his thirties? All in all, the deal was insane.
Yet it is only part of a large and disturbing trend: sports executives seem to lack rearview mirrors. When running a company, one of the most important things is to learn from your mistakes. Fool me once it's on you, fool me twice…you get the picture. But sports teams don't seem to grasp this concept. Time and time again, teams sign awful deals, realize midway through how awful they are (and in many cases everyone else knew that the day the contract was signed), wait them out, then turn around and sign equally awful contracts the moment the money frees up.
Let's switch sports for a second to basketball. The Atlanta Hawks spent the last few years flaming out in the early part of the playoffs because they had so little payroll flexibility that they were unable to make any moves to improve their team. Then, when an ageing Joe Johnson came off the books and money opened up in the summer of 2010, the Hawks turned around and resigned him for a over one hundred and twenty million dollars. Learning from mistakes? Definitely not. Part of an inexplicable cycle? Absolutely.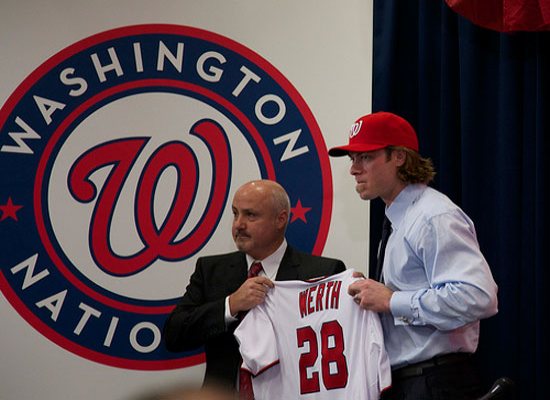 Jayson Werth Holding the new Jersey.
Thanks to tbridge at flickr.com for this photo.
---
Perhaps the Nationals deserve a minor reprieve. In fairness, Mark Rizzo is a fairly new GM and the Nationals (the Expos previously) have been a cheap club for decades so this is their first disastrous signing. Perhaps they will learn from their mistake after eating the last eighty million or so of that Jason Werth deal. But we only need to travel across town to find a team that has never, ever learned from its spending mistakes. Under Dan Snyder, the Redskins have gone into free agency with an open wallet almost every year…and consistently overpaid guys who practically robbed them. Starting with Deion Sanders, a busted defensive signing from 2000, the Redskins signed one overpaid player after another and never learned any lessons. Jeremiah Trotter? Check. Adam Archuleta? Check. Antwaan Randel-El? Check. And, of course, who could forget Albert Haynesworth. That saga is still going on, and gets more embarrassing by the day, so perhaps the Redskins will learn this time.
Ultimately though, history suggests otherwise. With a few notable exceptions, sports executives hit the panic button when their teams underperform and always look for a quick fix…even when they should know it won't work. Will this change? It's unlikely, unless of course owners decide to hire real, successful businessmen to run their franchises. After all, some executives know how to learn from their mistakes.
Check out our 2010 World Series Analysis.
---
---
What do you think?
We'd love to hear your comments and/or opinions. If you submit them here, other visitors can read them, rate them and comment on them. An e-mail address is not required.
---
From Baseball Free Agency Mistakes to MLB Baseball Blog | Sports Blog | NFL Football Blog | NCAA Football Blog | NFL Football Archives | College Football Archives | College Baseball Blog | MLB Baseball Archives | NBA Basketball Blog | NCAA Basketball Blog | NBA Basketball Archives | NCAA Basketball Archives | Fantasy Football | Fantasy Basketball | Fantasy Baseball | Soccer Archives | Olympics Archives | Stupid Athletes Archives | Other Archives | Football Forum | Basketball Forum | Baseball Forum | NFL Football Store | NBA Basketball Store | MLB Baseball Store | NCAA Football Store | NCAA Basketball Store | NCAA Baseball Store | Fatheads | NFL Football Tickets | NBA Basketball Tickets | MLB Baseball Tickets | NCAA Football Tickets | NCAA Basketball Tickets | NCAA Baseball Tickets |
---
Home Page
About Us | Contact Us | Site Search | Advertise | Terms of Use |
---