Giants Down Rangers for First World Series win Since '54
November 1, 2010
Arlington, Texas
Why pitch to Edgar Renteria? That is the question that will haunt Texas Manager Ron Washington every breathing moment until Spring Training.
In the top of the seventh, having surrendered consecutive singles to Ross and Uribe, Cliff Lee deftly fielded Aubrey Huff's first career sac bunt and got the out at first. With one out and runners at second and third, Lee blew a fastball by a swinging Pat Burrell (Burrell's 10th strikeout in 12 World Series at bats) for the second out of the inning. The game and the series came down to the next decision by Ron Washington. With first base open Washington chose to pitch to Edgar Renteria who, the night before had gone 3 for 3 at the plate, instead of pitching around him to get to the number 9 hitter in the lineup, Rowan.
Edgar drove the first middle-in fastball he saw into the left field seats for a 3 run homer. I mean it almost scraped the back of the wall getting out but it was just enough to give the Giants a 3 run lead and the right to dawgpile on the home team's turf. Sweet! Get to see the sad faces of your opponents fans at their place, shower, grab a bottle of champagne, hop on the plane for the short flight to Frisco to party with the throngs of waiting Giants fans, deep into the night! I guess that's why it's called The Life.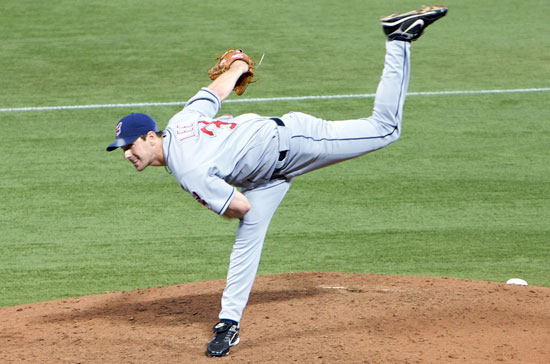 Cliff Lee pitching for the Cleveland Indians.
Thanks aturkus at flickr.com for this photo.
---
There were more K's in this game than in a venti can of Alphabet soup. Lee and Lincecum were pounding the strike zone. By the sixth inning only 3 balls had been hit to the outfield and all were recorded as outs. This is the Pitcher's Duel we were promised in Game 1 and they coasted through 6. Hitters were off balance and guessing. Josh Hamilton, who struggled to get 2 hits in 20 at bats, finished the World Series with a .100 average. Vlad Guerrero was 1 for 12, giving him a .083 BA for the World Series. Kinsler, Murphy, Molina and Francoeur paired their dismal stats with those above and led the Rangers down a destructive road of scoring no runs in 17 consecutive innings. Hard to win that way.
Lincecum was murderous, carving up practically each batter he faced. Change of speed, change of location, change of release point or change of batter didn't seem to matter to the 26 year old who finished with 10 strikeouts in 8 innings. Texas hitters were overmatched all night until Nelson Cruz hit a solo homer in the bottom of 7 to give the Rangers a glimmer of hope when the next hitter, Ian Kinsler coaxed a walk. "The Freak" or "The Franchise" if you prefer, still spotting his fastball at 92 mph, struck out Murphy and Molina to end a further threat.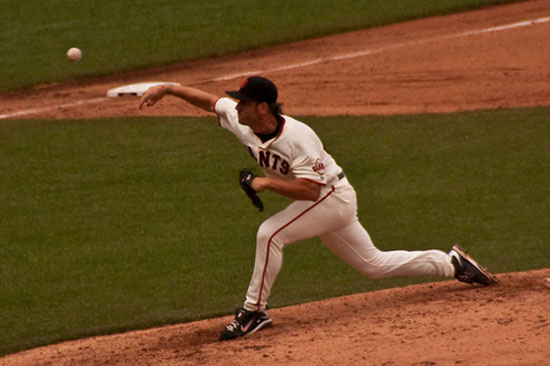 Brian Wilson AT&T Park San Francisco, CA.
Thanks bryce_edwards at flickr.com for this photo.
---
Brian Wilson came in to pitch the bottom of 9 and struck out Hamilton, forced Guerrero into a grounder to shortstop for the second out, then twisted a hard cutter right into the hands of Nelson Cruz for the swinging 3rd out and The World Series victory. This was a strong effort by a number of members of the Giants; rookie catcher Buster Posey was 2 for 4 on the night and Edgar Renteria turned in the clincher in the top of 7 with the game tied 0-0 with his 3 run game winning HR. Stellar pitching performances were turned in by Lincecum, Baumgarner, Cain and Wilson.
So all that's left is champagne, late night guest appearances, convertibles, ticker tape parades, beauty queens and bling. Man I love Baseball!
If you love baseball, check out these hand painted baseball player -- baseballs.
---
---
What do you think?
We'd love to hear your comments and/or opinions. If you submit them here, other visitors can read them, rate them and comment on them. An e-mail address is not required.
---
From Giants Down Rangers for First World Series win Since '54 to MLB Archives | Sports Blog | Sports Blog | NFL Football Blog | NCAA Football Blog | NFL Football Archives | College Football Archives | College Baseball Blog | MLB Baseball Archives | NBA Basketball Blog | NCAA Basketball Blog | NBA Basketball Archives | NCAA Basketball Archives | Fantasy Football | Fantasy Basketball | Fantasy Baseball | Soccer Archives | Olympics Archives | Stupid Athletes Archives | Other Archives | Football Forum | Basketball Forum | Baseball Forum | NFL Football Store | NBA Basketball Store | MLB Baseball Store | NCAA Football Store | NCAA Basketball Store | NCAA Baseball Store | Fatheads | NFL Football Tickets | NBA Basketball Tickets | MLB Baseball Tickets | NCAA Football Tickets | NCAA Basketball Tickets | NCAA Baseball Tickets |
---
Home Page
About Us | Contact Us | Site Search | Advertise | Terms of Use |
---