Antonio Davis Goes into the Stands. NBA Sweating Again.
Almost had a case of deja vu watching highlights on Sportscenter.
Antonio Davis, of the New York Knicks, was huddled in a timeout in the 1st OT. He saw someone threatening his wife supposedly. Suddenly he runs to the scorers table, jumps on it, and walks fifteen rows up to his wife's seat. Apparently he saw a man threatening his wife and he felt she was in danger. Hard to see who the guy was. Antonio thought his wife was falling back. No punches thrown. Ended pretty quickly.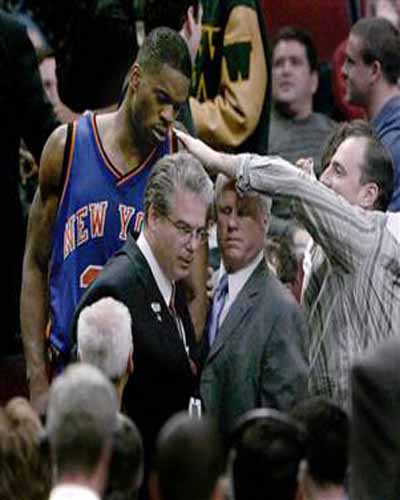 Antonio Davis
---
Antonio said he didn't have time to react and felt security would have been too slow to get there if he tried to point it out. Of course he was ejected from the game for going into the stands. The heckler was removed and Antonio's family was moved to safety.
But what would you do? If your family seemed like they were in physical danger of a unruly fan would you have done what Antonio did? Sure you would. I don't blame him. (A-Rod would have been a mess trying to decide what to do). Larry Brown wasn't upset after the game. If your wife had your 5 month old kids in her arms, you'd sprint your ass off to get there. You're on the road and fans can be nuts sometimes. Recently an Eagles fan poured beer on Clinton Portis's mom's head and she decked the fan. A fan just threw a rock into referee Pete Morelli's home. Nut cases who truly need to get a real life.
Thank goodness no fan tried to get in his way or pour a beer on him. What if a fan was in a tussle with his wife? Would he have fought the man? You bet he would have and the NBA would have to put a warning in the lower bowl just like at Sea World at the Shamu show. "Fans sitting in this area may be attacked by a player. So sit at your own risk. Thanks for coming."
So now David Stern has a tough decision to make. What sort of punishment should he give Antonio for going into the stands? He can't take it too easy on him. No matter what the reason was. After the Palace incident he made it a statement with the harsh suspensions of Pacer and Piston player. Stern said, "One of our boundaries, that have always been immutable, is the boundary that separate the fans from the court. Players cannot lose control and move into the stands." So he'll get punished hard for defending his family. As much as I am on Antonio's side, David Stern has to put his foot down and punish properly here for going into the stands.
---
---
What do you think?

We'd love to hear your comments and/or opinions. If you submit them here, other visitors can read them, rate them and comment on them. An e-mail address is not required.
What Other Visitors Have Said
Click below to see contributions from other visitors to this page...

NBA Sweating Again Not rated yet
2009/05/12 at 10:44 pm ... Originally Posted by roscoe36 These guys who don't get a box for their family are idiots. I mean, how can the players …
Quite frankly Not rated yet
2006/01/21 at 11:06 am Quite frankly, if Kendra Davis had been in my face with her condesending attitude ("breathe in, breathe out) I would have reacted …
---
From Antonio Davis Goes into the Stands, NBA Sweating Again to NBA Archives | Sports Blog | NFL Archives | College Football Archives | MLB Archives | NCAA Basketball Archives | Soccer Archives | Olympics Archives | Stupid Athletes Archives | Other Archives |
---
Home Page
About Us | Contact Us | Site Search | Advertise | Terms of Use |
---