Your Chance to Be in Rocky VI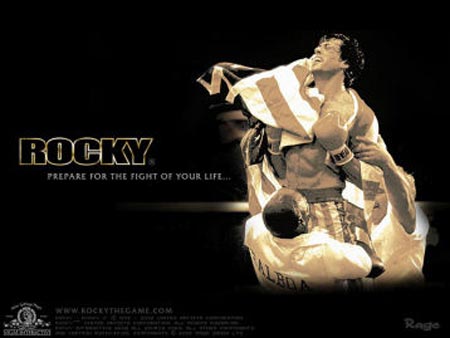 Rocky Balboa.
---
Here is your chance to be in a big time movie. One that everyone has been waiting for! Once in a lifetime. The movie is Rocky VI. Okay I hyped it too much. Really, I know it's not THAT big of a movie. However you've probably heard of Rocky I, II, III, IV, V, VI, VII, and VIII before. All bad counting aside, I was shocked to hear they were making Rocky VI. If they're making a sixth movie in a series it probably means they need the money and Stallone needs a movie role. Hello Police Academy 7??
Here are the details. They're filming in Las Vegas December 4-8th. It's a climatic fight scene between Rocky and Antonio Tarver. If this is a movie then I'm going to guess he beats the crap out of Antonio. Antonio's agent must have negotiated a sweet deal to go from beating Roy Jones Jr. to losing to a human Philly cheese steak. I'm not totally mocking it because I've always wanted to be an extra in a movie. If I were in Las Vegas I would definitely go for a day. Judging from the websites sounds like they're really needing people to show up.
Here are a couple of the quotes from the website
Come Join Us on the Film Set of this Now in Production. The Amazing Rocky sequel, ROCKY BALBOA! With All The Stars & Film Fun You Can Handle.
Fun? Not all fun maybe. You have to be there from 9am-6pm straight. What they don't say is that being an extra in a movie means waiting around for hours and hours for a little bit of action so bring a book or something to do…honestly.
Joining us on the set will be the Director, Actors, Extras, Cameramen, Makeup Artists, Special Effects and Stunt Men.
Well duh! I hope all those people are there! What kind of freaking movie is it if they're not??
If you're in the Las Vegas area or want to make a special trip out there, go to Beinamovie.com to find out more information. I'm not endorsing this site or have known anyone to use it. So proceed carefully but it seems legit because I don't see them asking for money. If any of my readers do end up going, let me know so I can post your experience here.
---
---
What do you think?

We'd love to hear your comments and/or opinions. If you submit them here, other visitors can read them, rate them and comment on them. An e-mail address is not required.
---
From Your Chance to Be in Rocky VI to Other Archives | Sports Blog | NFL Archives | College Football Archives | MLB Archives | NBA Archives | NCAA Basketball Archives | Soccer Archives | Olympics Archives | Stupid Athletes Archives |
---
Home Page
About Us | Contact Us | Site Search | Advertise | Terms of Use |
---