Would You Fight Your Brother:
The Klitschko Saga
By Aaron Reynolds

Wladimir Klitschko is the WBO, IBF, and WBA heavyweight champion of the world. Vitali Klitschko respectively holds the WBC belt. Together they have all of the heavyweight belts and because of their genetic ties, the world will never see the two greatest heavyweight fighters of this past decade square off in the ring.
The Klitschko Saga is one of both admiration and disappointment for the sport of boxing. Some critics like to point out that the brothers have dominated an era of weak competition, and their refusal to fight each other hampers boxing's most popular weight class. Meanwhile, it is difficult to dislike the Ukrainian giants who actively take an interest in politics and charity work, and grace the sport with a sense of class despite being disrespected and underappreciated their entire career.

Wladimir and Vitali's promise to never fight each other, regardless of the stakes, is something to be respected nonetheless. Would you face your own blood in the ring for a lucrative payday?

It seems like everybody has an answer to that question, and are convinced that they know exactly what the Klitschko brothers should do. The possibility of a Klitschko bout, regardless of what the brothers insist, drives fans bonkers and to the degree of the Mayweather/Pacquiao fight that has hung in limbo for the last few years.

The impatience of boxing fans stems from America's infatuation with the heavyweight division, a love affair which has been desperate for another great rivalry since the Tyson/Lewis era.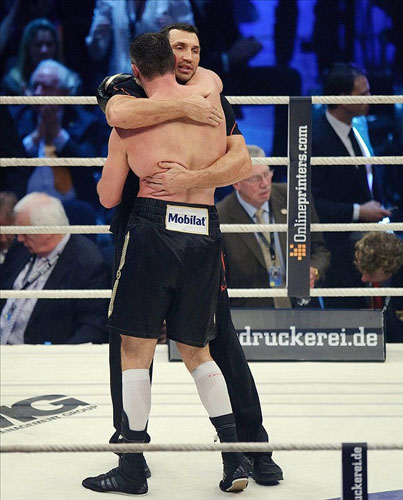 The Klitschko brothers are stealing the heavyweight scene, and taking it over to familiar territory in Europe, something that admittedly makes it difficult for American fans to embrace the Klitschkos.

Vitali Klitschko is scheduled to box Manuel Charr September 8, in Moscow. The draw has interest among the boxing world as well as political ramifications. Vitali will once again embark on a quest to trade in the boxing gloves for a suit and tie, admitting that winning political office (previously he has failed twice) would be the end to his time in the ring. Therefore, a decisive win by Charr, election to office and/or Vitali's inevitable and impeding decline (he is 40) could open up the race for a new champion, and new era of heavyweight boxing.

Wladimir Klitschko, meanwhile, has an upcoming weekend rematch (July 7) with Tony Thompson. Wladimir (36) is also facing the later half of his career, and redemption for the American born Thompson could be a subtle form of revival for Stateside fans. If not, Klitschko is already inked to face America's top contender, Chris Arreola, November 10 at Madison Square Garden.

Will the Klitschko decade of dominance come to an immediate collapse, or will the brothers once again hold supreme? Their decision never to face off in the ring is certainly admirable, yet a shakeup at the top of the heavyweight division might be just what boxing needs.


What do you think?
We'd love to hear your comments and/or opinions. If you submit them here, other visitors can read them, rate them and comment on them. An e-mail address is not required.
From Would You Fight Your Brother: The Klitschko Saga to Boxing Blog