Will Phil Jackson Return to Coaching (maybe the Knicks)?
It was not the storybook ending. The Lakers were supposed to grind their way to a third consecutive championship. Phil Jackson was supposed to have his unprecedented fourth three-peat and twelfth championship and ride into the Montana sunset. But it all came crashing down when the Mavericks crushed the Lakers by over thirty points and swept them 4-0 in the Conference Semi-Finals. Instead of watching Andrew Bynum pour champagne on his head, Jackson was forced to watch Bynum hockey check J.J. Barea, get ejected, and perform a half strip before leaving the court. All in all, a sad ending to the career of the greatest coaching mind in the history of sport. But, is the iconic Phil Jackson gone forever?
Jackson certainly seems to be done for now. Lakers GM Mitch Kupchak said he believes Phil will genuinely retire"¦or at least take a break next season. Lakers owner Jerry Buss, not always a fan of his coach, was also rumored to have told Jackson he would have to accept a severe pay cut to his fifteen million dollar salary, which is about as likely as a Carlos Boozer defensive player of the year award. If you were Jackson, would you accept a pay cut after winning Buss fifteen championships?
We've got your Michael Jordan Jersey
So, if Jackson is likely to take a sabbatical and unlikely to ever return to the Lakers, where does that leave us? Will he every return? Where would he coach? If history is any guide, Jackson is only interested in big markets that can pay him his market value and bring in the special players that he wants to coach. Only four franchises fulfill those requirements: Boston (a serious long shot), Los Angeles, Chicago, and New York. If Chicago, whose coach Tom Thibodeau just won the coach of the year award, is out and the Lakers are unlikely to want him back for another go around, that leaves one real option: the New York Knicks.
Phil Jackson has always wanted to coach the Knicks. He played for them in the 1970s and was an important team leader during the Knicks last championship run. Jackson has publically mused about the Knicks job but always kept it in the abstract because the Knicks never had the talent to lure him to New York. But, it looks as if Jackson will be available in 2012 and the Knicks will have at least twp-and probably three-stars on the roster: AmareStoudemire, Carmelo Anthony, and (just my bet) point guard Chris Paul. That trio would certainly intrigue Jackson who would undoubtedly want to create a better ending to his career than the one he just experienced. Even better, Jackson knows that, if he won championships as both a player and coach in the Big Apple and combined them with three peats in both Chicago and Los Angeles, he would leave a legacy that no future player or coach will ever be able to equal.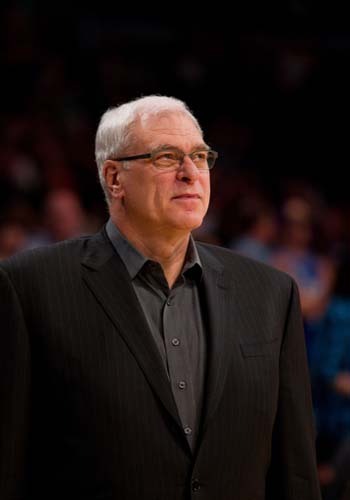 Head coach Phil Jackson of the Los Angeles Lakers coaches against the Oklahoma City Thunder during Thunder's 120-86 victory over the Lakers at the STAPLES Center in Los Angeles, CA.
---
Ultimately, Phil Jackson may genuinely hang it all up this year and never return. But, his unceremonious exit after a 4-0 sweep-his first time on the wrong end of a playoff sweep in his two decade coaching career-can't sit well with him. The Knicks are the last frontier: he has always wanted to coach there and they finally have the talent and the vacancy. Will it happen? We will have to see.
Shopping for a Kevin Durant Jersey
Phil Jackson deserved a better exit than the 2011 Lakers gave him. Check out Phil Jackson Deserved Better.
---
---
What do you think?

We'd love to hear your comments and/or opinions. If you submit them here, other visitors can read them, rate them and comment on them. An e-mail address is not required.
---
From Will Phil Jackson Return to Coaching to NBA Basketball Blog | Sports Blog | NFL Football Blog | NCAA Football Blog | NFL Football Archives | College Football Archives | MLB Baseball Blog | College Baseball Blog | MLB Baseball Archives | NCAA Basketball Blog | NBA Basketball Archives | NCAA Basketball Archives | Fantasy Football | Fantasy Basketball | Fantasy Baseball | Soccer Archives | Olympics Archives | Stupid Athletes Archives | Other Archives | Football Forum | Basketball Forum | Baseball Forum | NFL Football Store | NBA Basketball Store | MLB Baseball Store | NCAA Football Store | NCAA Basketball Store | NCAA Baseball Store | Fatheads | NFL Football Tickets | NBA Basketball Tickets | MLB Baseball Tickets | NCAA Football Tickets | NCAA Basketball Tickets | NCAA Baseball Tickets |
---
Home Page
About Us | Contact Us | Site Search | Advertise | Terms of Use |
---