Will Floyd Mayweather Finally Lose in 2013
By Aaron Reynolds

Floyd "Money" Mayweather may one day go down as one of boxing's greatest superstars, pound-for-pound one of the best to ever do it; yet ironically unlike previous legends like Jack Dempsey, Muhammad Ali and, even, Manny Pacquiao he will do so while being despised by a majority of the general public.
Mayweather has, and until the day he decides to hang it up for good, will always have the traits of a boxing superstar. He's got flash, he's got a mouth and, most importantly, he's got game. Yet Mayweather is nearly as entertaining outside the ring as he is in it, and ultimately it might prove to be his downfall.

Fresh off a three month stint in prison for beating up his girlfriend, Mayweather was restricted in 2012 to watching fellow fighters from inside a 9' x 6' prison cell. In August he was released, and while some thought that he would retire Mayweather quickly dismissed those rumors by not only stating that he planned to fight once in 2013 but twice.

According to reports from ESPN.com, Mayweather will seek to schedule fights on Cinco de Mayo and September 14, both of which are predicted to take place at the MGM Grand in Las Vegas. And, while late last year it looked extremely likely that Mayweather and Pacquiao would finally seal the deal on a much anticipated match, everything regarding that fight still remains up in the air.

The reality is after two straight loses, Pacquaio no longer resembles the dominant fighter that he was and, at age 35 (he turns 36 in February), Mayweather is no spring chicken either. Other potential 2013 matchups for Mayweather include Saul "Canelo" Alvarez and Robert Guerrero.* None of the other fighters have the same appeal as Mayweather-Pacuqiao.

Regardless of who Mayweather does face in 2013 one thing is certain: fans will be gripping onto their seats to see "Money" finally go down. As friend turned boxing promoter 50 Cent appropriately described recently about Mayweather is "the only thing wrong with the messaging points of being the 'Money Man' in a recession is that people are buying tickets to see you lose, instead of watching how good you are. And it's because they're hurting financially while you're showing that you have all the money in the world."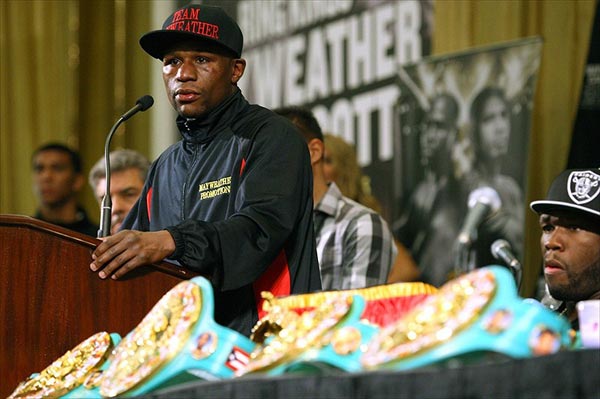 Still, blame it on the recession or domestic abuse issues (which was something that was unfortunately overlooked in Mayweather's rather measly punishment for beating up his girlfriend) Mayweather has never been well liked. Some could say it's his mouth, which appears to open freely and without general regard, spitting whatever comes to its mind; though Mayweather is more intelligent than some like to admit and it goes beyond his impressive 43-0 record inside the ring.

Will Floyd Mayweather Jr. finish his career undefeated? Or will he finally be dealt his first loss in 2013? Mayweather has always been proud of the '0' and if he plays his cards right has a fair shot of hanging it up still undefeated. Forget Pacquaio, because it is likely never to happen and even if it was the fight wouldn't be nearly the same as it would have been a few years back. Mayweather's new list of challengers, though significantly younger, poses no legitimate threat to his record. I say that if he gets a couple fights in 2013 and doesn't get greedy with the money, he'll hang it up early 2014 and retire undefeated.

* It is unlikely that he would face Juan Manuel Marquez after destroying him in 2009. Instead, promoters have hinted at Pacquiao-Marquez V which could take place in April.


What do you think?
We'd love to hear your comments and/or opinions. If you submit them here, other visitors can read them, rate them and comment on them. An e-mail address is not required.
From Will Floyd Mayweather Finally Lose in 2013 to Boxing Blog