Will Albert Pujols Be A Free Agent?
The Albert Pujols deadline came and went a few days ago. Despite the constant barrage of repetitive reporting and commentary, there was little to indicate that such a seminal deadline had just past. Albert Pujols, the best player in baseball and a candidate for the title of best baseball player of all time is set to become a free agent next winter. He will enter free agency in the middle of his prime at thirty one years old, with at least four or five MVP caliber seasons left in him, and is certain to get paid. So, the question begs: how did this happen? And what will the consequences be for the team that signs him and baseball as a whole? There a lot of nuances and caveats to the story and both sides make a valid argument but, at the end of the day, it's simple: next winter Albert Pujols will have to choose between taking less money and cementing his status as baseball's greatest position player and icon since Babe Ruth or getting a ten year, three hundred million dollar contract that will turn him into a steroid-free Alex Rodriguez.
How did this happen? The short answer is that it happened because the Cardinals have a terrible payroll situation. Back in 2007 and 2008, they paid Matt Holliday to add some punch to the middle of their lineup and then they criminally overpaid "up and coming" pitcher Kyle Lohse. With those contracts on the books (along with fair deals for Adam Wainwright and Chris Carpenter) the Cardinals don't have enough money to pay Albert Pujols and field a contending team.
See, that's the open secret that few sports pundits care to mention. Every time that St. Louis is mentioned as a great and iconic franchise, it's equally important small market status is forgotten. The Cardinals are indeed an iconic and historic club-probably the second most distinguished franchise behind the Yankees-but they are based in a small city, have an average revenue base at best, and have admitted that they cannot sustain a payroll far above one hundred million dollars per year for their entire ballclub.
That presents a problem because, if they were to pay Albert Pujols the 30 million dollars annually that he wants starting in 2011, then the following six player's contracts would add up to over eighty million dollars: Pujols, Matt Holliday, Kyle Lohse, Adam Wainwright, and Jake Westbrook. Add in arbitration raises for less than ten players under contract and that number will rise to over one hundred million. That means that, in 2012, the Cardinals would not be able to keep Chris Carpenter and would field a non-contending roster even with Prince Albert anchoring the lineup. The team's situation improves a bit in 2013 but Albert Pujols, Matt Holliday, and Adam Wainwright would alone cost over sixty million. The point is clear: the Cardinals cannot afford Pujols at his price and field a competitive team at the same time: those two goals are mutually exclusive.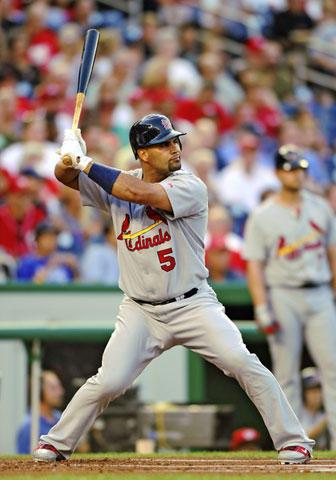 St. Louis Cardinals first baseman Albert Pujols in action against the Washington Nationals at Nationals Park in Washington, DC.
---
So, that begs the question: exactly how much could the Cardinals pay Pujols and still field a competitive team. The answer will not warm the hearts of Cardinals fans. With the farm system empty (aside from pitching star Shelby Miller who will replace Chris Carpenter when the time comes) there will be few cheap impact contributions on that front. That means that Pujols will need to accept a deal of around two hundred million dollars total or even less if he does not want to play with two fellow stars and a bunch of scabs.
Two hundred million dollars? Perhaps even less? That may sound like a lot to you and me but, in the world of baseball free agency, it would be an incredible bargain for Albert Pujols. The problem, of course, is that Pujols has played the last eight seasons under a bargain contract: six years and just over one hundred million dollars back in 2005. He currently makes less money than teammate Matt Holliday. From Pujol's perspective, he has already given St. Louis ten years of MVP caliber bargain play and, if they truly believe he is an icon like Stan Musial, they should pay him his money and raise their annual spending bar. The Cardinals cannot afford to do so without losing money each year, however, so the two sides remain at an impasse.
But this impasse is not, as some pundits have suggested, a mere "dollars issue" that can be resolved by slowly inching towards a compromise dollar amount. It's a difference in philosophy, beliefs, and valuations that will not be easily bridged. For all his statements about Pujol's "iconic status," Cardinals owner Billl DeWitt knows that baseball is not basketball: one player cannot make a team. Pujols, for all his prowess, needs help so, if he cannot afford to put help around a thirty million dollar version of Albert Pujols, then why should be sign him?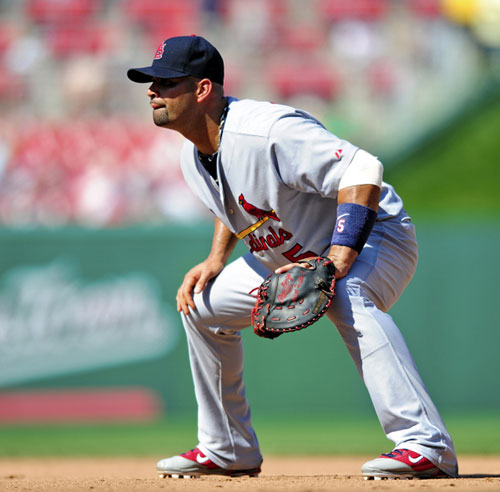 St. Louis Cardinals first baseman Albert Pujols in action.
---
So, if St. Louis does not sign him, what are the consequences for each side? The Cardinals would lose an iconic player and temporarily upset their fan base but the long term consequences would be surprisingly minimal. As great as Pujols is, the Cardinals have been the toast of St. Louis for a century and will remain so with or without his presence. Moreover, the Cardinals know that they can rebuild quickly if Pujols leaves. No one talks about that fact but it is true. The franchise would have several young building blocks in place with pitchers Shelby Miller and Jaime Garcia and outfielder Colby Rasmus. All Stars Matt Holliday and Adam Wainwright are in their respective primes and would fetch each fetch a boatload of prospects and young talent in return. Consider this: when Toronto traded Roy Halladay, they received a frontline starting pitcher (Kyle Drabek), a future catching starter (Travis D'Arnaud) and several other contributors in return. Each of those Cardinals would fetch a similar haul. Along with an impact prospect in return for Chris Carpenter and a year or two for some of the Cardinals' Single A talent to mature, the team could field a strong ballclub within two seasons of Pujol's departure. He is iconic but not, as some like to say, irreplaceable.
What about the consequences for Albert Pujols? That is much more of an unknown. Pujol's presence could transform a number of lineups and there are several big market, contending teams that will pay him whatever he wants. Put Pujols in the middle of the Los Angeles Angel's lineup and the club would be a perennial contender. He could end a century of losing for the Cubs and become one of Chicago's most beloved sports stars. The list goes on and on. But, if he leaves, he will never again be one of those few special and iconic players who remain with a dynastic franchise forever. He will go from being a revered member of the St. Louis sports Hall of Fame to becoming something of a mercenary: a nicer, more charitable, and younger version of Alex Rodriguez.
Only time will tell what happens. But make no mistake, the Cardinals' hands are tied. This is Pujols choice and what he decides to do will change the landscape of major league baseball and, for better or for worse, define the legacy he leaves behind.
---
---
What do you think?
We'd love to hear your comments and/or opinions. If you submit them here, other visitors can read them, rate them and comment on them. An e-mail address is not required.
---
From Will Albert Pujols Be A Free Agent to MLB Baseball Blog | Sports Blog | NFL Football Blog | NCAA Football Blog | NFL Football Archives | College Football Archives | College Baseball Blog | MLB Baseball Archives | NBA Basketball Blog | NCAA Basketball Blog | NBA Basketball Archives | NCAA Basketball Archives | Fantasy Football | Fantasy Basketball | Fantasy Baseball | Soccer Archives | Olympics Archives | Stupid Athletes Archives | Other Archives | Football Forum | Basketball Forum | Baseball Forum | NFL Football Store | NBA Basketball Store | MLB Baseball Store | NCAA Football Store | NCAA Basketball Store | NCAA Baseball Store | Fatheads | NFL Football Tickets | NBA Basketball Tickets | MLB Baseball Tickets | NCAA Football Tickets | NCAA Basketball Tickets | NCAA Baseball Tickets |
---
Home Page
About Us | Contact Us | Site Search | Advertise | Terms of Use |
---